I am certain that everybody has experienced painful cramps from time to time.
Cramps might happen when you are in the middle of a run or a swim or even when you are feeling comfortable at home and are in the process of falling asleep.
Cramps commonly occur in the calves and feet and the resulting pain when your muscles tighten and harden can be excruciating.
These painful cramps are the result of involuntary muscle contractions known as spasms that can occur in many of the body's muscle groups besides the lower leg.
---
What causes muscle spasms and cramps?
Muscle spasms generally happen with no advanced warning but there are a variety of reasons why they might occur and some people are especially prone.
Possible causes of muscle spasms include:
•  Overexertion while exercising or exercising in hot weather
•  Poor circulation of blood to the muscles
•  Dehydration
•  Muscle fatigue
•  Mineral deficiency
•  Alcohol
•  Pinched nerves
•  The side effects of certain medications
•  Pregnancy
Treatment and Prevention of Muscle Spasms and Cramps
Stretching
Stretching exercises can help reduce the incidence of spasms as can warming up well before exercise and making sure that you warm down properly.
Mineral Salt Bath
Bathing in Epsom salt is also considered to be an effective remedy. Staying hydrated is important especially if you are in a hot climate or take regular exercise.
Essential Oils
You will not be surprised to hear that various essential oils can also help with your muscle cramps and spasms.
Many essential oils have the ability to soothe muscular aches and pains and treat cramps and spasms.
Lavender
It is probably one of the most popular and well used essential oils and for good reason.
Lavender essential oil can be utilized is full of therapeutic goodness that can be applied to an extremely broad spectrum of medical complaints both physical and mental. It is also one of the more gentle essential oils making it popular for those with sensitive skin.
Lavender essential oil has a long history of use in successfully treating muscular pains and aches and is an effective remedy for spasms and cramps.
Lavender oil is indicated for muscular spasms, cramps, sprains, and rheumatism making it an important if not essential addition to your home treatment cabinet.
Inhalation of Lavender oil for 5 minutes was shown to decrease the stress and pain intensity of a needle insertion. (1)
Spasms may sometimes be brought on by stress as well as physical reasons and lavender is a well-known emotional tonic able to ease stresses and anxiety. If you can only afford one essential oil, lavender is certainly worth considering.
Marjoram
Marjoram essential oil is another effective oil that can be used to treat spasms whatever their cause.
Marjoram has powerful antispasmodic properties which not only ease muscle spasms but can relieve uncomfortable respiratory and intestinal spasms.
As well as treating involuntary spasms and muscular pain, it can be used effectively for rheumatism, arthritis and migraine pain. Marjoram is sometimes referred to as the 'happiness herb' and you will certainly be feeling happier after using it.
Thyme
Thyme essential oil is a very powerful oil with a host of medicinal applications.
While Thyme is known as a digestive and respiratory aid, it can also be massaged into the body in order to relieve muscular pains, spasms, cramps, gout, and rheumatism.
Because of its potency, you must be very careful to dilute it properly before applying it to the skin and pregnant or nursing women should avoid it completely.

Wintergreen
Wintergreen essential oil is derived from the wintergreen plant and is one of the very few natural sources of methyl salicylate which is the major ingredient of aspirin.
Native Americans historically used wintergreen to ease joint and muscle pain.
Although it is not as well-known as some essential oils, it is no less effective.
Studies have demonstrated that wintergreen essential oil has powerful cortisone-like effects which offer immediate pain relief. Wintergreen oil also has anti-spasmodic and anti-inflammatory properties making it an effective natural treatment for muscle spasms, cramps, muscular pains, and headaches.
Like thyme oil, wintergreen is very strong and special care should be taken to dilute it thoroughly before use.
Wintergreen is also considered unsafe for children as well as pregnant or nursing mothers due to its high methyl salicylate content.
Eucalyptus
Eucalyptus essential oil derived from the Australian eucalyptus tree has antispasmodic and anti-inflammatory properties which make it the ideal tonic for muscular cramps, spasms, and pain.
Eucalyptus has analgesic qualities and is recommended for those suffering from rheumatism, fibrosis and nerve pain as well as muscle injuries.

Fennel
Fennel essential oil can also help relieve your muscle spasms; it has antispasmodic properties and has been traditionally used to relax nerves, muscles and respiratory spasms. 
Fennel Oil can also be used to relieve pain from rheumatism and migraines and studies have demonstrated that it can provide relief from menstrual cramps and pain.
Peppermint
Peppermint essential oil is often associated with respiratory complaints and relief from nausea but it also has excellent antispasmodic and anti-inflammatory properties and the ability to kill the pain.
Peppermint is an excellent choice of essential oil to massage into your aching and cramped muscles after a strenuous workout; it provides wonderful relief from pain, cramp, and various spasms.
Ginger
Among its many therapeutic abilities, ginger essential oil boasts antispasmodic properties making it one of the perfect remedies for muscular spasms and cramps.
Ginger essential oil can also inhibit pain sensations and research has found that when massaged it can greatly reduce pain and stiffness in those suffering chronic knee pains. (2)
Other studies have found it to be very helpful in reducing pain and inflammation in patients with rheumatism. (3)
Roman Chamomile
Roman chamomile essential oil's antispasmodic ability stems from its high content of ester.
It is considered to be one of the most powerful antispasmodic oils and is often used to great effect in treating muscle spasms, cramps and pain as well as healing colic.

Clary Sage
Last but certainly not least, clary sage essential oil is a popular and very effective treatment for spasms and other related conditions like muscle and respiratory cramps and headaches. It can help relax the nerves and prevent the onset of involuntary spasms.
Pain Relieving Mixture
Korean researchers tested a mixture of the following essential oils: Lavender, marjoram, eucalyptus, rosemary, and peppermint (2:1:2:1:1 ratio).
The study found the essential oil mixture significantly reduced the pain and depression scores of the subjects. (3)
How to use Essential Oils to Treat Muscle Spasms
Your chosen essential oils can be used to treat your muscle spasms in several different ways. It is important to remember that you must dilute the oils properly before applying them and to test the dilution on a discrete area of skin before applying them fully to your body. Certain essential oils like thyme and wintergreen are known to cause reaction more than some of the milder oils and should be avoided if you are pregnant or nursing.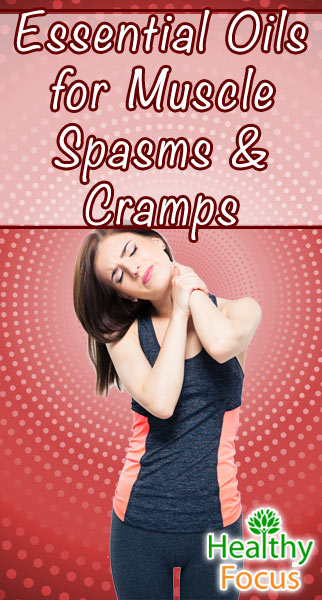 Massage
An essential oil massage is a wonderful way to get rid of your aches and pains and relieve any unwanted spasms and cramps.

Dilute around 10 drops of your chosen essential oil or a combination of oils with an ounce of a suitable base oil like jojoba, sweet almond or coconut oil before use.
Bath Soak
Soaking in a therapeutic oil filled bath is a great way to relieve your spasms, cramps, and pains.
Add around 10 drops of your chosen oils to a hot bathtub and let your muscles soak in the goodness for as long as you want.
Compress
You can also make a cold or hot compress to relieve your spasms and cramps.
Make a hot compress by dipping a towel in hot water, ringing out the excess and adding 8 to 10 drops of essential oil.
To make a cold compress just soak a towel in cold water, ring it out and wrap it around an ice pack.
Add around 8 to 10 drops of your chosen Essential Oil to the pack and apply it o he affected muscles.
Links to Research References