What is Clary Sage?
Clary sage is a perennial plant that is closely related to the garden sage. Also known by its scientific name Salvia sclarea, it has enjoyed a long reputation for its many medicinal benefits ranging from balancing the hormones and calming the nerves to treating the skin and the hair.
Recent research has found that it is especially helpful for women to deal with the symptoms of menstruation like cramps and hot flashes.
The essential oil is extracted by steam distillation from the leaves and the flowers of the plant which was originally native to France and Italy but is now grown all over the world. It derives its name 'clary sage' from the Latin language where 'clarus' means 'clear'
During the Middle Ages it was commonly referred to as 'clear eyes' because of its ability to help improve vision and treat fatigued and strained eyes.
Clary Sage Composition and Properties
The primary compounds of clary sage essential oil are linalyl acetate, alpha terpineol, linalool, sclareol and geranyl acetate.
According to research, it has a wide variety of medicinal properties including antibacterial, antispasmodic, astringent, antifungal and anti-inflammatory properties. It is also an effective nerve tonic and sedative which may help treat a variety of emotional issues like stress, depression and insomnia.
Health Benefits of Clary Sage

1. For Menstrual Pain and Discomfort
One of the best known uses of clary sage oil is to treat many of the symptoms associated with the female menstrual cycle. It not only works by regulating the cycle itself but may also be able to cure many of the related symptoms such as bloating, cramping, mood swings and the cravings for food.
Clary Sage has antispasmodic properties meaning that it can help treat muscular pain and spasms as well as cramping, stomach aches and even headaches during menstruation.
There have been several studies into the use of clary sage essential oil to treat the symptoms of menstruation including a Korean study published in 2012. This study examined the pain relieving effects of several essential oils on Korean school girls and compared the effects with a prescription pain killer – acetaminophen.
The essential oil blend which included clary sage, cinnamon, marjoram, geranium and ginger was massaged into the girls' abdomens once a day with the pain levels being assessed shortly afterwards. The results were extremely positive with the girls given aromatherapy experiencing a considerable reduction in pain compared to the acetaminophen group. (1)
2. Labor Pain
A very large scale study conducted in the UK was conducted to examine the effects of aromatherapy on labor. The study involved well over 8,000 participants and took place over an eight-year period.
The study used 10 different essential oils on the women and found that of those ten, clary sage and chamomile were able to significantly alleviate labor pain. The researchers also stated that aromatherapy was a potential treatment to reduce not only pain but also relieve fear and anxiety during labor and that it was a cost effective option to evaluate further. (2)
3. To Induce Labor
I have not managed to find any scientific basis for the claim but the internet is awash with anecdotal evidence that clary sage can help induce labor in women who are overdue and would prefer not to be medically induced.
It is wise however to avoid using essential oils during the first few trimesters of your pregnancy and you should certainly consult a doctor if you are considering using it during labor. Because it is considered to have emmenagogue properties, it may cause menstrual bleeding and increase the risk of miscarriage during early pregnancy.
The study mentioned previously found no adverse effects when using clary sage oil during labor and it should be safe when used with caution.
There are several ways that women use clary sage oil to induce labor. One is to dip a few cotton balls into the oil and allow it to absorb.
You can then place the saturated balls under your pillow prior to labor or while giving birth in order to alleviate pain.
Some experts suggest that the scent alone can help sped up the birthing process and intensify contractions.
Another method is to simply add a few drops of clary sage essential oil to your bath. This will help you to relax, ease any anxiety and might even help induce your labor.
Some women enjoy massaging a little clary sage oil into their bellies before and during the birthing process but make sure that you dilute it well with a carrier oil and perform a patch test to ensure that you are not allergic first.
Some people say that clary sage can cause mild feelings of euphoria which is why many women choose it rather than pain killers.
Either way, make sure that you speak to your doctor or midwife or doula before using clary sage or any other alternative treatment during pregnancy and labor.
4. To Balance Hormones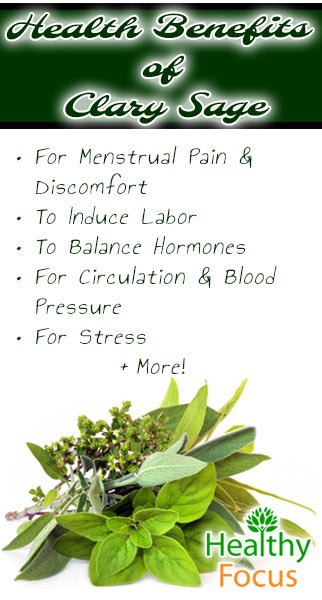 Because it contains abundant natural phytoestrogens, clary sage can have a very positive impact on the body's hormonal balance. These plant based estrogens give clary sage oil the ability to regulate the levels of estrogen in the body and also helps ensure the health of the uterus and ovaries.
Many female conditions are increasingly caused by an excess of estrogen in the body including infertility and certain cancers and other ovarian conditions. This is believed to be the result of the excessive consumption of foods high in estrogen. Clary sage oil is beneficial because it can help control and balance these hormonal levels naturally.
A recent study published in 2014 analyzing the effects of clary sage oil on post-menopausal women demonstrated that inhaling clary sage essential oil could improve thyroid hormone level as well as significantly reducing cortisol.
Some of the women involved in the study had been diagnosed as having depression and the researchers were able to conclude that clary sage had a positive impact on mood and depression by reducing cortisol – the human stress hormone. (3)
5. For Circulation and Blood Pressure
Clary sage can help protect the health of your heart because of its natural ability to relax the arteries which allows blood to circulate through your blood vessels more effectively. This has the effect of reducing blood pressure and also improving the flow of oxygen to the muscles and organs.
A Korean study published in 2013 set out to measure the effect of clary sage and lavender essential oils on blood pressure levels in female patients with incontinence and other urinary issues.
The women involved in the study inhaled either clary sage or lavender oil and the control group were treated with plain almond oil. Their blood pressure was then measured after inhaling the oils for an hour.
Those who inhaled clary sage oil experienced a significant reduction in blood pressure levels and respiration rate compared to the other groups. The results here suggest that inhaling clary sage oil may have a very positive impact on stress levels during medical assessments. (4)
6. For Stress
Many essential oils can provide relief from a range of emotional ailments including depression, stress and anxiety attacks. With the dangers associated with prescription medications, essential oils like clary sage offer a genuine safe and natural alternative.
As we have already mentioned, clary sage can help reduce cortisol levels and alleviate the feelings of stress and anxiety. It also has a mild euphoric effect that can help you feel at ease especially during times of anxiety and sadness.
Another Korean study in 2010 found that the essential oil of clary sage could be developed as a therapy for patients suffering with depression and stress. Of all the oils tested, clary sage proved the most effective in stress reduction in rodent swim tests. (5)
7. For Insomnia
Insomnia can have a dreadful effect on your day to day life. It can cause anxiety, stress and daytime fatigue making your professional and personal life a misery. Fortunately, there are numerous natural remedies for insomnia and essential oils can be especially effective.
Clary sage essential oil has a natural sedative effect as well as the ability to ease your stresses that may be a contributory factor in your insomnia.
8. For Infections
Clary sage essential oil has antimicrobial properties meaning that it can be used to prevent the spread and growth of bacterial and also fungal infections. These properties make it of use in treating minor wounds and cuts and also to protect the body internally.
It is one of many essential oils that can be used to treat minor wounds, burns, bites and cuts to prevent bacteria taking hold and to speed up the healing process.
A recent study published in 2015 demonstrated that clary sage essential oil could help treat skin infections and wounds because of its excellent natural antimicrobial ability. The study demonstrated that clary sage oil had activity against a number of bacterial strains such as staphylococcus aureus and S. epidermidis among others. (6)
9. Leukemia
While there have been no specific studies on the effects of clary sage oil on leukemia, there has been an interesting study into the effects of one of its major compounds – sclareol.
The Greek study published in 1999 demonstrated that sclareol was able to kill leukemia cells through a process known as apoptosis but more research is necessary before knowing just how effective its anticancer activities are. (7)
10. Skin Health
Clary sage essential oil has a very high ester content and one of these esters in particular – linalyl acetate is thought to be very effective in relieving skin inflammation and rashes. Because of its anti-inflammatory and antimicrobial properties, you may find clary sage oil useful to remedy various inflammatory skin conditions like acne and eczema.
It is also a wonderful natural moisturizer to keep your skin looking healthy, supple and bright. Clary sage oil is already found in numerous commercial beauty products like facial cleansers but you might like to make your own at home.
11. Hair Health
Clary sage essential oil not only works on your skin but also provides a natural option for treating your hair and scalp. It is believed to promote hair growth and strength and also to reduce the amount of sebum produced on the scalp.
If you suffer from dandruff, you can add a few drops of clary sage oil to your shampoo or dilute it and massage it into the scalp several times each week.
12. Eye Health
The use of clary sage oil to support and improve the health of your eyes goes back centuries and today many people still use it to maintain their eye health. It can help improve your vision as well as treat eye strain and fatigue which become more common as we get older.
In order to use clary sage on your wyes combine 2 tablespoons of a carrier oil with 6 drops of clary, mix it up well then massage it gently into your temples using your fingers. Alternatively add diluted clary sage oil to a cloth and place it over your shut eyes for ten or so minutes.
13. Digestion
Clary sage essential oil can help relieve many digestive complaints including indigestion, bloating and stomach pain. It works by boosting the body's secretion of bile and gastric juice which stimulate the entire digestive process.
Other potential effects of the oil include helping the regularity of bowel movements, relieving constipation and healing ulcers.
14. To Aid Fertility
Trying to conceive can be stressful especially when you have been trying for a very long time. Essential oils like lavender and clary sage are excellent natural remedies for the stresses you may be going through but they may also be able to improve your chance of conceiving.
Because clary sage can help balance out your estrogen levels, it can help women to conceive more readily. It has the added bonus that it might even be an aphrodisiac which is certainly no bad thing when you are trying to get pregnant.
If you are struggling to conceive, you have very little to use from using clary sage oil but remember if you are successful you should stop using it during the early stages of pregnancy.
How to use Clary Sage Essential Oil
You can use Clary Sage essential oil in a variety of ways depending on the condition that you are intending to treat.
For menstrual cramps and pain, dilute 4 or 5 drops of clary sage with an appropriate amount of a carrier oil like coconut or jojoba oil then massage it into the affected area.
For your skin care needs, again you should dilute the clary sage oil with a suitable carrier oil and apply it to the areas of skin that need your attention.
For your hair, add a few drops of essential oil to your normal shampoo and wash as usual. Alternatively add a few drops to an equal amount of coconut oil and massage it into your hair several times a week.
For stress and depression, you can try inhaling the oil directly from a handkerchief or via a diffuser machine. For insomnia try diffusing clary sage near your bed before you turn in for the night.
4 or 5 drops of clary sage essential oil added to a tub of hot water can help relieve tension, ease joint and muscle pain and may even be helpful in inducing labor.
Side Effects and Precautions
Clary sage essential oil should be used with caution especially during the early stages of pregnancy. Because it has an emmenagogue effect, it may cause bleeding and in extreme circumstances increase the risk of miscarriage.

Clary sage oil should not be used on very young children and nursing mothers should also avoid it.

Always dilute it well and test for skin sensitivity before using an essential oil topically.

Although clary sage is sometimes recommended for eye health, there have not been any studies done and you should speak to your ophthalmologist before applying it near the eyes.

Clary sage essential oil has a mild sedative effect and should not be used with certain medications because it could increase the effects of the medication. These include barbiturates like hexobarbital.

The compound sclareol may interfere with hormone replacement therapy by increasing estradiol levels and you should talk to your doctor before using clary sage if you are undergoing hormone replacement therapy.
(1) http://www.ncbi.nlm.nih.gov/pubmed/21949670
(2) http://www.ncbi.nlm.nih.gov/pubmed/11033651
(3) http://www.ncbi.nlm.nih.gov/pubmed/24802524
(4) http://www.ncbi.nlm.nih.gov/pubmed/23360656
(5) http://www.ncbi.nlm.nih.gov/pubmed/20441789
(6) http://www.ncbi.nlm.nih.gov/pmc/articles/PMC4360007/
(7) http://www.ncbi.nlm.nih.gov/pubmed/10071073