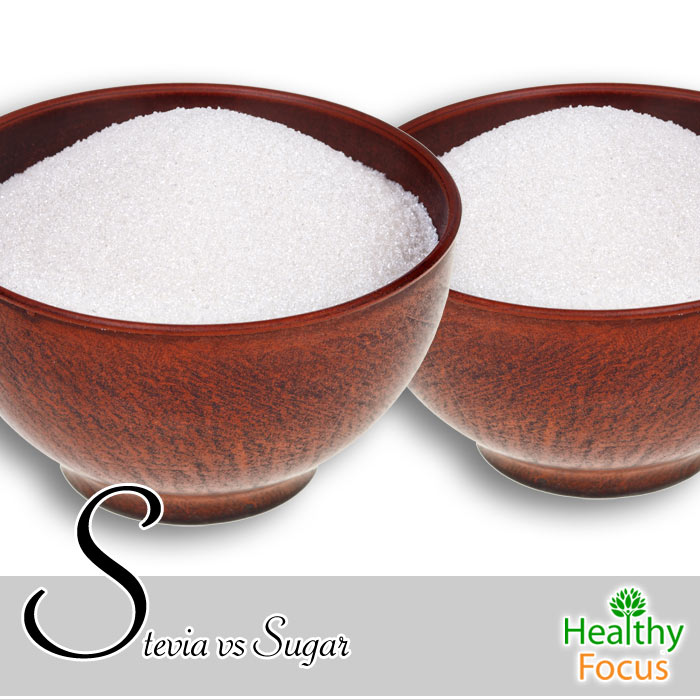 When it comes to natural sweeteners, there are none as powerful as stevia. If you are looking for a healthy and natural alternative to sugar which is far better for your health than the many low calorie artificial sweeteners on the market, then stevia is an excellent option but what is it exactly and how can it benefit your health?
What is Stevia?
Stevia is a natural sweetener that is derived in various forms from the herbal stevia plant. Over 200 species of the stevia plant grow in various parts of South America. Its extremely potent sweetening properties are due to the presence of two glycosides known as rebaudioside and stevioside.
Stevioside is certainly sweet but it leaves a bitter after taste which a lot of people find difficult to palate. Rebaudioside on the other hand is considered more enjoyable, les bitter and even sweeter.
Most of the raw stevia products which have been processed less contain both of these sweetening agents while some of the most processed and therefore less healthy products such as Truvia contain just rebaudisode making them especially sweet.
These days, stevia is available in a number of different forms; it is most popularly taken as a white powder but liquid extract, pellet sweeteners and dried leaves are also widely available. For those of you with a sweet tooth, there are many reasons to consider switching from your regular sugar or artificial sweeteners to the more natural and healthier stevia.
Health Benefits of Stevia
1. Stevia has No Calories
Obesity is a massive issue in the West and despite widespread educational information, there is no sign that the problem is going to disappear any time soon. One of the main culprits is refined sugar.
It is an undeniable fact that sugar makes people fat, it contains a huge amount of calories and is one of the major reasons that over 30% of American adults are obese.
Stevia on the other hand contains absolutely no calories. Simply switching from your regular refined sugar to stevia can certainly help you to lose weight especially if you have a very sweet tooth.
2. Stevia is Very Sweet indeed
When compared to sugar, stevia is extremely sweet. The leaves of the plant are around 40 times as sweet in comparison to refined sugar while powdered stevia derived from the plant's leaves can be up to 300 times sweeter.
This means that you only need to use a very small amount of stevia to sweeten your coffee and recipes that require sweeteners like cakes and other baked products. Stevia also has a shelf life of around five years so it won't go to waste.
3. Stevia helps Suppress Food Cravings
Many people have a real craving for sweet food and sugar can be extremely addictive. Even artificial sweeteners like aspartame and sucralose do not manage to suppress your cravings for sweet, sugary treats.
While artificial sweeteners are also devoid of calories, there is concern about their safety and also research suggesting that people who consume them are prone to actually gaining weight. A lot of new research is showing people may consume more calories with sweeteners like Sucralose.
Unlike artificial sweeteners, stevia is believed to suppress cravings which couple with its total lack of calories is another notch in the weight loss column.
4. Stevia is Better for your Teeth
We all know that sugar is bad for the teeth that is because sugar results in a layer of bacteria forming on the teeth which eventually leads to cavities, plaque and unwanted trips to your dentist.
Sugar alcohols like sorbitol and maltitol are often used as ingredients in toothpaste and chewing gum because they prevent bacteria from fermenting and adhering to the teeth. However, sugar alcohols also contain a high amount of calories and they are also high on the glycemic index making them unsuitable for diabetics.
They can also cause gas and bloating in some sensitive individuals. This is where stevia comes in. It offers all of the benefits that you get from sugar alcohols without any of the side effects or calories.
5. Stevia may help Regulate Blood Pressure
This benefit is not so cut and dried but natives of South America have been using stevia to reduce blood pressure levels in those suffering with hypotension.
Nowadays, it is actually prescribed by South American practitioners to get blood pressure under control. While it may help reduce blood pressure in people with high levels, research indicates that it has no effect on otherwise healthy individuals.
6. Stevia is Better for Diabetics
Sugar is very bad for people suffering from diabetes because of its high carbohydrate content. The glycemic index is a system developed to help diabetics learn which food was suitable and which was not.
Food with a glycemic index below 50 is considered safe for diabetes patients with lower numbers being safer. French fries for example have a glycemic index of 95 while apples are around 40. Regular refined sugar is patently unsafe with a glycemic index of 80.
Now compare those numbers with stevia which has a glycemic index of precisely 0. This score makes stevia by far the best sweetener option for the many people suffering from diabetes.
7. Stevia can help Treat Yeast Infections
You have probably heard of the candida diets which are designed to eliminate sucrose from the diet and in turn help fight yeast infections. Candida albicans is a common yeast infection which occurs when naturally occurring intestinal yeast grows excessively in the body. It can result in numerous symptoms including nausea, vomiting and diarrhea.
Unlike sugar, unprocessed stevia does not get fermented and does not cause an overgrowth of the type that leads to candidiasis. If you are prone to candida, consider stevia as a safe alternative to ordinary refined sugar. Be aware however that certain commercial stevia products are highly processed and may contain ingredients that compound your condition.
Try to purchase stevia in its most raw and unprocessed state.
Baking with Stevia
As well as using stevia to sweeten your drinks or breakfast cereals, you can also use it in your baking recipes as an alternative to the sugar content required.
Step 1
Follow the recipe as normal until you arrive at the sugar. Replace the required sugar with your stevia depending on which variety of stevia that you have. Because of its sweetness, it cannot be directly substituted, instead for each cup of sugar required by the recipe, replace it with:
A teaspoon of liquid stevia
Half a teaspoon of stevia powder.
A tablespoon of concentrated liquid stevia
Between 18 and 24 serving packets of stevia.
Step 2
Because the stevia substitute for your sugar contains a lot less bulk, you need to add a filler ingredient. Possible substitution bulk filers include yogurt, egg whites, water or fruit juice.
You should add 1/3 of a cup of bulk ingredient for each cup of sugar that you have substituted.
Bottom Line
Stevia is a very sweet zero calorie natural alternative to refined sugar. It will help you satisfy your cravings for sweet flavors without harming your waistline. As well as being good for your shape, stevia has several other health benefits.  Stevia also has none of the potential issues or side effects of artificial sweeteners like Splenda.
The taste may take a little getting used to so we recommend going for a product containing rebaudioside (typically you will see listed as Rebaudioside A or Reb A) because it has less of a bitter aftertaste.