Sunscreen
At this time of year, more and more people will be heading outdoors to enjoy the weather and with the increasing awareness that the sun can damage our skin, sunscreen manufacturers are likely to be very busy.
However, despite the growing use of sunscreens, each year continues to see a rise in the number of people diagnosed with cancer of the skin. In the USA alone, the number of people diagnosed with the disease has climbed to over 2 million a year and has actually tripled during the past decade.
So if more people are protecting themselves from the damaging effects of the sun, why aren't we seeing a corresponding reduction in melanoma?
The possible answer to the question may surprise you.
Some Sunscreen ingredients are Toxic
Back in the 1990s, 4 separate studies concluded that people who used sunscreen the most were at a higher risk of melanoma. This seems counterintuitive until you start to look in detail at the ingredients that most products include. The vast majority of sunscreens contain potentially harmful chemicals such as oxybenzone, avobenzone, parabens and retinyl palmitate.
In their recently published safety guide, the EWG analyzed more than 2000 commercially available sunscreens and found that nearly 75% of them either offered the user inferior protection levels or contained potentially toxic chemicals.
The Environmental Working Group raised particular concerns about the efficacy and safety standards of sunscreens for children whose skin is especially vulnerable to UV damage.
One of the research directors, Nneka Leiba stated that "Americans need to demand stronger regulations and safer, more effective sunscreens for the entire family."
What Harmful Chemicals are found in Sunscreen?
The research done by the Environmental Working Group demonstrates that some of the chemicals found in sunscreen can be absorbed into the bloodstream and have a toxic effect on the body.
Some of these chemicals can cause an allergic skin reaction or release free-radicals while others can have a disruptive effect on your hormones. Unfortunately, the FDA still does not regulate the safety of sunscreen products very rigorously and they have not been properly regulated in the USA since 1978.
The EWG found that most of the sunscreens sold in America would not pass the much stricter European regulations.
1. Avobenzone
Avobenzone was originally patented in the early 1970s but was not approved by the FDA for use until 1998. It is a major ingredient in the majority of commercial sunscreen products because of its ability to effectively absorb a range of UV rays especially the type of ultraviolet ray that causes sunburn.
The general consensus is that avobenzone is relatively safe in the concentrations found in sunscreens but recent studies have questioned that assumption. (1)
Avobenzone actually degrades when it is exposed to the sun which results in harmful free radicals being released into the system. These free radicals can actually accelerate the aging process and increase the risk of illness including cancer.
Avobenzone is not only used in sunscreen but is also commonly found in sprays, creams and lip balm. Before applying a sunscreen containing avobenzone, make sure that you read the labels very carefully and avoid making contact with your mouth and eyes. You should also avoid applying the cream to irritated or broken skin because it can make the problem worse and lead to inflammation.
2. Oxybenzone
Oxybenzone functions in a similar way to avobenzone and is also found in the majority of sunscreens on the market. It is such a popular ingredient because like avobenzone it absorbs UV rays very well.
However, while it is also able to effectively prevent the sun's rays from penetrating your skin it is may well be quite toxic. In fact, some scientists recommend not using it in children because it has been linked by research to hormone disruption. One study published in 2001 concluded that oxybenzone had estrogenic effects on rats after being ingested. (2)
Other experts disagree with the conclusion drawn from the research and point to the fact that the animal studies involved exposure to very large quantities of oxybenzone far greater than the levels found in sunscreen.
They also point out that the animals ingested the chemical while humans apply it topically.
The EWG however pointed towards a study which showed that even when topically applied, oxybenzone was able to penetrate deep below the skin which could result in similar effects on humans. (3)
Whatever the truth, there is a consensus among experts that you should not use sunscreen products containing oxybenzone or avobenzone on children under 2 years of age and they also recommend that pregnant and nursing mothers avoid using them.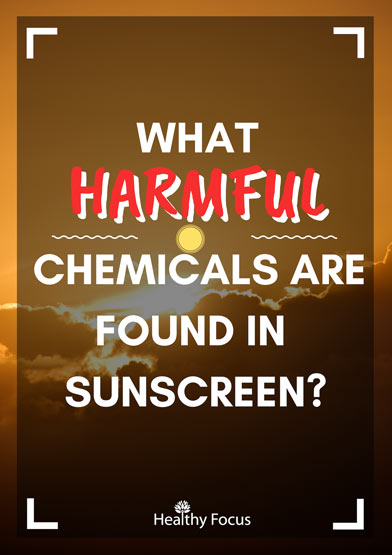 3. Parabens
Parabens act as preservatives and are commonly found in sunscreens and various other beauty products. If you check your product label, you should easily be able to determine whether it contains one of these parabens as they should be clearly identified as the word 'paraben' will appear somewhere within the chemical name.
Parabens have a number of potentially harmful effects. They are considered to be hormone disruptors and have an estrogenic effect. They are also linked to obesity, asthma, infertility, abnormal testes development. Research has also linked these parabens with carious tumors including breast cancer and uterine tumors. (4)
4. Retinyl Palmitate
Retinyl palmitate otherwise known as vitamin A palmitate is composed of vitamin A and palmitic acid. It is commonly found in sunscreens as well as many other beauty and health care products. Given that vitamin A is an essential nutrient, it may come as a surprise to see that it may be a cause for concern.
However, data from a study done by the FDA indicates that retinyl palmitate applied to the skin and exposed to sunlight might actually have a devastating effect on the skin by speeding up the progress of skin lesions and tumors. When retinyl palmitate gets exposed to the sun's rays, it produces free radicals that can actually increase the risk of cancer.
Pregnant women should also exercise caution before using products containing retinyl palmitate because when used regularly, it may prove toxic to the fetus.
There are also concerns that retinyl palmitate can cause a reaction leading to cell death and heart disease. (5)
5. Artificial Fragrances
As well as the specific chemicals already listed, sunscreens are likely to contain a huge array of artificial chemical fragrances which make the product smell good. Some 1500 different chemicals are used in the manufacturing process and the actual chemicals used are highly unlikely to appear on the label.
You are far more likely to see the generic term 'artificial fragrance' listed. For that reason, they can be considered something of a hidden danger.
Alternatives to Chemical Sunscreens
Instead of using potentially harmful chemical sunscreens, there are a number of other ways to protect your skin from sun damage.
Mineral sunscreen
Mineral sunscreens offer a safer way to protect your skin. They usually contain zinc oxide and titanium oxide which are considered to be more natural methods of protection. It should however be noted that they are far from perfect and these compounds can still cause harm if they penetrate the skin. Another problem with mineral sunscreens is that the sun protection factor (SPF) is more difficult to determine correctly.
Dietary protection
You can go a long way towards protecting your skin from sun damage by eating plenty of the right types of food. Some of the best things to add to your diet include:
Astaxanthin found in salmon and shrimp.
Resveratrol found in red grapes and wine.
Omega 3 fatty acids.
Vitamin E
Catechins found in high levels in green tea
Beta-carotene found in colorful vegetables like carrots and bell pepper.
Cover up
By far the best and safest way to avoid skin damage from the sun is to simply cover up. Make sure you and your children wear hats and long sleeves and stay in the shade whenever possible.
(1) http://www.ncbi.nlm.nih.gov/pubmed/19856938
(2) http://www.ncbi.nlm.nih.gov/pubmed/11333184
(3) http://www.ncbi.nlm.nih.gov/pubmed/9310609
(4) http://www.altmedrev.com/publications/15/3/190.pdf
(5) http://www.ewg.org/skindeep/ingredient/705545/RETINYL_PALMITATE_%28VITAMIN_A_PALMITATE%29/