Maybe cabbage is not't the most popular vegetable on the block, however, this underappreciated vegetable is low calorie, nutrient dense, and offers a host of benefits. Those suffering from ulcers especially benefit, as drinking a glass of cabbage juice knocks standard medicine out of the park.
Whether you want to show your intestinal tract a little TLC or you want to enjoy the nutritional perks, adding cabbage juice to your juicing routine is something to consider.
Nutritional value:


Cabbage juice is high in nutrients and low in calories. By enjoying a glass of cabbage juice, you ingest vitamin A, vitamin C, vitamin E, vitamin K, vitamin U, vitamin B6, folate acid, manganese, and glucosinolates. Cabbage juice is also a good source of minerals, rich in iron, calcium, potassium, phosphorus, magnesium, and thiamin. These minerals are vital to hormone production, bone development, lowering blood pressure, and regulating heartbeat.
Antioxidants:
Cabbage juice is filled to the brim with antioxidants, increasing the body's ability to heal ulcers, and detox the body from damaging chemicals such as excess estrogen.

Cholesterol:


Cabbage juice, specifically red cabbage juice, is packed with Omega 3 fatty acids, which lowers bad cholesterol and triglycerides as well. This helps lower blood pressure, prevent strokes, and cardiovascular disease.

Ulcers:


If you're suffering from stomach/peptic ulcers or inflammation of the intestinal tract, a glass of this green juice will give you relief in as 2-3 days. Studies have found that freshly made cabbage juice not only gives immediate relief from ulcers, but also dramatically decreases crater healing time compared to standard treatment. (1)By dramatic we are talking 7 days vs the standard therapy healing time of 42 days.The active component for treating ulcers in raw cabbage juice is Vitamin U (named for its Ulcer healing factor)-which is technically not a vitamin but rather S-Methylmethionine.

Cabbage juice is rich in powerful phytochemicals that help protect and heal the mucous membrane lining of digestive tract and stomach. Cabbage juice also contains sulforaphane, an antioxidant that kills off the bacteria H. pylori, which is responsible for causing peptic ulcers.

Meanwhile, the amino acid glutamine, found in abundance in cabbage juice, is considered to be superior to commercial antacids in terms of treating ulcers for its ability to nourish and repair the gastrointestinal lining. A daily dose of cabbage juice is also a great way to practice ulcer prevention.

Digestion:


Cabbage juice is truly a savior for digestive tracts in distress. Packed with phytochemicals, cabbage juice soothes acid reflux and painful inflammation of the digestive tract. Lactic acid found in cabbage juice, re-establishes friendly gut flora, cleanses and disinfects the colon, making it an ideal treatment for colitis. Those suffering from IBS may also mind relief as cabbage juice works hard to decrease inflammation in the digestive tract.

Cancer:


Cabbage is known to have anti-cancer properties. Rich in phytochemicals, ingesting cabbage stimulates your immune system, which helps to fight off illness, and disease, including cancer. These phytochemicals help inhibit the growth and prevent the spread of cancerous cells and tumors.The antioxidants in cabbage juice also help flush out excess hormones such as estrogen and eliminate toxic chemicals. If you would like added protection against stomach cancer, colon cancer, breast cancer, prostate cancer, and lung cancer, add cabbage juice to your daily routine.

Inflammation:


Cabbage juice is a known anti-inflammatory; great for helping your body combat arthritis and other degenerative inflammatory diseases. The amino acids found in cabbage juice are also great for reducing skin inflammation.
Obesity:
Cabbage juice is a great natural supplement to help fight obesity. Low in calories, this juice helps detoxify the bowels, which helps improve digestion and elimination.
Anemia:
If you're looking for a good source of folic acid, look no further than cabbage juice. Folic acid is essential to building new blood cells and is instrumental in treating anemia.

Acne:


Full of antioxidants and phytochemicals, cabbage juice is a miracle tonic for your skin. This one-two punch helps fight harmful free radicals that cause acne, blemishes, and blackheads. High in vitamin C, cabbage juice efficiently heals the skin.
Anti-aging:
Drinking cabbage juice is like drinking from the fountain of youth. This anti-aging juice helps prevent dryness and fine lines.
Complexion:
Full of potassium, vitamin A and vitamin E, cabbage juice detoxifies your body and lends itself to improving the overall tone and texture of your skin. These vitamins greatly benefit your skin, rejuvenating tissues and making your complexion glow.
Healthy hair:
High in sulfur, drinking cabbage juice helps make your hair stronger and prevents hair loss. Cabbage juice also helps promote hair growth, nourishing the roots, while the silicon and vitamin E content make for long and lustrous locks.
How to Enjoy Cabbage Juice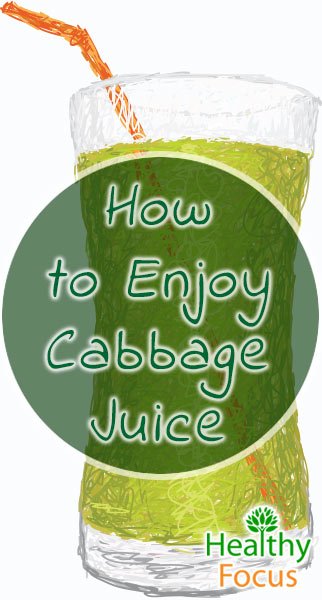 To get the most out of your cabbage, it's best to use a masticating juicer.
Before juicing your cabbage, soak it in warm water and then splash with apple cider vinegar in a big bowel to ensure you have properly cleaned it and removed any pesticides.
Once you have sufficiently soaked your cabbage, chop off the stem and then chop the head in half. Next, slice the half small enough to fit through the feed of your juicer. Typically, half a cabbage head is a sufficient amount for juice. Some people may find the taste of cabbage juice to be too potent or bitter, so you can dilute it with water or cut it with other vegetables and fruit.
Carrots and celery are recommended for those healing from digestive disorders. To get the most benefits out of cabbage juice, drink it immediately. Studies have shown that "Vitamin U" can break down in minutes. However, if you want to enjoy the probiotic qualities of cabbage juice, it can also be fermented.
Helpful Tips
If you're treating peptic ulcers, it is recommended that you drink fresh cabbage juice before each meal.
To prevent ulcers, you can enjoy cabbage juice paired with carrot and celery juice every couple of days.
You can either juice red or green cabbage. When selecting your cabbage, make sure that the head is firm and the leaves are crisp. Cabbage that is limp and yellowing has a declining nutritional content as it is past its time of ripeness.
 It is not advised to drink more than 4 ounces of cabbage at a time and is recommended to mix with out juices such as apple or carrot. Carrot and cabbage is a tested and true good flavor combination.

 If you drink too much cabbage juice, you may experience gas and slight cramping in the intestines due to the high sulfur content.

Never store cabbage juice in a refrigerator. To get the most benefits from cabbage juice, drink it fresh.
 It is not advised to add sugar or salt to your cabbage juice, as it compromises the nutritional content of the juice and greatly reduces its effect.
Consider using fermented cabbage to enjoy probiotic qualities.
If drinking fermented cabbage, you may want to start with a small amount and then work your way up, as exposing your digestive system to too much fermented juice too fast can cause stomach upset.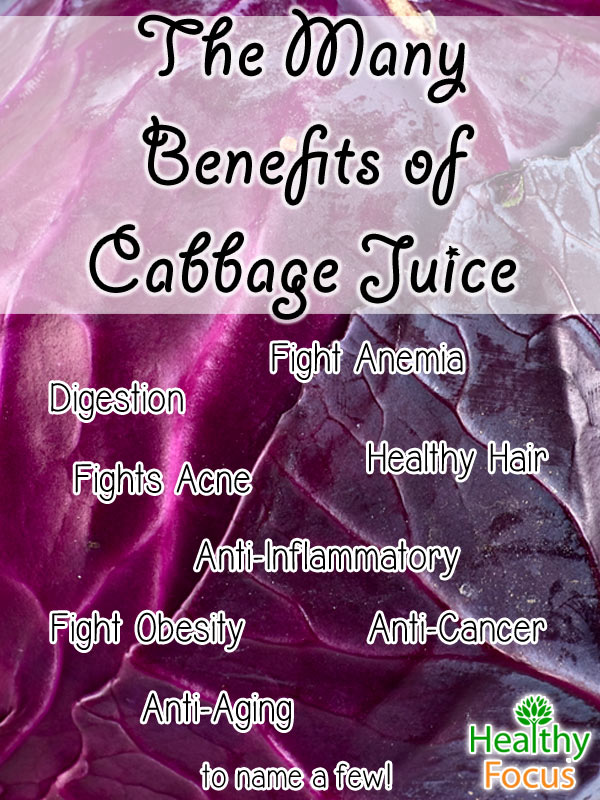 Cabbage Juice Warnings and Side Effects
Cabbage is not known to produce any significant side effects, however, some people may experience an increase of intestinal gas. If you find this to be a problem, dilute the cabbage juice with one or two parts water for every four parts juice. Throwing in a couple apples and carrots can also make the juice more palatable.
People with a thyroid problem, beware: Consuming cabbage can potentially displace iodine, which can have a negative effect on the thyroid. Consult with a physician before adding cabbage juice to your diet.