Rosacea Skin Care
We have covered rosacea in a fair amount of depth on this website. However, for the sake of completeness, it is a chronic skin condition that mostly affects a sufferer's face causing redness and irritation especially the cheeks, nose, forehead and chin. Anybody can be affected but it is more likely to occur during middle age and women are more prone than men.

Because there is no cure, managing rosacea as well as possible is important in improving your skin's appearance. Knowing what products to avoid and what to use in a beauty regime can make a big difference. People with Rosacea can still have issues with acne and the delicate nature of rosacea can make acne treatments difficult.
When over a thousand rosacea sufferers were surveyed by the National Rosacea Society, 41% of the respondents said that their condition was aggravated by certain beauty and skin care products while a further 27% said they caused flare ups.
Making sure that you use treat your skin with products that cause minimal irritation is key as is avoiding products and other triggers that lead to flare ups. Often everyday care is under control but if another issue such as acne or dry or oily skin becomes a problem—the new treatment can cause issues.
While there is no actual cure to this condition, there are some guidelines that can help you choose what to avoid and a range of natural products that might help to manage the problem.
While not every case of rosacea is the same and one person will react differently to another, a survey conducted by the National Rosacea Society established that there were a number of common irritants that could lead to rosacea flare ups. This is important because many skin care products contain one or more of the trigger ingredients.
Alcohol: This is the main culprit, 66% of patients reported that alcohol was a trigger.
Witch Hazel: 30%
Fragrances: 30%
Menthol: 21%
Peppermint: 14%
Eucalyptus: 13%
The majority of respondents also stated that they avoided exfoliating agents, astringents and any other products which proved harsh to sensitive skin.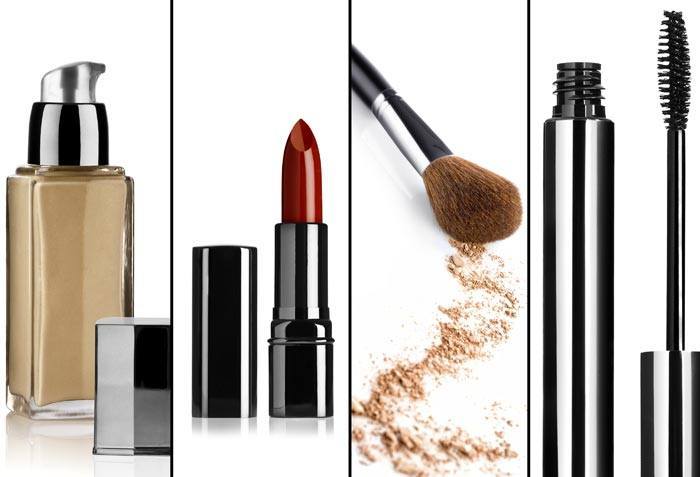 Try to use fragrance free products
Fragrances are the biggest culprit when it comes to allergic dermatitis than any other factor according to dermatological experts. The American Academy of Dermatology says that your risk of skin irritation is reduced by using fragrance free skin products.

Test the Product
Before you start using a cosmetic product on your face, it is important to do a spot test first. You can choose a small area of skin such as your forearm or the base of your neck to test the new product and to ensure that your skin does not react negatively. What irritates one rosacea sufferer is not necessarily the same as the next person so always try it out on your own skin first.
Minimize
Try not to use too many products on your skin. Limiting the amount of products that you apply will reduce the risk of allergy or irritation. Choosing products with multiple uses is better than opting for several products with a single use.

Apply a sunscreen during the day
Applying a sunscreen with an SPF of at least 15 can help to keep your rosacea managed. The only active screening ingredients in the sunscreen should be titanium or zinc oxide and look out for other beneficial ingredients such as antioxidants.
What to Use
If you suffer from rosacea, there are many commercially available skin care products that might be suitable for your skin. Another option is to look at the fairly extensive range of natural remedies that might help you to manage the condition.
Essential oils for Rosacea
Essential oils are an incredibly rich source of potent medicinal properties that are used to treat a variety of complaints and many of these oils have a number of applications when it comes to conditions that affect the skin.
Indeed, while their ability to treat rosacea might not be well known, there is evidence to suggest that they might be effective. These are some of the essential oils that might be able to help. If you are interested in a more detailed look at the role essential oils can play in your skin care routine look here.
Geranium Essential Oil
This essential oil has anti-inflammatory, anti-bacterial and astringent properties and can reverse the capillary weakening effect of rosacea. With stress being a trigger for some people's flare ups, the calming effects of geranium oil might help even further.

Tea Tree Essential Oil
Recent evidence suggests that one of the trigger factors for rosacea flare ups might be the demodex mites that inhabit the facial skin. The antimicrobial properties in tea tree oil might help eliminate these mites.
Lavender Essential Oil
One of the most popular and versatile of all the essential oils contains properties that are well known to treat skin conditions and is considered very beneficial in the treatment of rosacea. Lavender oil is a well-known stress reliever and stress is a known trigger factor in rosacea flare ups.
Rosehip Essential Oil
This essential oil contains retinol which is an ingredient in many commercial skin care products.
Borage Essential Oil
Borage essential oil alleviates rosacea and decreases skin reddening because of its amazing anti-inflammatory abilities.
Other Natural Treatments
As well as essential oils, there are a variety of other natural treatments that can help you to control your rosacea and manage the condition's symptoms. If you want to read more detail regarding natural treatments for your rosacea then follow this link
https://healthyfocus.org/the-best-natural-remedies-for-rosacea/

Coconut Oil
Coconut oil has the ability to treat a number of dermatological issues that range from eczema to acne. Its moisturizing ability and its incredible and don't forget totally natural anti-inflammatory properties make it the ideal product to treat your rosacea.

What is more, coconut oil kills the parasitic mites that are thought to be responsible for many rosacea flare ups.
For a more comprehensive look at coconut oil's ability to treat rosacea see here: https://healthyfocus.org/the-how-to-use-coconut-oil-for-rosacea/
tWe are only just beginning to understand how beneficial olive leaf extract can be but what we do know is that this extract is one of nature's most effective detoxifiers and that it gives the immune system the boost required to fight inflammation.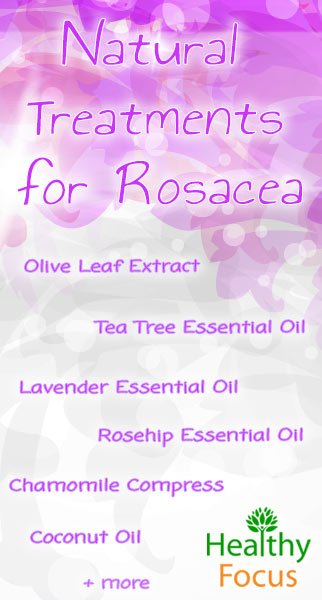 Olive leaf extract has a great number of medicinal benefits but there are a number of possible side effects that you should be aware of. The potential side effects are analyzed in more detail here: https://healthyfocus.org/olive-leaf-extract-side-effects/
Oatmeal
Oatmeal is a well-known traditional remedy for inflammation of the skin. It has anti-inflammatory and antioxidant properties which help to decrease redness and ease itching.
Chamomile Compress
Chamomile has great ant-inflammatory qualities and a compress made with chamomile is a favorite natural method of managing many skin complaints including rosacea.
Green Tea
Green tea is packed with goodness; indeed it is doubtful that a healthier drink exists. Green tea is a potent antioxidant which can also help protect your skin from the sun's rays. As well as the benefits you will get from drinking green tea regularly, you can steep the tea bags, cool them and just place them onto any affected area to soothe your inflammation.
Aloe Vera
Whether you take it internally or apply it topically, Aloe Vera can help reduce the inflammation and soothe irritations associated with rosacea.
Apple Cider Vinegar
Apple cider vinegar is a wonderful anti-inflammatory product which can be taken internally or applied topically to help manage your rosacea.