Thinking about having a nice soothing cup of tea? Do you want to curl up with something that is not only delicious but also beneficial to your overall health? Consider having a nice hot cup of mint tea.
Mint tea will not only calm you, but will also alleviate a wide range of health ailments such as irritable bowel syndrome. This herbal tea's greatest strength lies in its ability to boost the immune system, suppress a voracious appetite, reduce pain, reduce inflammation, improve digestion, and calm your body and mind.
What is Mint Tea?
Mint tea is a fusion extracted from peppermint leaves. If you add spearmint leaves to the mix, you get a double mint tea. The main element of mint tea is menthol, which is responsible for a good portion of its health benefits. Many people enjoy drinking mint tea because its caffeine-free and serves as a relaxing drink at bedtime.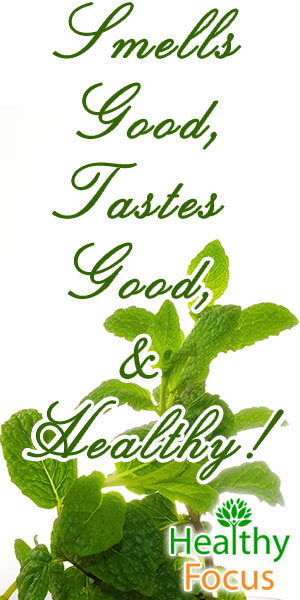 Benefits of Mint Tea
Below is an exploration of all the medicinal and therapeutic effects one can experience while regularly drinking mint tea. Most of the benefits are derived from the benefits of peppermint.
Gas Relief
If you are suffering from a painful bloat and trapped gas, a hot cup of peppermint tea will instantly reduce the pain associated with excessive gas.Peppermint tea relaxes your smooth digestive muscles and intestines, encouraging gas to easily pass through. Read this article for other natural tips on how to relieve gas https://healthyfocus.org/9-tips-how-to-relieve-gas-naturally/
Nausea and Vomiting: Peppermint tea is an antispasmodic, meaning it calms the overall atmosphere of your digestive system, reducing spasms and tummy ache. It is believed that drinking a cup of peppermint tea reduces your chances of vomiting, especially vomiting associated with motion sickness.
It is even safe to drink in moderation during pregnancy. This anti-inflammatory tea works as a balm on your digestive system; cooling everything down and bringing much needed relief. For information about essential oils to relieve nausea-read this article https://healthyfocus.org/essential-oils-for-nausea/
Indigestion
Mint has been used for centuries to calm and soothe an upset stomach and indigestion. Mint encourages the flow of bile through the stomach, helping to more efficiently breakdown food and ease the digestion process. Enjoy a cup of mint tea after a meal to experience maximum effects.
Irritable Bowel Syndrome
If you are suffering from irritable bowel syndrome, you may feel like there is nothing out there that can help with the discomfort and urgency of its symptoms. However, some people experience some relief by drinking peppermint tea.
Peppermint oil is one of the few things found that can help prevent the urgency of IBS symptoms. Peppermint tea helps to alleviate inflammatory discomfort and helps to ease digestive issues. Consider having peppermint oil or peppermint tea an hour before your meals to reduce your IBS symptoms.
Weight Loss
Although you cannot magically shed pounds by simply drinking this tea, however, you can get a bit of assistance from peppermint tea. This minty delight works as an appetite suppressant, making overeating less likely.Consider blending peppermint tea with green tea to boost your metabolism and get maximum results from your exercise routine. Although peppermint tea is not the dramatic weight loss cure everyone seems to be searching for, consistently drinking this tea will help you stick to your eating and weight loss goals.
If reducing appetite is something you want natural help with glucomannanhttps://healthyfocus.org/glucomannan-weight-loss-secrets-finally-exposed/
and psyllium husk https://healthyfocus.org/psyllium-husk-for-weight-loss/ are fibers that can really help with appetite suppression.
Immune Support
Peppermint tea is loaded with antibacterial properties, which helps to prevent illnesses, infection, fevers, and colds. Regularly consuming this tea will help prevent you from getting sick during cold and flu season.
Filled to the brim with antioxidants, potassium, and some vitamin B, peppermint tea will not only help you fight off any illness you may have contracted and helps promote maximum functioning of your body and immune system.
Respiratory Health
If you have an annoying cough, mint tea works as an antispasmodic, alleviating that annoying tickle at the back of your throat. By easing up the muscles of your throat and chest, you can help reduce the most irritating of cold symptoms.
This mentholated drink also helps to break up mucous and phlegm clogging up your air passages and preventing resulting cough. Those suffering from a store throat will also find soothing relief in drinking this tea.
Fever Reducer
Allow the cooling effects of menthol and mint help bring that fever down. The menthol element of mint tea helps encourage sweating and cooling down of the body. By ingesting this tea, you eliminate toxins by sweating it out and helping the fever to break. Drinking mint tea will also help ease symptoms associated with fever as well.
Seasonal Allergies
Mint plants used to make mint tea contain an antioxidant compound called rosmarinic acid. Rosmarinic acid has been found to alleviate the symptoms of seasonal allergies due to its anti-inflammatory properties. You should also look at essential oils that can help with allergieshttps://healthyfocus.org/essential-oils-for-allergies/
Stress Relief
If your mind and body are wrapped in the vice-like grip of stress, sipping on a cup of soothing peppermint tea can lend you some relief. The menthol in peppermint tea works as a muscle relaxant, easing up tense muscles. Enjoy a cup of mint tea before bed to calm frazzled nerves and to get a night of restful sleep.
As for mental stress, mint tea works as an anti-inflammatory, reducing your blood pressure and body temperature. Once you reduce these physical symptoms of stress, you can allow yourself to truly unwind, letting your worries and mental stress melt away. Peppermint tea is a natural sedative, so keep this tea in mind for a nighttime treat.
Muscle Pain
Peppermint naturally soothes muscles spasms. By drinking this tea, you can naturally reduce your muscle pain and allow your body to relax. Try soaking your achy muscles in a warm bath with peppermint tea or peppermint oil sprinkled in to get immediate relief. Essential oils such as peppermint can help reduce pain as well
https://healthyfocus.org/the-top-10-essential-oils-for-pain/
Clear Skin
Peppermint tea helps address hormonal skin problems such as acne. If you're looking for a natural solution to this problem, try drinking peppermint tea. Peppermint tea helps boost estrogen levels, working as a supplement to other estrogen-boosting measures. If you're suffering from inflammatory skin conditions, burns, and rash, try adding peppermint tea to your bathwater. This will help clear up your skin condition while adding a revitalizing menthol scent to your bathwater.
Fresh Breath
The natural antibacterial properties of peppermint tea can help neutralize bad breath. This mentholated tea eliminates bacteria responsible for halitosis, while the effervescent minty flavor of the tea freshens your breath.
Possible Cancer Protection
Peppermint contains menthol, which some experts believe may inhibit the growth of prostate cancer. If you want added protection that may inhibit the growth of cancer cells, consider having a cup of peppermint tea everyday.
Some Considerations
Although mint tea may be the key to natural health for some, this tea may not suitable for all people. To experience the benefits of mint tea in the safest manner possible, talk to your physician before adding peppermint tea to your health care routine or before using it to address specific health ailments.

Although peppermint tea is recommended for digestive health, those suffering from symptoms related to gastroesophageal reflux beware: peppermint tea may worsen your condition.
Some people find that peppermint actually worsens heartburn, so avoid this tea if you're sensitive to the effects of peppermint.
Some people may find peppermint to be an allergen, so consult a physician to talk about possible allergies.
If you suffer from gallstones, beware of using any mint product as they can exacerbate your symptoms.
Speak to your health care provider to make sure mint tea does not counteract with any of your medications.