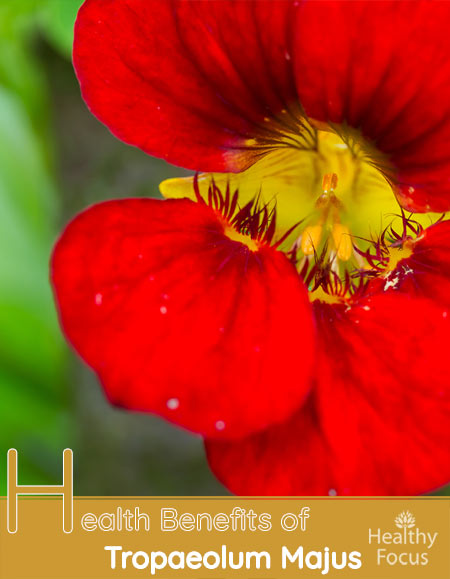 We have been blessed with nature in so many ways. Much of what grows in our fields, forests and gardens is wonderful to look at but it can also do so much more. Edible flowers are becoming increasingly popular because of their diverse range of healthy antioxidants and because of the nutrients that many of them contain.
Some have outstanding medicinal properties that can be sued to treat a wide range of complaints both internally and externally. One such plant is Tropaeolum majus. This beautiful plant has been cultivated for ornamental use in gardens the world over but it has a lot more to offer besides. If you would like to find out more about what the plant can do for you and how to use it, please read on.
What is Nasturtium?
Tropaeolum Majus otherwise known as Indian cress, monk's cress, garden nasturtium or 旱金莲 in Chinese is a brightly colored flowering plant belonging to the family Tropaeoloaceae. The plant is native to Many parts of South America including Colombia, Bolivia and Peru. It is now cultivated in many parts of the world as an ornamental plant.
Despite its common name, it should not be confused with the genus – Nasturtium (that includes watercress).
The plant has a glorious appearance with brilliantly colored red and orange flowers. However, it is not just a treat for the eyes. Garden nasturtium was used for its medicinal benefits in South America long before it was introduced to Europe in the 17th century.
The plant is rich in a number of antioxidants and has a good range of medicinal properties including excellent antibacterial actions. It has been used for conditions ranging from colds and flu to treating urinary tract infection, wounds and cuts.
Plant Description
Garden nasturtium grows quickly with stems that reach a height between three and six feet. Its large, green leaves are almost circular and peltate. The flowers, which grow to a diameter of three to six centimeters, have five petals and eight stamens with a nectar spur near the rear. They are brilliantly colored varying from yellow to orange and red.
Composition and Medicinal Properties
The flowers and leaves are often used to make medicine but all parts of the plant can be used. Tropaeolum majus an excellent source of vitamin C and minerals including magnesium, calcium, phosphorus, potassium, iron, copper and zinc.
The plant contains various antioxidant compounds including polyphenols, anthocyanins and vitamin C.
According to studies, the essential oil extracted from the plant contain anti-fungal, antibacterial, expectorant, hypotensive and anti-inflammatory properties. (1)
Historical Use
Originating in South America, garden nasturtium has been used widely as medicine by the locals for hundreds, if not thousands of years. Because of the plant's excellent antimicrobial properties, it has been commonly used to treat kidney complaints infections of the urinary tract.
The peppery leaves were used to supplement the diet and to prevent diseases like scurvy.while the seeds were regarded as a prized delicacy.
The plant was introduced to Europe during the 17th century and was given the name 'Indian cress' because of its similar flavor to watercress (Nasturtium officinale). The high content of vitamin C and other nutrients made the plant a popular addition to many european diets.
Health Benefits of Nasturtium
Immune System Support
It is essential that our immune system is in the best possible shape to protect it against various conditions. It also contains a variety of powerful antioxidant that can help prevent disease and neutralize the damage caused by free radicals.
Tropaeolum majus (nasturtium) is an excellent source of vitamin C which can help bolster the immune system. By improving your body's defenses, nasturtium can help keep sickness at bay and may help speed up recovery if you are already ill.
One recent study looked at the anti-inflammatory effects of the plant. the study focused on its ability to inhibit the inflammatory response in human immune system cells. The researchers found that the herb exerted a powerful anti-inflammatory effect by blocking the release of leukotriene LTB4. (2)
Coughs and Colds
As well as boosting the immune system and helping to prevent coughs, cold and influenza, Tropaeolum majus can act as a natural expectorant.
A cup of tea made from nasturtium is an excellent way to get rid of the build-up of mucus that causes coughing and breathing troubles. Drink a few cups a day with some honey and you should soon be breathing more easily.
Antioxidant Benefits
According to research, Tropaeolum majus is a great source of various antioxidants that can help prevent and treat disease. (3)
It is important that we get as many antioxidants into our system as possible to protect against and even reverse the damage done by free radicals or oxidative stress.
Antioxidants like the phenolic compounds found in nasturtium can help protect the body from a wide range of diseases including cancer, heart disease and dementia. They also have an anti-aging effect on the body, both internally and by improving your skin's appearance.
Urinary Tract Infection
According to research, the plant has excellent antimicrobial and antibiotic properties that can help treat painful urinary tract infections and prevent the recurrence of infection.
One study, published in 2007, examined the effects of nasturtium (Tropaeolum majus) combined with Armoraciae rusticanae radix (horseradish) on people with recurrent urinary tract infections.
139 adults were split into random groups and either given the herbal treatment or a placebo for a 90 day period. The researchers found that there was a significant reduction in recurrence of urinary tract infection in the group given the herbal medication.
The researchers concluded that the trial demonstrated the safety and efficacy of the treatment for people with chronically recurrent UTIs. (4)
Obesity
There is some evidence from a recent study that Tropaeolum majus may be an effective treatment for the prevention of obesity and weight control.
One study, published in 2017, looked at the effects of nasturtium on the way fats accumulated in the cells. The researchers found that trapaeolum majus was able to inhibit expression of molecules that are involved in adipogenesis and lipogenesis. The herb also effectively reduced lipid accumulation and triglyceride content in the cells.
The researchers believe that the results are promising and indicate the potential use of Tropaeolum majus in preventing obesity and helping regulate weight. (5)
Wound Healing
Because of its excellent anti-inflammatory and antibacterial properties, you can use the herb as a topical remedy for minor wounds, cuts, stings or bites. The anti-inflammatory actions of the herb can help ease irritation while the antibacterial actions will help prevent bacteria from taking hold.
The best way to treat the skin is to make a tea (following the instructions later in the article) and apply it to the affected area with a cotton ball.
Hair Care
Nasturtium is also great for your hair. Add around a cup of the leaves and flowers to a liter or so of boiling water and and let the mixture simmer for at least 15 minutes. Let the mixture cool and strain and it is ready to use. The mixture can be drunk as a tea or stored in the refrigerator to treat your hair and scalp.
Massage the liquid into your scalp and hair once every day and then rinse it out. Its anti-fungal properties can help treat common scalp conditions like dandruff while the treatment may also help bring back strength and vigor to your hair.
How to Use Tropaeolum Majus
As a Tasty Garnish
The entire nasturtium plant can be eaten. This includes the leaves, buds and flower petals. The leaves have a crisp, peppery flavor similar to watercress. They are a great addition to salads or sandwiches and can also be used to garnish various other dishes like soups or stews.
Try chopping up the fresh leaves and adding them to cream cheese or egg dishes to add a unique flavor to your meal.
In Tea Form
You can also use nasturtium to make a healthy, antioxidant packed tea.
Simply add a cup or so of the leaves and flowers to a liter of boiling water and simmer the mixture for 15 minutes. let the liquid cool then strain and drink.
You can also use the tea as a scalp and hair treatment. Just massage it into your hair daily before rinsing it away.
To treat minor wounds or cuts, apply the cool tea to the affected area with a cotton ball.
Frequently Asked Questions
What are health benefits of nasturtium?
The plant's petal and leaves are a great source of nutrients including vitamin C which can boost the immune system. The plant is also an excellent source of antioxidants while it also contains anti-fungal, antibacterial and expectorant properties. It is used for coughs and colds as well as urinary tract infections. Studies also suggest it may have anti-cancer potential as well as the ability to fight obesity.
Can nasturtiums be eaten?
Nasturtium is absolutely edible. In fact, the entire plant can be eaten. The leaves have a peppery flavor much like watercress and an aroma similar to mustard. Nasturtium leaves and petals are a great way to add flavor and color to your salads or to garnish various other dishes.
How do you make nasturtium tea?
Nasturtium tea is very easy to make. Simply add a cup or so of the flowers and leaves to a liter of boiling water. Turn down the heat and simmer for around 15 minutes. Strain and drink up.
Precautions and Side Effects
Tropaeolum majus is considered safe for consumption and for topical use by the majority of healthy adults. The studies done to date have not reported any serious side effects but care still needs to be taken whenever using a herbal remedy.
There are potential side effects from consuming nasturtium including stomach upset and nausea.
The topical application of nasturtium may cause irritation to some sensitive individuals.
Pregnant women and those who are breast-feeding should avoid using nasturtium. there is not enough data to confirm its safety.
Children should not be given nasturtium orally and there is not enough information regarding its topical application for young children.
Avoid using the plant internally if you have intestinal ulcers or stomach ulcers.
Do not use the plant if you have a pre-existing kidney disease.
Final Thoughts
Tropaeoloum majus, commonly referred to as nasturtium, is an ornamental plant with a good range of potential medical uses.
The plant is rich in nutrients including vitamin c and has powerful antioxidant, antimicrobial and anti-inflammatory properties.
It can help boost immunity and is commonly used to treat colds, coughs and infections of the urinary tract.
The entire plant is edible and it can also be applied topically to help treat minor wounds.
Have you ever eaten nasturtium or applied it topically? Please let us know what you thought of its effects and whether you would recommend using it.
1) https://www.ncbi.nlm.nih.gov/pubmed/29766690
2) https://www.ncbi.nlm.nih.gov/pubmed/27161402
3) https://www.ncbi.nlm.nih.gov/pmc/articles/PMC4307276/
4) https://www.ncbi.nlm.nih.gov/pubmed/17723159
5) https://www.ncbi.nlm.nih.gov/pmc/articles/PMC5475310/