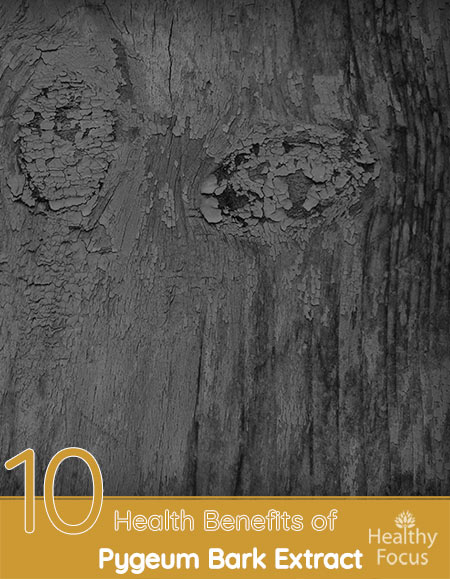 Prostate disease is a major concern for men around the world with prostate cancer being one of the leading causes of death in the male population. Among the many herbs that have been examined for their effects on prostate health is an extract from the bark of the pygeum tree known botanically as Prunus africana.
if you would like to find out more about the prostate benefits of this herb as well as its many other health uses, please read on.
What is Pygeum Bark?
Prunus africana is a large, evergreen tree which is native to many parts of Sub-Saharan Africa. In fact, the tree grows in the forests of over 20 African countries, including Uganda, Kenya, Tanzania, South Africa and Mozambique. The botanical name for the tree is Pygeum while it is also known as the African plum tree.
Pygeum tree bark contains a number of therapeutic compounds and is harvested for medicinal purposes. The plant has been used to treat prostate conditions, digestive complaints and even as a natural aphrodisiac.
Plant Description
The Prunus africana tree grows to a height between 30 and 40 meters at altitudes above 3000 feet. This evergreen, canopy tree is the tallest member of the Prunus family. The tree's bark is black, grey or brown and is scaly and fissured. The tree's leaves are dark green on the top side and light green underneath and about three to eight inches in length.
The plant produces white flowers from October to may as well as small fruits that ripen from September to November. These bitter fruits are inedible to humans but enjoyed by various animals.
Composition of Prunus africana bark
Prunus africana has a number of bioactive constituents that give the bark its medicinal uses. According to studies, the following compounds are found in the bark : (1)
lauric acid
myristic acid
n-docosanol
ferulic acid
β-sitostenone
β-sitosterol
ursolic acid
Fast Facts
The tree is mainly found at an altitude from 1000 to 3500 meters above sea level.
In Africa, it has a number of different names depending on the region in which it is found. It is known as Inyazangoma-elimnyam by the Zulus and Entasesa by the Baganda people of Uganda. In Afrikaans, the tree is referred to as Rooi-stinkhout.
The tree is also known as red stinkwood because of the unpleasant odor it gives off.
The bark has traditionally been used to treat stomach pain, fever, malaria and poisoning. It has also been used as a purgative and to stimulate the appetite.
The tree produces a very bitter fruit that is eaten by a range of animals but not by humans.
The tree's timber is used for a range of purposes including furniture, wooden tools, chopping blocks, floors and bridge decks.
Because it has been over exploited, Prunus africana is now an endangered species of tree.
Health Benefits
Pygeum bark has been used to treat prostate conditions since the 1960s. it contains a number of active constituents including fatty acids and flavonoids that can inhibit 5-alpha reductase in a similar way to conventional medication. It has excellent anti-inflammatory actions that can help inhibit the proliferation of the cells responsible for prostate enlargement and associated disease.
Enlarged Prostate
Enlarged prostate or, benign prostatic hyperplasia, is a common condition especially among men over the age of 50. Studies suggest that pygeum bark extract might help treat the symptoms of BPH. One review, published in the year 2000, demonstrated that while pygeum extract was not as effective as prescription treatments, it was still an effective alternative. (2)
The review found that pygeum bark extract helped treat the following common symptoms of BPH :
frequent urination
night urination or nocturia
pain
inflammation
incontinence.
More recent research has found that not only does pygeum bark extract help ease the symptoms of BPH, but it can help treat the actual condition.
A study, published in 2012, indicates that pygeum bark extract could help prevent BPH by slowing down the growth of prostate cells. (3)
Despite all the research into the effects of the herb on BPH, the results are not conclusive. More research is necessary before we can say for certain just how effective it is.
Prostate Cancer
Prostate cancer is one of the major causes of death among men in the world today and research suggests that pygeum bark may have a part to play in the fight against it.
The same 2012 study cited above also revealed that pygeum bark extract could reduce the risk of developing prostate cancer. (3).
Several earlier studies came to similar conclusions. Studies published in 2010 and 2011, found that Prunus africana bark acted on certain androgen receptors that controlled prostate growth. (4) (5)
In 2017, a review of the studies done to date, concluded that phytochemicals found in the herb were a promising option for both protecting against prostate cancer and for treating the disease. (6)
Prostatitis
Prostatitis is a painful condition involving inflammation in the prostate and often the areas surrounding it. Pygeum bark has commonly been used to treat the condition and research suggests it may be an effective treatment.
A study, published in 2014, found that various herbs including Prunus africana bark could treat prostatitis effectively and safely. The study compared the effectiveness of pygeum bark extract with a commonly prescribed antibiotic and found that the herbal remedies compared favorably. (7)
According to researchers, pygeum bark may help treat prostatitis because of its anti-inflammatory actions and its urinary benefits. It might help to ease the symptoms of the condition in the same way that it helps treat the symptoms of BPH including frequent urination, inflammation and pain.
Kidney Health
Pygeum bark has traditionally been used to support kidney health treat symptoms of kidney disease. The herb's ability to improve kidney health has been mentioned in several recent papers, including a review published in  2014. (8)
Some of the symptoms associated with prostate disease like night urination, frequent urination and pain are also symptoms associated with kidney disease. Pygeum bark extract may help ease those symptoms but there is no evidence that it will help treat kidney disease itself.
Urinary Tract Infections
One of the most common traditional uses of the herb is to treat urinary tract infections as well as similar conditions like bladder infections.
Pygeum bark extract may have a role to play in treating these conditions naturally and safely. Pygeum bark was mentioned in the review cited above as  one of the most effective herbs for treating infections of the urinary tract and other urinary disorders. 
An animal study, published in 2011, also found that pygeum bark helped promote bladder health and healing. (9)
As is the case with much of the research into the herb. there is evidence that it can help treat the symptoms but evidence that it can treat the disease itself is lacking. As far as we know, it can not cure the infection that causes the disease but is effective at treating symptoms like painful urination and inflammation.
General Inflammation
Many of the prostate and urinary health benefits of pygeum bark extract is probably related to its anti-inflammatory actions.
Research has found that the herb has antioxidant properties, which help reduce oxidative stress as well as inflammation of the kidneys, urinary tract and prostate. These anti-inflammatory and antioxidant actions could also help reduce general inflammation, boost the immune system and reduce the risk of diseases like cancer and heart disease.
While this sounds promising, more studies are needed before the herb can be considered as a viable alternative to conventional anti-inflammatory medication.
Malaria
Malaria is one of the biggest threats to life in certain parts of the world, including Africa. Pygeum bark extract has traditionally been used in Africa to treat the disease naturally.
Unfortunately, no stiudies have been done to date to examine the potential effects of the herb against the disease and it is not recognized as a cure.
Nevertheless, it has been used traditionally to treat the symptoms of malaria, some of which are similar to symptoms of prostate and kidney disease. Pygeum bark may also help reduce fever which is another common symptom of malaria.
Malaria is an extremely serious condition and it is important that you see a doctor right away, if you are concerned about your symptoms.
Fever
Pygeum bark extract has also been used to treat fever but there are no studies into its effectiveness. Nonetheless, pygeum bark extract remains a very popular home remedy for fever in many parts of Africa.
While the herb may be effective for fevers, it is not recommended and is not supported by evidence. More studies are necessary before we can draw firm conclusions.
Stomach Pain
Pygeum bark is also used as a traditional remedy for digestive upset, stomach pain and other gastric disturbances. There is no scientific evidence to support its use for the stomach but it may be effective because of its anti-inflammatory properties.
A Potential Natural Aphrodisiac
Pygeum bark extract has also been used, especially by men, to boost sexual appetite. Whether or not the herb actually works to boost libido has not been tested scientifically but the potential psychological benefits of the herb's reputation could be valuable.
How to Use Pygeum Bark Extract
Pygeum bark extract is usually used in the form of supplements. It is usually used in powder form and made into capsules or pills. Pygeum bark supplements are readily available online and at certain health food shops.
Make sure that you buy from a reputable source and follow the instructions on the label carefully. Quality and dosage can vary from product to product but the usual recommended dose is between 100 and 200 milligrams a day for prostate conditions and urinary complaints. This is the dosage range that has been used in the majority of studies on Prunus africana.
Side Effects and Precautions
The studies done to date indicate that pygeum bark extract is safe for the majority of people as long as it is used correctly.
Some potential side effects include nausea, diarrhea, stomach upset and constipation.
If you suffer from any sort of reaction, you should stop using the herb immediately.
There is no data regarding the herb's safety for pregnant women or nursing mothers. If you are prgnant or breast feeding, avoid using pygeum bark extract.
Children should not use pygeum bark extract because safety data is lacking.
While pygeum seems to be safe for the vast majority of people, you should speak with your doctor if you are in any way concerned. Your doctor can also determine whether the herb was a suitable remedy for your condition.
Final Thoughts
Pygeum bar extract has been used in parts of its native Africa for many years especially for urinary disorders, prostate issues, malaria and fever. it is also a popular aphrodisiac among African men.
A number of studies suggest the herb holds a lot of promise for treating symptoms of prostate conditions like BPH and prostatitis while it may have cancer prevention benefits.
Pygeum bark extract may also help treat urinary tract conditions and kidney disorders as well as being useful for general inflammation.
It is available in supplementary pill and capsule form and usually taken in doses between 100 and 200 mg a day.
Side effects from taking the herb are rare as long as you use it correctly.
(1) https://www.ncbi.nlm.nih.gov/pubmed/22795601
(2) https://www.ncbi.nlm.nih.gov/pubmed/11099686
(3) https://www.ncbi.nlm.nih.gov/pmc/articles/PMC3720175/
(4) https://www.ncbi.nlm.nih.gov/pubmed/19771394
(5) https://www.ncbi.nlm.nih.gov/pubmed/20965230
(6) https://www.ncbi.nlm.nih.gov/pmc/articles/PMC5327751/
(7) https://search.proquest.com/openview/e3ba84e3a5d4e79951e3a086fbdadc80/1?pq-origsite=gscholar&cbl=105751
(8) https://www.ncbi.nlm.nih.gov/pmc/articles/PMC5297587/
(9) https://link.springer.com/article/10.1007/s11255-010-9747-2