What is Water Retention?
Fluid retention which you may also know as water retention is referred to medically as edema. All of these terms refer to a build-up of fluid in the body's circulatory system, tissues, and cavities. This water retention results in puffiness and swelling.
Around 70% of our body is made up of water. It exists both inside the cells and outside.
Blood is largely comprised of water as are the muscles and the organs. Even our bones which we think of as solid objects are comprised of around 50% water.
A complicated system of prostaglandins and hormones help the human body regulate its water levels.
When excess water is taken in, the kidneys resolve the imbalance by quickly excreting any excess fluids as urine. Likewise, when we drink less, our production of urine will be reduced.
What Causes Water Retention?
Fluid retention may occur in various different parts of our bodies for a variety of reasons. It can occur in the heart, the lymphatic system, the kidneys and the capillaries.
The precise mechanisms by which fluid is retained is complex and beyond the scope of this article.
We will, however, take a look at some of the most common causes of fluid retention before going on to look at how essential oils can help you treat the problem.
Some of the most common causes of water retention include the following:
Physical Inactivity
Pregnancy
Protein Deficiency
Histamine
Certain Medications such as NSAIDs and Beta-blockers
Thyroid disease
Malnutrition
A diet consisting of excess sodium (salt)
The treatment for fluid retention depends on the underlying cause of the problem.
For example in the case of pregnancy, the issue will most likely be resolved following childbirth while reducing the salt in your diet can help others.
If it is caused by long periods of inactivity, then making sure that you get up and about more often during the day can help a great deal as can keeping your legs raised from the ground.
Another effective and natural option is to use one of several essential oils that have diuretic and anti-inflammatory properties perfect for treating the problem.
The Best Essential Oils to Treat Fluid Retention
Many essential oils can be highly effective in cringing your fluid levels back into balance and relieving edema. Of course, it is important that you consult a doctor to rule out any serious underlying causes for your condition.
Much of the time, however, it may be possible to treat your swollen limbs naturally with the help of an essential oil massage.
The following list of essential oils are some of the most effective for treating your water retention.
1) Chamomile Essential Oil
Chamomile essential oil has excellent anti-inflammatory properties making it an excellent remedy for a variety of skin conditions. While it is most famous for its calming abilities and its skin benefits, it also makes for a great natural remedy for your swollen limbs caused by water retention.
Combine a few drops of chamomile oil with a suitable carrier oil such as coconut, jojoba or sweet almond. Gently massage the mixture into your swollen limbs several times each day until the swelling subsides.
An alternative approach is to soak a cloth in water then add a few drops of chamomile oil. Use the cloth to rub down the affected area of your body several times each day.
2) Lavender Essential Oil
Lavender essential oil is the most popular and one of the most versatile of all the available essential oils. It is also among the most gentle acting and suitable for those with sensitive skin and for children.
Among its many medicinal properties, lavender oil is anti-inflammatory and antiseptic and ideal for applying to swelling caused by water retention.
3) Juniper Essential Oil
Juniper essential oil is another excellent option for treating swollen limbs caused by fluid retention.
It has the anti-inflammatory and diuretic properties that can be a huge help in treating your problem.
You can dilute your juniper oil with a carrier oil and massage it into your edema. Alternatively, you can add 10 to 15 drops of the oil to a bowl of lukewarm water to soak your swollen feet.
Be careful not to use too much of the oil as it can cause irritation of the skin.
4) Tea Tree Essential Oil
Tea tree essential oil is another extremely popular essential oil famed for its outstanding medicinal qualities and a huge range of applications.
Tea tree essential oil has excellent anti-inflammatory properties and is perfect for dealing with inflammation and puffiness caused by water retention.
The best way to use the oil on your swollen limbs is to dilute your tea tree oil with a suitable base oil and massage it into the affected area several times each day. Massaging from the feet upwards to the knees can help disperse the trapped fluid.
5) Geranium Essential Oil
Geranium essential oil is another excellent remedy for swelling of the limbs. It is highly anti-inflammatory and also possesses diuretic actions that help you eliminate excess fluids from the body.
As with the other oils mentioned, you can dilute it with a carrier oil and use it in a massage.
Alternatively, add 6 to 10 drops to your bathtub and let it soak over your body. And into your skin. Both these methods can have a very beneficial effect on your swelling.
6) Fennel Essential Oil
Fennel essential oil may not be as well known or as popular as some of the others on the list but it is no less effective when it comes to relieving swelling in the hands, feet, and ankles. It has anti-inflammatory and diuretic properties making it a great treatment option for water retention.
It can be used alone in combination with a carrier oil as a massage or combined with another essential oil such as cypress.
7) Wintergreen Essential Oil
Wintergreen essential oil has an extremely powerful fragrance that not everybody enjoys and it is far from the most popular essential oil. Nevertheless, it represents a great remedy for swelling and fluid retention and is certainly worth trying.
Wintergreen oil is effective but extremely potent. Make sure that you dilute it well with a suitable carrier oil and perform a patch test on a small area of skin before applying it fully to make sure that you do not have a reaction.
8) Grapefruit Essential Oil
Grapefruit essential oil is one of those wonderful citrus oils that smell wonderful and can induce a feeling of calm and well-being. Grapefruit oil also has diuretic activities making it a great remedy for swollen feet and hands.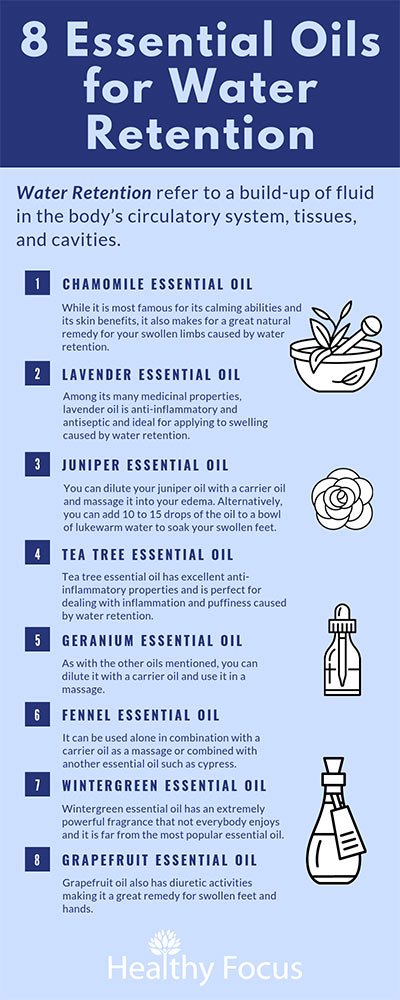 Other Essential Oils
The essential oils listed above are just some of the many oils that you can use to relieve water retention and swelling. There are many of other potential oils that can do the job including lemon, peppermint and carrot seed essential oil.
As well as using the oils alone, you could try an essential oil blend such as the following excellent remedy.
Lemon, Peppermint and Eucalyptus oil Blend
This blend is highly effective in treating swelling caused by fluid retention.
It is especially useful when your limbs are in pain as peppermint has excellent natural pain relief qualities.
Eucalyptus and lemon essential oil have both been thoroughly researched and studies have shown that they have excellent anti-inflammatory abilities that can help to treat swelling,
Put 2 tablespoons of virgin coconut oil in a glass jar.
Add 3 drops each of your peppermint, lemon, and eucalyptus essential oil.
Mix the ingredients together thoroughly.
Apply to your swollen limbs and massage gently upwards for 10 minutes or so.
Repeat several times each day.