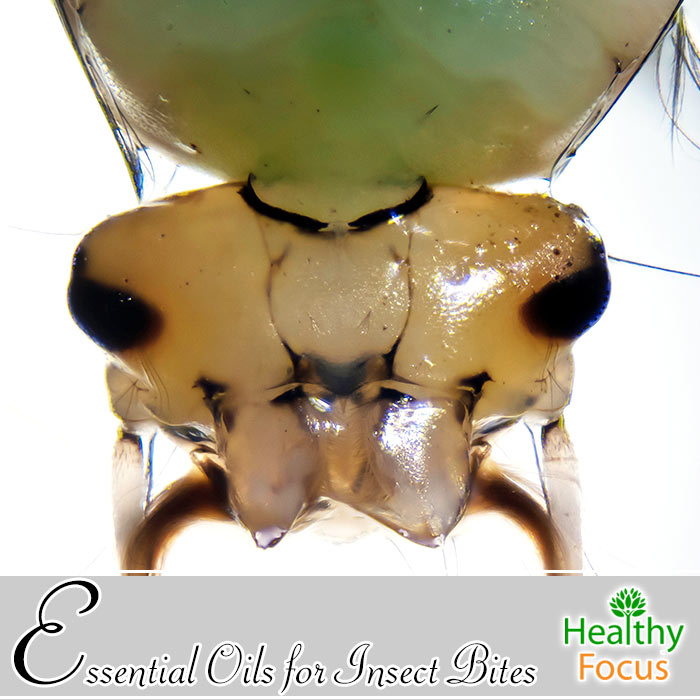 It is that time of year again—the time of cookouts and balmy summer nights spent outdoors. Unfortunately, increased time spent outdoors in increases your exposure to various bugs and insects that can sting and bite you.
For the most part, these stings and bites are more annoying than dangerous, however, it's important to seek treatment to get immediate relief from the inevitable itching and swelling.
While you're enjoying your time outdoors, there are lots of bugs and insects out there trying to crash the party, particularly mosquitoes, ticks, and bees. Crossing these insects can mean dealing with discomfort that can last for days.
Fortunately, there are a several essential oils you can keep on hand to treat many of these insect bites and stings. To get the symptoms of the bite or sting under control, it is important to apply the essential oil as soon as you notice that you've been compromised by one of those annoying critters.
Apply the essential oil of your choosing every couple hours to help keep the symptoms of the bite or sting under control.
Before Using Essential Oils on your Bite or Sting
Some people may be allergic or sensitive to certain essential oils. Before using essential oils to treat your bug bite or sting, be sure to do an allergy skin patch test beforehand to ensure that you will not suffer from any adverse reactions or allergies from the essential oil.
Essential oils are powerful and can be irritating to the skin, so be sure to dilute them before applying them to your bite or sting. If you are using a blend of essential oils, it is wise to dilute them separately before mixing.
If you notice that your bite or sting has become infected or you are experiencing dizziness, nausea, trouble breathing, and extreme swelling directly after the sting, seek medical attention immediately.
Essential Oils for Insect Bites
If you've already been bitten or stung by an insect, you're going to want to apply an essential oil that reduces inflammation and itch caused by the sting or bite. Luckily, some of these oils also work as great preventative measures for repelling insects and preventing them from biting you in the first place.
1) Lavender
Lavender is quite possibly one of the most popular essential oils currently on the market. From its calming tranquil scent to its seemingly endless healing properties, you will surely find a use for this essential oil.
Fortunately, for those of us who have a tendency to be harvested by mosquitoes and ticks, this essential oil will keep them away. If you have already been bitten, lavender essential oil will help soothe the bite by reducing pain, itching, swelling, and inflammation. Lavender essential oil will also help soothe bites and stings of ants, bees, wasps, ticks, and chiggers.
If you're dealing with a bed bug situation, lavender essential oil may be of some help. The strong scent of this essential oil will help keep bed bugs away, while helping to eradicate eggs and an already occurring infestation.
2) Tea Tree Oil
Tea tree oil is another essential oil that doubles both as prevention and treatment for insect bites and stings. This medicinal oil has been used for centuries to treat a wide array of skin conditions—this includes skin that has been ravaged by the bites and stings of backyard lurkers like mosquitoes and ticks.
If you've already suffered from a mosquito bite, tea tree oil will help bring down the swelling while disinfecting the bite. Tea tree essential oil is especially good at relieving that troublesome itch.
If your home is currently being invaded by ants, tea tree oil will send them packing.
Simply combine tea tree oil with some water and wipe down your cupboards and any surface covered with ants.
This mixture will drive them away and continued use will ensure that they don't come back. Tea tree oil is also great for treating the stings of bees and wasps.
The magical antibacterial properties of tea tree oil are a useful agent in disinfecting the home and getting rid of bed bugs.
If you are currently dealing with an infestation, try adding a couple drops of tea tree oil to your clothes and bedding when you launder them.
You can also make a disinfecting spray for your home.
Mix tea tree oil with lukewarm water in a spray bottle and mist all of your furniture, beds, linens and carpeting to help drive the infestation away.
Try spraying this solution once a week to help keep the bed bugs away.
3) Eucalyptus
A dab of eucalyptus essential oil on your ankles, wrist, neck, and behind the ears will keep mosquitoes and other offending insects away. Studies have found that eucalyptus has insect repelling compounds that are just as effective as DEET.
Eucalyptus is a particularly strong smelling essential oil, especially to mosquitoes. The strong smell impairs the mosquito's sense of direction and taste, making it difficult for them to make contact with our skin and bite.
To ensure you are receiving maximum protection, be sure to apply the diluted essential oil regularly. If you've already been bitten or stung by an insect, eucalyptus is a great way to disinfect the wound.
4) Peppermint
The cooling sensation of this essential oil will bring immediate relief to itchy bites and stings. This natural pain relieving substance will also give immediate relief to a tender sting or bite.
Peppermint essential oil works on other creepy crawlies as well—this minty essential oil helps to repel ticks and fleas from people, pets, and even carpets. Peppermint essential oil should not be used on or around cats. If you're dealing with a lice situation, peppermint can be included in treatments for lice.
Peppermint is also great for treating the stings and bites of bees, wasps, ants, and spiders.
5) Thyme
If you have already been bitten or want it to prevent it from happening in the first place, consider keeping thyme essential oil on hand. This antiseptic oil will not only treat any unpleasant symptoms, but it will also prevent it from getting infected. Thyme is great for treating the bites and stings of chiggers, gnats, and ticks.
6) Basil
Basil isn't just a delicious way to spice up your meal; it's also a great anti-itching agent. If you're experiencing the unpleasant effects of a sting or bite, try treating it with basil essential oil. This healing oil contains two anti-itching compounds: thymol and camphor. Basil is also great for treating bees and wasp stings.
7) Rosemary
Insects absolutely hate rosemary. Applying this essential oil before heading outdoors will keep your protected. Rosemary essential oil will also be a great addition to a homemade insect repelling spray. If you've already been bitten, rosemary essential oil will help put an end to uncomfortable irritation and itching.
8) Lemongrass
Lemongrass essential oil is an easy way to keep unwanted insects and bugs out of your home.
Simply add a couple drops of lemongrass essential oil to a spray bottle full of water and spray around your home.
This will especially keep mosquitoes and ants away. To treat stings and bites, lemongrass essential oil will help soothe wounds inflicted by mosquitoes, ants, ticks, and chiggers.