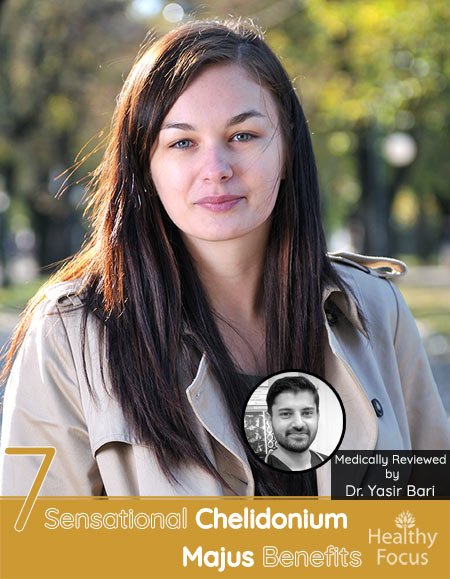 Medically Reviewed by Dr. Yasir Bari
Bsc, (Med) Bsc, (Nutrition), MBBS, DCN (Diploma in Clinical Neurology) – Reviewed & Approved on October 26, 2018
-Written by Marc Seward
Chelidonium majus is a perennial herb native to Western Asia and Europe which has also been introduced in areas of North America. These days it can commonly be seen growing along the waysides.
It is commonly referred to as Greater celandine but is also known around the world as swallowwort or nipplewort. It is an important plant in Chinese traditional medicine with a very long history of medicinal use.
It actually belongs to the same family as the poppy.
Plant Description
Greater celandine is a relatively small plant which grows from 40 cm to around 120 cm in height. It has pinnate leaves and yellow petals around a centimeter in length.
It flowers from the late spring until summer. It is not always appreciated and is actually considered to be an invasive and aggressive plant in some natural areas. It is used to make herbal supplements which have proven effective in treating conditions including liver complaints, kidney disease, and digestive problems.
It is also indicated for gallbladder pain, and to help ease inflammation in conditions like gout, arthritis.
There is also recent research to show that it can be effective against skin conditions like eczema, psoriasis, and dermatitis. (1)
Properties of Chelidonium Majus
The Greater celandine plant contains a variety of alkaloids and flavonoids which gives it excellent antioxidant potential.
The highest concentration of these alkaloids can be found in the root although they are still present in the entire plant in smaller concentrations.
Other beneficial compounds contained in the plant include berberine, stylopine and chelidonic acid.
According to traditional use and the limited amount of available research, the Greater celandine plant boasts a range of therapeutic properties including anti-inflammatory, mild diuretic, analgesic, antimicrobial and sedative abilities.
Chelidonium Majus Benefits
Greater celandine has been used for centuries to treat a variety of health conditions. Today, it is still used to deal with an impressive number of complaints including the following:
1. Liver Protection and Gallbladder Health
Greater celandine has depurative properties which essentially means that it can be used to purify and cleanse the liver. It can be used as an effective part of a detoxification program because of its ability to eliminate waste and toxins out of the system.
Greater celandine has natural liver protective properties which not only help to support proper liver health and function but also protect the liver from cellular damage.
It is popularly used as a natural remedy for liver disease and to reduce liver inflammation or congestion. It may be an effective treatment for fibrosis and the prevention of jaundice.
It may also help to stimulate the gallbladder and keep the organ working properly. Problems with the gallbladder are known to cause numerous other issues like indigestion.
Greater celandine is known to help stimulate the production and the flow of pancreatic enzymes and bile which in turn helps prevent inflammation, infection, and diseases like hepatitis.
Germany's regulatory body – the Commission E has approved Greater celandine as a treatment for indigestion, however, those with liver disease or other liver problems should consult a doctor before going ahead with this herbal remedy.
2. Improved Digestion
Greater celandine is especially useful when it comes to treating digestive issues that result in cramping, bloating or feelings of nausea. This herbal extract can help relieve cramping and ease indigestion.
It helps the body to produce more bile and other digestive enzymes responsible for effective digestion and can even be used to naturally deal with stomach ulcers.
While there is no scientific evidence to back it up, there is plenty of anecdotal evidence available to suggest that greater celandine can be used to deal with irritable bowel syndrome and other chronic inflammatory conditions of the stomach.
3. For Eczema
The juice of the plant has been used traditionally to treat a range of skin conditions and recent preliminary research has demonstrated that it may well be effective against atopic dermatitis.
A study which was published in 2011 tested the effects of greater celandine on rats with eczema. The researchers found that treatment with Greater celandine had a significant effect. It greatly reduced the severity of various symptoms of eczema including inflammation and itching.
They concluded that the plant had the potential to treat atopic dermatitis however it is not known whether the herb would have a similar effect on humans. (2)
4. For Anxiety and Sleeping Problems
According to traditional usage, Greater celandine can be used as a mild sedative and anti-anxiety treatment. It has narcotic properties and therefore should not be taken in large doses.
In smaller doses, it can be used to ease anxiety and tension and because of its analgesic ability, might help relieve pain. A combination of these properties means that it may be suitable for people having trouble sleeping.
5. Antimicrobial
Greater celandine has been traditionally used as a remedy for gum disease and toothache. Studies conducted in vitro have revealed that an extract of the plant exhibited a powerful antibacterial activity against several strains of bacteria including Streptococcus mutans.
The researchers believed that its antibacterial abilities were related directly to the plant's chelerythrine content. (3)
Other studies have found that Greater celandine is effective against viruses such as the herpes simplex virus. (4)
Tinctures made with greater celandine have been applied topically for centuries to treat a variety of chronic skin conditions and to eliminate skin infection.
It has been used successfully to remove warts and corns and to treat ringworm and eczema.
Recent clinical experiments performed in China and Russia have revealed that Greater celandine tinctures exhibited strong antiviral abilities when applied to warts, skin tags, and other skin complaints.
6. Anti-cancer
The search for a novel solution to this devastating disease continues unabated and researchers are leaving no stones unturned. Greater celandine is one of many plants that have been researched for their anti-cancer potential and early signs are promising.
There is some evidence that when greater celandine is injected into patients with several types of cancer that it can improve survival rates. (5)
Other studies have shown that taking greater celandine orally may have an anti-tumor effect on patients with cancer of the esophagus.
However, it should be stated here that the studies have come under criticism because of their poor design. While the results have been promising, until more rigorous testing is conducted, we will not know for sure how effective the plant may be against cancer.
7. Other Uses
As well as the uses discussed above, greater celandine has been used for the following conditions:
To treat genital warts…
As an anti-fungal
To treat spasms
Precautions
Like so many other herbal remedies, just because it is natural, does not mean you should not be very careful when taking it. In fact, greater celandine comes with some fairly strong warnings.
Pregnant women should avoid taking this herb as should those who are breastfeeding.
There is not sufficient evidence regarding its safety for children and it should be avoided.
People with liver disease should only use the herb under the supervision of their doctor.
One of the compounds found in greater celandine known as chelerythrine can cause sleepiness.
Greater celandine or Chelidonium majus must not be confused with lesser celandine which is a completely different plant with entirely different health applications.
(1) http://www.ncbi.nlm.nih.gov/pubmed/21963561
(2) http://www.ncbi.nlm.nih.gov/pubmed/21963561
(3) http://www.ncbi.nlm.nih.gov/pubmed/16862371
(4) http://www.academicjournals.org/journal/AJMR/article-abstract/168DB1523893
(5) http://www.ncbi.nlm.nih.gov/pmc/articles/PMC1180428/