Inside the Hidden Wonders of Pracaxi Oil
Today, everybody seems to be looking for a miracle. If an "easy button" really did exist, we'd all be pretty happy. Of course, there isn't such a thing as an "easy button," and we're usually stuck on our own when it comes to miracles.
That does not mean, though, that there are not some things that might as well be like an "easy button." There are so many different resources available that can help with different areas of everyday life, and natural oils are some of those many resources.
One, in particular, has been commonly referred to as a "miracle oil."
What Is Pracaxi Oil?
Pracaxi oil is a natural oil extracted from the Pracaxi tree.  "Pracaxi"  is the tree's Portuguese name; the botanical, or scientific name of the tree is Pentaclethra macroloba, and it is also sometimes called the Oil Bean Tree.
Often, this oil has been referred to as "miracle oil" or "tree oil." The Pracaxi tree is native to the wet and tropical areas of northeastern South America.
The tree is found in areas such as the Amazon rainforest, Costa Rica, Nicaragua, Tobago, and Trinidad.
While many oils can be extracted from the fruits of trees, Pracaxi oil is actually cold-pressed from the tree's seeds after they are dried.
Pracavi oil is derived from the moon-shaped pods and seeds of the tree. Generally, this oil ranges from translucent and yellow to golden brown in color and has a nutty aroma that may be stronger, depending on how the oil was extracted.
Very dry seeds have a higher concentration of behenic acid, which means that the nutty aroma will be stronger, and the color of the oil will be darker.
Pracaxi oil has many beneficial properties; it is antifungal, antibacterial, and antiseptic, which means that it can be used to soothe or alleviate irritated skin.
In its native areas, Pracaxi oil has been traditionally used for many purposes, including both medicinal and cosmetic; it has been used for detangling hair as well as healing wounds and burns.
Pracaxi oil also has very high levels of behenic acid in it, which is a great lubricant and moisturizer; in fact, this oil has the highest concentration of behenic acid of any natural plant.
Although the oil may be relatively new to the beauty and skincare market, it looks set to take the world by storm.
Ever since modern scientists discovered the people of the tree's native areas using it for medicinal and cosmetic purposes, there have been several studies done on the benefits of Pracaxi oil.
As more studies are done, the beauty and skincare industry is beginning to understand just how essential this oil may be, and they have started using it commonly in products such as hair conditioners, skin lotions, creams, and soaps.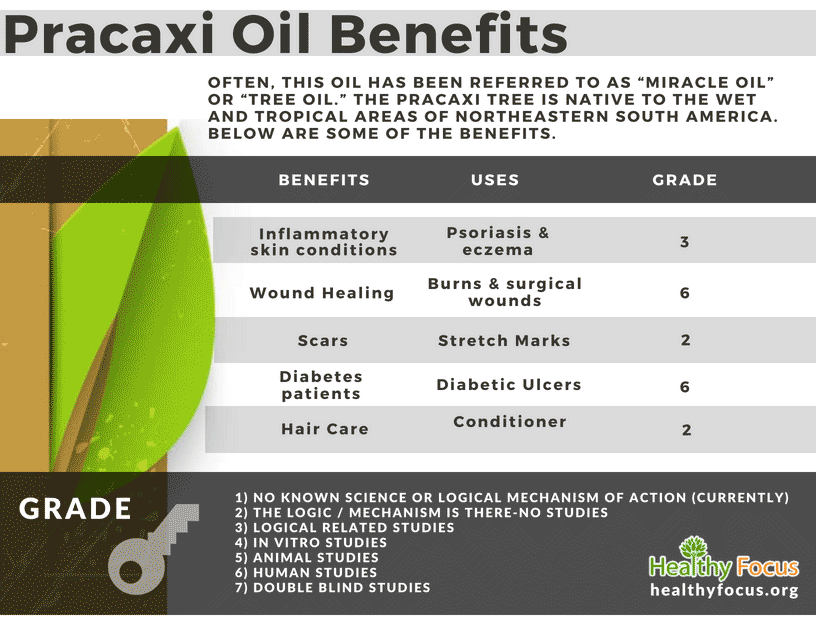 Benefits of Pracaxi Oil
As Pracaxi has often been described as the "miracle oil," it's to be expected that it has many different benefits for both the skin and hair.
Some of the many benefits Pracaxi oil provide include treating ulcers, stretch marks, infections, and even snake bites.
Clearly, this oil can provide a wide range of benefits, which explains the use of the word "miracle" to describe it.
Here are just some of the ways that Pracaxi oil can benefit your skin and hair :
It can help moisturize your skin.
It can reduce the appearance of stretch marks and scars.
It may help prevent stretch marks from occurring in pregnant women.
It can help promote wound healing.
It contains powerful antibacterial, anti-fungal and antiseptic properties that may help treat wounds, bites and skin infections.
It can help lighten dark patches of skin.
It helps keep your hair smooth and untangled.
It may prevent hair loss.
General Skin Care
Many of the benefits of Pracaxi oil come from its nutrient composition, which consists primarily of essential fatty acids such as behenic acid, linoleic acid, and oleic acid.
Essential fatty acids are "essential" due to the role they play in the skin.  Fatty acids are the foundation and building blocks of all cells, and the skin.
The skin would lose its protective barrier if the cells did not have enough of these fatty acids, which would result in dry skin and other skin issues caused by loss of moisture.
The fatty acids in Pracaxi oil are also useful for increasing the effectiveness of other ingredients, which means you can pair this oil with other treatments such as creams or lotions for even more added benefits.
Skin Conditions
Pracaxi oil has excellent natural antibacterial, antifungal and anti-inflammatory properties making it a potential remedy for a range of common skin conditions. If you suffer from a skin condition like psoriasis or eczema, applying Pracaxi oil to the affected parts of your skin may help soothe irritation and inflammation and may help reduce redness and swelling.
The risk of Pracaxi oil causing any unwanted side effects is low but it is always good practice to make certain. Make sure that you perform a patch test on a discrete area of skin before applying a larger dose just to make sure.
Pracaxi oil may also help to treat hyperpigmentation of the skin meaning it can diminish the appearance of dark patches of skin.
Wound Healing and Scars
The fatty acids found in Pracaxi oil are essential for hydrating wounds and helping them heal properly.  Without the proper amount of moisture in healing wounds, the body may be forced to overproduce collagen. Too much collagen production could lead to developing raised or discolored scars.
Pracaxi oil contains very high levels of fatty acids including linoleic, oleic and behenic acids. These acids are known to benefit skin structure as well as permeability. Studies have demonstrated that these oils can enhance wound closure and help effective healing. They work by altering inflammatory response and the migration of the cells in the wound and the surrounding area.
According to a recent study, Pracaxi oil is highly effective in helping wounds heal and reducing the formation of scars and their severity. The study published in 2014 set out to evaluate the ability of Pracaxi oil to help in wound and scar treatment. The patients who were being treated for a range of wounds including surgical wounds, burns and traumatic wounds used either Ppracaxi oil alone or in combination with other natural ingredients.
The results of the study were extremely positive. Following treatment, all of the wounds for all patients were considered wither improved or significantly improved by an independent dermatologist. Furthermore, all of the patients reported that they were satisfied with the results with the majority rating their satisfaction very highly. (1)
According to the researchers :
'The appplication of a compounded anhydrous silicone base containing pracaxi oil alone or in combination with other active substances led to considerable improvements in wound healing and scar attributes and is a potentially useful option in the treatment of surgical, traumatic, or burn wounds and scars.'
The research done to date is certainly promising and suggests that Pracaxi oil contains the perfect compounds to help heal wounds and speed up the healing of scars.
Stretch Marks
We have already looked at the positive results of research into the effects of Pracaxi oil on scars caused by a range of wounds from surgical wounds to burns to traumatic injury. The fatty acids contained in the oil could also help people to treat stretch marks and help diminish their appearance.
Behenic acid, oleic acid, and linoleic acid are also great lubricants that have anti-inflammatory properties, making them great for scar treatments and for protecting the skin from further damage.
The majority of women who have had children will develop stretch marks. While stretch marks are most often associated with pregnancy, they can also happen as a result of weight gain and men are not immune. Some women wear their marks with pride but it is fair to say that most would prefer to be rid of them.
Applying Pracaxi oil to your stretch marks every day may well help diminish the appearance of your stretch marks but you can expect it to take some time. It is also possible that applying Pracaxi oil during your pregnancy can reduce your chances of developing stretch marks in the first place but there is no firm evidence for this claim.
Diabetic Ulcers
As well as treating wounds and scars, research suggests that Pracaxi oil could help treat more complex and severe lesions like the ulcers caused by diabetes. Diabetic ulcers are one of the many unwanted symptoms of diabetes and researchers set out to examine the ability of Pracaxi oil to treat them naturally.
As of now, there have been no large-scale studies into the effects of Pracaxi oil on diabetic ulcers but the study published in 2015 looked at the case of a 61-year-old diabetic male who was suffering from an ulcerative leg wound. After 63 days of being treated with a topical formula made from fatty acids derived from Pracaxi oil, the ulcer had completely healed and the wound had closed.
The authors of the study concluded that Pracaxi oil and its fatty acids, in particular, could be a valuable option in the treatment of diabetic ulcers. (2)
Hair Care
While Pracaxi oil is best-known for its ability to treat the skin, it may also be a useful treatment to keep your hair nourished and healthy. You can apply a little oil to your hair with your hands or on a brush and use it in a similar way to a gel.
According to fans of the oil, it can help control your hair, untangle your locks and prevent it from becoming dry and frizzy. It can also help to strengthen your hair and might prevent hair loss.
Comedogenic Rating
A comedogenic rating refers to the likelihood that a certain substance, like an oil, will irritate or clog your pores.
The ratings are given on a scale from zero to five, and the lower numbers represent the least chance of suffering from clogged pores. If a substance is given a comedogenic rating of five, it is likely that almost everybody will have irritated or clogged pores after using the substance on their face.
However, there may still be some that do not experience these things. While a comedogenic rating is a good way to guess how your skin will react to using a certain substance, every person's skin is different, so you may or may not need to follow what the comedogenic rating suggests.
Although Pracaxi oil does not have an official comedogenic rating, some experts have taken a look at the markup of the oil to give it a rating unofficially.
Generally speaking, behenic acid tends to fall somewhere in the middle of the comedogenic scale, and Pracaxi oil has very high amounts of this fatty acid.
Because of this, Pracaxi oil might likely fall at around a three on the comedogenic scale, which means there is an equal chance that you may or may not have clogged pores after using the oil.
How to Use Pracaxi Oil
Because of where Pracaxi oil unofficially falls on the comedogenic scale, it might be best to mix it with another product before applying it.
It is always good to test on a small area of skin, especially for people who are prone to irritation or who have sensitive skin.
If you will be using the oil in your hair, you could use it in an oil blend directly on your hair, or you could mix it with your favorite conditioner.
When storing Pracaxi oil, be sure to keep it in a cool, dark place, as this is generally recommended for oils that have been extracted with a cold-press method.
It is often recommended that you refrigerate the oil after opening it. If you do refrigerate it, however, you should bring it back to room temperature before using for easy application.
You can do this quickly by letting it soak in a warm water bath for a couple of minutes.
The Bottom Line
Overall, it's very clear that Pracaxi oil is significantly beneficial. After all, if such a large group of people has been referring to it as a "miracle oil" for so many years, there has to be some substance to that claim.
It's important to note, however, that everyone's skin is different, and your skin may or may not react to an oil or other substance regardless of any comedogenic rating.
Because of this, you should always speak with your dermatologist before using a new product on your skin; if not, try to test the oil on a small area of your skin first to see if you have a bad reaction, and, if you do have a bad reaction, you should stop using the oil immediately.
Pracaxi oil is very versatile for use on both the skin and hair, which means that it is well worth any cost. Luckily, the oil is pretty easy to come by, regardless of where you live, even though it is native to areas like Brazil and the Amazon.
If you have damaged skin or are unhappy with the appearances of any scars or burns on your skin, Pracaxi oil might be the perfect natural treatment that you've been looking for.
Make sure that you purchase the oil from a company that guarantees that their products are natural and unprocessed, as these oils will provide the best results, true to their nutrients' benefits.
Luckily, there are many companies out there that make it their mission to provide natural, unprocessed oils at affordable prices, which means that you can easily get Pracaxi oil and other types of oils.
(1) https://www.ncbi.nlm.nih.gov/pubmed/25410612
(2) https://www.ncbi.nlm.nih.gov/pubmed/27489690