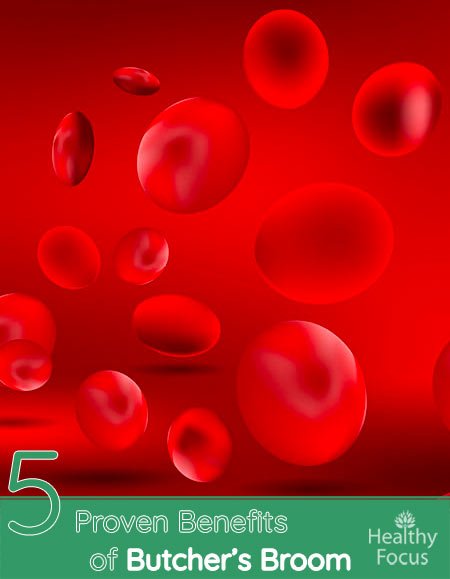 Butcher's broom known scientifically as Ruscus aculeatus is an evergreen herb which grows naturally in the Mediterranean regions of Europe.
The shrub gets its name because it was once used for making broomsticks but it has also been traditionally used down the years to make medicines particularly for the treatment of circulatory conditions and was even eaten in Europe as a type of vegetable.
These days, supplementary extracts made with butcher's broom are growing in popularity around the world especially for inflammatory conditions and conditions related to poor circulation.
Butcher's broom can help to tighten up the capillaries and the blood vessels which gives it the potential to treat a variety of common conditions including varicose veins. Studies have also revealed that it can help treat other symptoms related to venous insufficiency such as fluid retention.
Why Butcher's Broom Works
As with many herbal remedies that were long forgotten after the explosion of modern medicines, there may be a good reason why people turned to the herb to treat their illnesses. According to a study conducted by Washington's American University, butcher's broom is useful because of its ability to activate receptors which aid the release of a substance called noradrenaline.
This helps to constrict the blood vessels and improves venous tone which has a positive effect on the vascular system in general and particular circulatory conditions in particular. butcher's broom also contains flavonoids which help to improve circulation and strengthen the blood vessels. (1)
Benefits of Butcher's Broom
Butcher's Broom to Improve Circulation
Butcher's broom is a traditional remedy especially in Europe where it developed the reputation for effectively treating complaints related to poor circulation. According to traditional use, it is effective for an impressive variety of symptoms linked to bad circulation including cramping, tension, itching, swelling and leg pains.
As well as anecdotal evidence and history, there is a certain amount of scientific evidence to back up its use for circulatory conditions.
A German study published in 2002 examined the effect of Butcher's broom on 166 female patients suffering from chronic venous insufficiency, and the results were extremely promising. According to the study, when Butcher's broom was given to the patients for a 12 week period, their symptoms were reduced significantly.
According to the study, the patients experienced significant physical improvements as well as reporting improved quality of life. The researchers concluded that butcher's broom was a safe and effective natural treatment for venous insufficiency. (2)
In another study published in 2007, Mexican researchers conducted an 8-week long trial on 124 patients suffering from venous insufficiency. Their symptoms included leg heaviness, discomfort edema, and cramps.
The patients were treated with 150 mg Butcher's broom extract capsules twice each day and the results were very promising. After just two weeks, there was a significant reduction in symptoms while by the end of the study, symptoms were entirely absent. (3)
The recommended safe dose for dealing with circulatory issues is around 150 milligrams of the extract taken three times each day.
Butcher's Broom for Varicose veins
Varicose veins are a condition characterized by the veins becoming enlarged and gnarled. It can affect any of your veins but is most commonly seen in the legs and the feet. The condition is linked to a loss of venous integrity which natural supplements known to help support your vascular system such as Butcher's broom and horse chestnut may be able to help.
Experts believe that Butcher's broom works to treat varicose veins because it promotes healthy micro-circulation of blood as well as improving capillary flow and strengthening the connective tissues.
Butcher's Broom for Hemorrhoids
Butcher's broom may help treat hemorrhoids naturally for similar reasons that it works in varicose veins. Hemorrhoids can be a very painful and sometimes embarrassing condition which causes the veins located around the anus and lower rectum to become swollen and sore.
Topically applied ointments or suppositories made from Butcher's broom can help provide natural relief from this painful condition but taking oral extracts may also be effective in speeding up your healing process.
If you are taking butcher's broom orally, a dose of 300 mg twice each day is recommended.
Alternatively, you can take a teaspoon of liquid extract two times a day.
Phyllis Balch, the author of 'Prescription for Herbal Healing', explains that the herb works by tightening the dilated capillaries and blood vessels that contribute to hemorrhoids while also relieving any pain or itchiness related to the condition.
In Germany, their regulatory equivalent of the FDA called the commission E approved of the use of butcher's broom to treat hemorrhoids in 1999.
Butcher's Broom for Inflammation
Butcher's broom might benefit a host of common inflammatory conditions such as swelling of the joints lower legs and feet and carpal tunnel syndrome. There is also some evidence that a formula called Cyclo 3 Fort containing Butcher's broom in combination with Vitamin C may help to treat lymphedema or swelling of the arms.
As we have already mentioned, it can improve circulation and the flow of blood and it strengthens capillaries and blood vessels. It also prevents blood from pooling in your legs. These abilities make butcher's broom a potential treatment for swelling in the joints and lymph glands and may bring about some natural relief.
A dose of between 150 and 300 milligrams twice each day is considered suitable to ease painful inflammation.
Orthostatic Hypotension
There is some good evidence that suggests butcher's broom may be useful in treating orthostatic hypotension which is a condition involving low blood pressure when a person gets up.
When your circulatory system is working effectively, standing up naturally causes blood to move and to pool in different parts of the body. the body adjusts to changes in posture and usually keeps the blood pressure at consistent levels.  However, Standing up can commonly cause changes to blood pressure especially in older people. The condition called orthostatic hypotension happens when the body fails to adjust to the changes in posture effectively.
The condition is sometimes a side effect of another underlying condition or taking medication. Your doctor may tell you to stop taking your medication if it is thought to be responsible. They also sometimes recommend dietary changes like reducing carbohydrates and consuming more sodium to manage the complaint.
A review published in the year 2000 found that medications prescribed for orthostatic hypotension were not very effective. However, the review also pointed out that butcher's broom was a very promising treatment option according to the research done so far. (4)
The authors also pointed out that butcher's broom caused fewer side effects than the common prescription medications for the condition.
Other uses of Butcher's broom
The conditions that we have covered in this article are all related to circulatory or inflammatory conditions as these are the issues for which Butcher's broom is most often used. However, the uses of Butcher's broom don't end there; several other conditions are also treated with the herb.
Butcher's broom may have mild diuretic effects, and traditional use includes relieving fluid and urine retention making it a potential treatment for bladder and urinary tract infections. Other traditional uses include treating kidney stones, constipation, and gastrointestinal complaints but none of these traditional uses have been proven scientifically.
How to Use Butcher's Broom and Potential Side Effects
Butcher's broom is generally considered to be a safe and natural supplement as long as it is taken in the recommended doses for a maximum of 3 consecutive months. There is no information regarding its long-term use, and you should consult a doctor if you are concerned about taking it.
According to WebMD, potential side effects include nausea and upset stomach, but these side effects are considered to be rare.
There is currently no reliable evidence regarding its safety for pregnant women or those who are breastfeeding, and they should stay on the side of caution and avoid taking this or any other herbal supplement.
While Butcher's broom does seem to be a safe and effective treatment for venous insufficiency and related symptoms, it is important to note that your condition may have serious underlying causes like obesity or blood clots.
There are concerns that butcher's broom might interact with medications prescribed for blood pressure as well as certain stimulant medications. If you are taking these medications, it is important to consult your doctor before taking butcher's broom supplements.
Your condition may very well be serious, and it is not recommended that you forgo medical advice in favor of herbal therapy without consulting your doctor first.
Some Facts About Butcher's Broom
The plant is native to the Mediterranean, parts of Africa and Iran.
The shrub grows to a height of around three feet and has leafy branches, red berries and flowers during the late winter to spring.
Its name is derived because the branches were actually used by butcher's in Europe. The branches are so stiff that butchers bound them together to clean and sweep their cutting blocks.
Butcher's broom has been used in Europe for many centuries and possibly longer. It was traditionally used as a natural diuretic and laxative.
Some cultures also soaked its roots in water or wine and drank it up to help treat stomach pain.
There is evidence that the plant was used as a remedy for kidney stones dating back to the first century.
Nicholas Culpepper, the esteemed British herbalist, prescribed the plant to treat broken bones. It was either taken orally or used in a poultice which was applied to the fracture.
Frequently Asked Questions
What is Butcher's Broom good for?
The root of the plant is used to make medicine. It is generally used to improve circulation and symptoms such as swelling and itching. It is also used for hemorrhoids and a condition called orthostatic hypotension.
Does Butcher's Broom lower blood pressure?
No, it may have the opposite effect and actually raise the blood pressure. Because of this, it may interact with blood pressure medication and make it less effective.
Is Butcher's Broom safe to use?
Butcher's broom supplements are generally considered to be safe for most healthy people in the correct dose. However there are certain precautions to be aware of. Pregnant women and nursing moms should not use butcher's broom nor should those taking blood pressure medications.
Is Butcher's Broom edible?
The roots are edible. Butcher's broom is normally taken in the form of a supplement but the roots are still eaten by some people in the same way you would use asparagus. However the taste and the smell are very pungent.
Final Thoughts
Butcher's broom has been used medicinally for thousands of years and the roots are still used today to make supplements.
It has traditionally been used to treat gallstones, hemorrhoids and inflammation.
According to research, it is most effective in treating chronic venous insufficiency and orthostatic hypotension.
It might interact with certain medications including blood pressure medicine and stimulant medication.
(1) http://www.ncbi.nlm.nih.gov/pubmed/11152059
(2) http://www.ncbi.nlm.nih.gov/pubmed/12040966
(3) http://www.ncbi.nlm.nih.gov/pubmed/18091707
(4) https://www.ncbi.nlm.nih.gov/pubmed/11152059