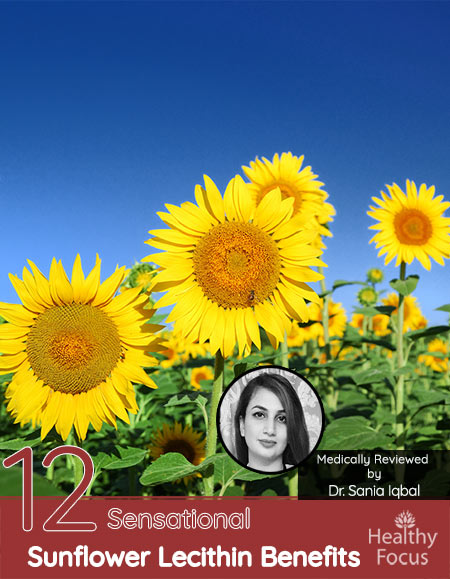 MBBS, B.Sc –
Reviewed & Approved on April 02, 2019
What is Lecithin?
Lecithin is a term given to describe a variety of yellowish or brown fatty substances which naturally occur in a variety of animals and plants. Lecithin was originally isolated from egg yolk.
Lecithin has become a popular supplement especially with regard to improving cholesterol levels as well as improving the functions of the nervous and circulatory systems.
Soy and sunflower lecithin are two very popular formulations although they are slightly different from one another.
Lecithin is a vital component of each and every cell in our bodies. Lecithin helps prevent the cell membranes from becoming hard and allows them to remain healthy. It does not take a medical expert to tell you that healthy cells mean a healthy body.
Lecithin and other phospholipids are produced naturally in many of the body's major organs including the heart, liver, and kidneys. If you want to boost your lecithin levels, however, you might well need to take a supplement.
As well as the heart health benefits of lecithin, there is also some evidence that it can help restore liver health and function and may be able to reverse the damaging effects of alcohol abuse.
There are also promising indications that it can help improve cognitive functions like memory and learning.
Facts about Lecithin
Lecithin was first discovered by Maurice Gobley in 1850.
It was isolated from egg yolks and the name 'lecithin' comes from the Greek – 'lekithos' meaning the yolk of an egg.
Lecithin is a fatty substance that occurs naturally in various foods including egg yolk, organ meats, whole grains, soybeans, and sunflower.
Lecithin is sometimes used as an emulsifier in certain processed foods. It is often added to mayonnaise, margarine, ice cream and salad dressings to improve texture and prevent fat from separating.
It is broken down in the body into choline, glycerol. phosphate and certain fatty acids.
The highest concentrations of lecithin in the human body are present in the vital organs.
Lecithin makes up approximately 30% of the brain's dry weight and almost over 60% of the liver's fat.
Lecithin benefits the body in a number of ways including heart health, brain health and liver health.
Lecithin also has potent antioxidant properties.
Soy lecithin is a popular supplement but sunflower lecithin supplements are becoming increasingly popular because of the concerns over the estrogen-like effects in soy products.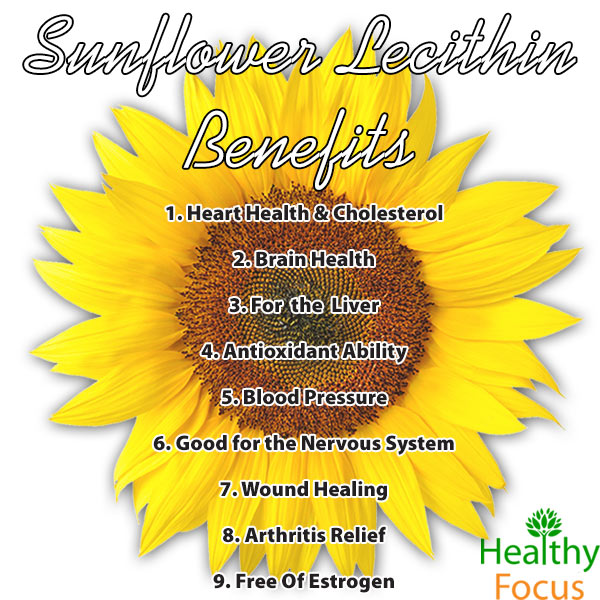 The Differences between Sunflower Lecithin and Soy Lecithin
Soy and sunflower lecithin are two of the most popular lecithin supplements. Sunflower lecithin is the more expensive option because of the differences in production costs and yield.
There are however definite advantages that sunflower lecithin has over soy lecithin.
One of the main advantages is the extraction process; sunflower lecithin gets extracted without the need for potentially damaging chemical solvents such as acetone and hexane.
Sunflower lecithin is also processed through a cold press system like the one used to derive olive oil and similar products.
It is the only lecithin which is obtainable both chemical-free and raw.
Sunflower lecithin is rich in choline and other essential fatty acids such as phosphatidylinositol.
Soy lecithin is derived by using dangerous chemicals like hexane.
Some people may develop soy allergies.
Soy is often genetically engineered.
There are concerns about elevated estrogen levels by consuming soy and soy lecithin.
Sunflower Lecithin Benefits
Heart Health and Cholesterol
Lecithin is especially good for the health of your heart. It can help both prevent and reverse damage from coronary disease.
Lecithin is essentially a fat emulsifier which the body can use to rid the excess fats from your bloodstream.
These excess fats include cholesterol and triglycerides meaning that it will help you to reduce and control your cholesterol levels.
This task is accomplished largely because of the linoleic acid contained in high concentrations in sunflower lecithin. Only olive oil can boast similar levels of linoleic acid while soy lecithin has very little of it.
Sunflower lecithin supplementation improves blood circulation which can help prevent blood clots and other complaints.
For Brain Health
Sunflower lecithin can do wonders for your neurological and cognitive health. This is because it is chock full of essential phospholipids with incredibly long chemical names.
Phosphatidylcholine, phosphatidylinositol, acetylcholine, and phosphatidylethanolamine are all important ingredients which are utilized by the body to repair, strengthen and produce brain cells and also nerve cells.
Sunflower lecithin also contains small amounts of Phosphatidyl Inositol.
There are promising reports that sunflower lecithin can improve cognitive functions like study, focus, and memory.
Good memory and recall ability is an important sign of a strong brain. It is also possible that sunflower lecithin can help with a variety of degenerative brain conditions like dementia, Parkinson's disease and Alzheimer's.
For the Liver
The phospholipids mentioned above also play a very important role when it comes to the health of your liver.
The liver is prone to becoming overburdened with excessive fats, these fats or lipids can then accumulate in the liver instead of being excreted from the body via the bowels as they should be.
This is a condition called (non-alcoholic) fatty liver disease which is an increasingly common complaint that in turn leads to more serious conditions such as type 2 diabetes, cirrhosis and possibly liver cancer.
Because of its phospholipid content, sunflower lecithin can help prevent this excessive build-up of fats and keep the liver in good working condition.
Antioxidant ability
I am sure that the majority of us are aware by now of the importance of antioxidants to our health. Sunflower lecithin can provide you with one of the most powerful of those antioxidants in the form of phosphatidylcholine.
Getting enough antioxidants into your diet is vital to prevent cellular damage caused by oxidative stress.
Cellular damage can lead to a host of sicknesses such as heart disease and cancer and can also cause you to age prematurely both internally and externally.
For Blood pressure
As we have already mentioned, the linoleic acid contained in sunflower lecithin works by breaking down excess fats that accumulate in the body including cholesterol and triglycerides.
When cholesterol and triglyceride levels are elevated too much, they can accumulate on the arterial walls causing a condition known as atherosclerosis. This is basically a thickening of the arteries which is likely to lead to higher blood pressure and further to heart attack or stroke.
For the Nervous system
Sunflower lecithin can help the nervous system to function more efficiently because of its abundant fatty acids. These fatty acids boost the strength of nerve tissue and actually improve neurotransmitter activity.
Your nerve fibers consist of a complex network of sheaths which allow nerve impulses to effectively travel from one place to another. Unfortunately, the nerve system can be disrupted but sunflower lecithin can help keep these nerve functions healthy.
Wound healing
Because of its linoleic acid, phosphatidic acid and other important fatty acids, it is possible for sunflower lecithin to speed up the release of cytokines or inflammatory transmitters to wounded areas of the body.
You can actually apply sunflower lecithin directly to any minor wounds for immediate effect.
For Rheumatism and Arthritis
If you suffer from arthritis or any other form of joint pain, supplementing with sunflower lecithin can have a very positive impact. Lecithin actually helps lubricate your joints throughout your body.
A deficiency in lecithin can actually cause your joints to stiffen up and cause rheumatism in the long term.
Lecithin supplementation can help prevent joint disease and also ease the symptoms of any pre-existing conditions.
Free of Estrogen
While this is not an actual health benefit per se, it is worth noting that unlike soy lecithin, sunflower lecithin is free of the phytoestrogens contained in soy lecithin.
Phytoestrogens can cause people of both sexes to produce excess estrogen leading to numerous metabolic issues such as early menopause, breast growth, sexual dysfunction and weight gain. It can also cause autoimmune disorder to the adrenal glands and thyroid.
Sunflower Lecithin and Breastfeeding
According to some experts, lecithin is a potential solution to  plugged breast ducts, which is a common issue in breastfeeding moms. The recommended dose for dealing with plugged breast ducts is 1200 mgs to be taken at intervals four times each day.
According to the Canadian Breastfeeding Foundation, lecithin can help decrease your breast milk's viscosity. They speculate that this helps reduce the risk of milk clogging the milk ducts in the breast.
They speculate that lecithin may decrease the viscosity of your breast milk, making it less likely to clog milk ducts in your breast.
However,lecithin is not seen as a treatment for clogged breast ducts, rather it can help prevent them from occurring. the best treatments for the condition include :
Massage
Applying a warm compress
Draining the breasts thoroughly
Extra pumping when necessary
Sunflower lecithin supplements are generally regarded as safe for lactating women but you should consult your doctor or health provider if you are concerned.
Digestive Health Benefits
This in turn helps make your digestive process more effective and protects the lining of the digestive tract.
Studies have been done into the effectiveness of lecithin on improving digestion in people suffering from ulcerative colitis. (1)
However, even people not suffering from the condition can benefit. It may be especially useful for people with common conditions like irritable bowel syndrome.
Sunflower Lecithin and Skin Health
As well as all of its potential internal benefits, sunflower lecithin is also good for the skin. In fact, lecithin is often used as an ingredient in commercial skin care products.
Lecithin can be used as a natural emollient that helps the skin feel softer and smoother and it helps to restore hydration to dry skin.
While lecithin seems to be good for the skin's general health and appearance, there is no evidence that it can help treat chronic conditions like eczema, psoriasis or acne but many people do apply it topically it for these conditions.
In theory, taking sunflower lecithin supplements can help boost the skin's health because of its range of antioxidants and its benefits on other areas of the body. However, there is no concrete evidence to prove this either way.
https://www.youtube.com/watch?v=1Z5b3FH_RZg
Frequently Asked Questions
What does Sunflower Lecithin do for you? Lecithin is a type of phospholipid which is a fat molecule containing a complex mix of sterols, carbohydrates, triglycerides, glycolipids and fatty acids.
What is Sunflower Lecithin made of? Lecithin is a naturally occurring molecule found in organ meats, egg yolks, soybeans, sunflower and other whole grains. It is also present in brewer's yeast, cabbage, and peanuts.  Sunflower lecithin is made from a cold press process like Olive Oil.
Are Soy Lecithin and Sunflower Lecithin the same?  No,  sunflower lecithin is free of the phytoestrogens contained in soy lecithin. Phytoestrogens can cause people of both sexes to produce excess estrogen leading to numerous metabolic issues such as early menopause, breast growth, sexual dysfunction and weight gain.
What role does it play in the human body? Every cell in the body needs lecithin. It plays a role in building the cell membranes which control the transport of nutrients into the cells and out. Lecithin also protects the interior structures of the cells and without it, the membranes would harden and the cells would eventually die.
Do I need to take a lecithin supplement? Animal fats, eggs, and organ meat are a great source of lecithin but you may not consume many of these foods. Vegans and vegetarians can get their lecithin from while grain products and soy. If you are not getting the recommended dose of lecithin into your system, you may need to take a lecithin supplement.
Is sunflower lecithin safe? Sunflower lecithin is considered safe and studies have not uncovered any side effects from taking supplements in the recommended dose. However, some side effects have been reported from taking large doses of lecithin including diarrhea, upset stomach, vomiting, nausea, and sweating. There is no safety data regarding its effects on pregnant women and breastfeeding moms so they should stay on the side of caution and avoid.
Can you be Allergic to Sunflower? If you are allergic to sunflower seeds than you are allergic to sunflower oil and should avoid it.  Reactions can range to a mild case of hives to a life-threatening anaphylaxis.  Sunflower is not in the "Big 8" allergens but people who are allergic to nuts may be more prone to have a sunflower allergy.
For the best body and brain benefits, men require a minimum of 600 mg of lecithin daily while women require a minimum of 500 mg a day. Consuming much more is not believed to be dangerous in any way and can actually have many short-term and long-term benefits on the body and the mind.
For the maximum amount of benefits, both sexes are recommended to consume as much as 1200 mg each day. There are a number of potential benefits to supplementing your diet with sunflower lecithin. If you are still interested then read on to find out exactly what it can do for your body and your mind.
Pros and Cons of Sunflower Lecithin
Pros
Sunflower lecithin has a number of beneficial health effects including brain health, heart health, and liver health.
Sunflower lecithin does not contain the phytoestrogens found in soy lecithin supplements.
Most sunflower lecithin supplements are suitable for vegans and vegetarians.
Most sunflower lecithin supplements are non-GMO.
No serious adverse side effects.
Cons
In large doses, there may be some adverse side effects.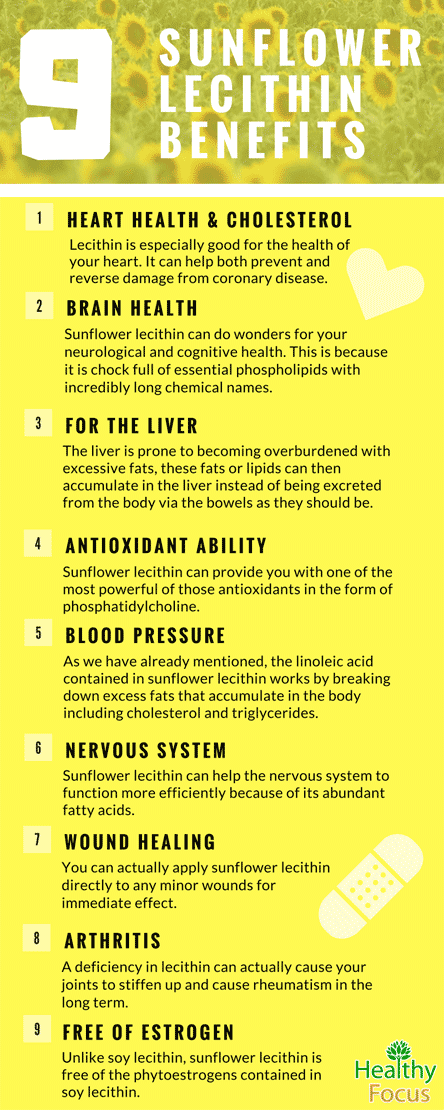 Final Thoughts
Lecithin supplements are becoming increasingly popular to treat a wide range of conditions including high cholesterol, reducing blood pressure and circulatory disorders.
Soy and sunflower lecithin are two of the most commonly used forms of lecithin supplement. While sunflower lecithin is more expensive, it has a number of potential advantages over lecithin obtained from soy. these include the manufacturing process and the absence of estrogen.
As well as heart health benefits, sunflower lecithin can help improve digestive health, liver health, rheumatism and arthritis.
Lecithin is high in antioxidants and can also be applied topically to treat the skin and keep it looking and feeling healthier.
Lecithin has also been recommended to breastfeeding moms to help prevent clogged milk ducts. However, while lecithin is considered safe in dietary amounts, you should speak to your doctor before taking it in supplementary form.
Have you ever used sunflower lecithin? Please let us know what you thought of its effects and whether you would recommend it to others.