There seems to be a great deal of confusion between ravintsara essential oil and ravensara essential oil with both of them often being attributed to the same properties. Before we go any further, I would like to clarify the difference between these two oils.
Ravintsara essential oil is actually derived from the Cinnamomum camphora tree which is a native of Madagascar. This species of tree is quite different from the Asian camphor species, and its leaves have a very different chemical composition.
It has a very high level of 1,8 cineole eucalyptol which is the chemical that gives its distinctive, penetrating aroma to the eucalyptus oils.
Ravensara, on the other hand, has only 5% 1,8 cineole compared to the 50% found in ravintsara and is distilled from the bark of a different tree species.
While many articles describe the two oils as if they were the same product, it is important to realize that they are not the same thing at all and they offer very different therapeutic benefits.
Although ravintsara essential oil is not as high in cineole as eucalyptus oil, it is nevertheless one of its most important chemical compounds and the benefits of cineole have been very well researched.
Cineole is believed to have benefits ranging from easing respiratory conditions to relieving inflammation and even destroying leukemia cells. Other compounds found in ravintsara essential oil include sabinene, a-terpineol, a-pinene and B-pinene.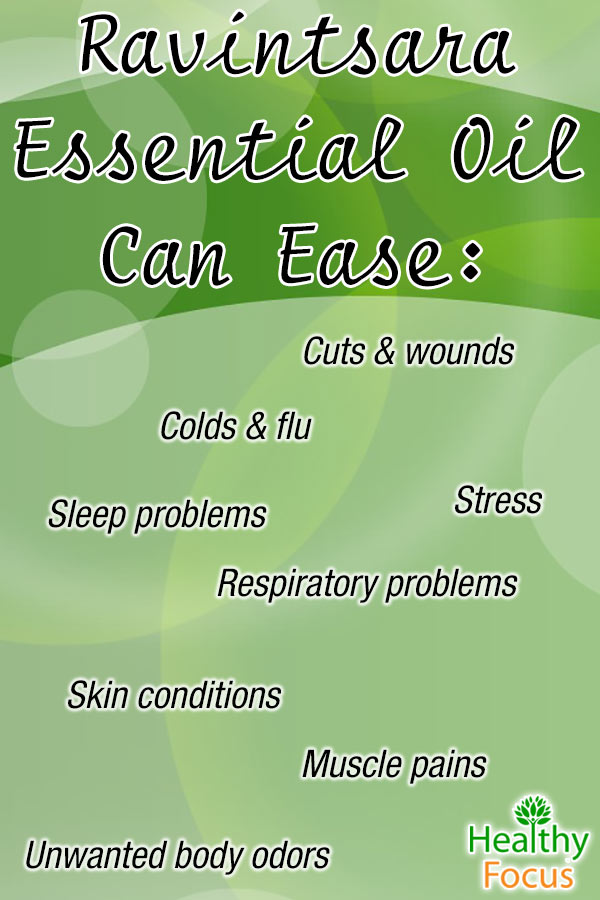 Therapeutic Uses of Ravintsara Oil
1. Colds and Flu
I am writing this in February and at this time of year, there seem to be plenty of colds and flu making their way around. Congestion and coughs plague one of my colleagues and none of her prescription medication seems to be having any impact whatsoever. Ravintsara essential oil is a safe and natural alternative for cold and flu symptom relief.
It has excellent expectorant properties which in layman's terms means that it can help relieve congestion as well as cleaning your body of certain toxins.
There are several ways that you could use ravintsara to help overcome your cold. You could simply add a few drops to your diffuser before bedtime and breathe in the fumes through the night. This has the bonus of helping you to get a good night of sleep.
Alternatively, you can make your own steam bath by filling a bowl or sink with hot water and mix in between 6 and 8 drops of ravintsara oil. Just cover your head and shoulders with a towel and inhale the vapors from your steam bath for as long as you can comfortably manage.
2. Respiratory Problems
As well as being used for cold symptoms, ravintsara oil is very effective in treating a variety of more serious respiratory conditions including bronchitis, asthma, and pneumonia. Rubbing a mixture made with a few drops of ravintsara oil diluted in a carrier oil like coconut or jojoba into your chest is very effective for breathing troubles.
It can help dilate your blood vessels and allow more oxygen to get to your lungs. It is also an expectorant which can help reduce and dilute any mucus that may be blocking your airways. You can combine a few drops of ravintsara with peppermint essential oil for even greater effect.
3. To treat Cuts and Wounds
Of course, any severe open wound will need to be seen by a doctor at the first opportunity, but for minor scrapes, wounds, and burns or even insect bites, ravintsara essential oil is an excellent first step.
Ravintsara essential oil has antimicrobial and antiseptic properties that when applied can prevent infection from spreading and anti-inflammatory abilities that will ease any redness or itching in the affected area. You can add a few drops to an ointment or salve and apply it to your wound but be careful not to apply the oil directly to any open wounds.
4. For Stress and Emotional Wellbeing
Like so many essential oils, ravintsara oil has demonstrated great potential to help calm the nerves and relieve some of the horrendous symptoms of anxiety and stress. Many people also suggest that it can uplift their mood and improve focus and concentration spans.
As somebody that has suffered from anxiety and panic attacks in the past, it is always good to know that a natural alternative to the often dangerous and addictive anxiety medications exists.
I wish I had known about the calming abilities of essential oils back in my stress filled final examinations period. Diffuse or inhale the oil directly from the bottle whenever you feel that your nerves are getting the better of you. Alternatively, try rubbing a few drops into your temple and neck to relieve your anxiety.
5. For the Skin
Ravintsara essential oil can be used to treat several skin conditions like acne or simply as part of your skin care regime to keep your skin looking young, moisturized and healthy. Make sure that you dilute the oil in coconut oil or add a few drops to your vitamin E cream as essential oils might irritate the skin when applied undiluted.
6. To Promote Sleep
Because of its calming and relaxing properties that are so useful for combatting anxiety, ravintsara essential oil is a practical, natural method to ensure you get a rested night of sleep. Trouble sleeping is one of the many symptoms of anxiety and many others suffer from insomnia for a host of other reasons.
Whatever the reason that you cannot sleep, it is well worth trying ravintsara essential oil. You can diffuse it throughout the night or add a few drops of the oil to your pillow and inhale it all night long.
7. Joint and Muscle Pains
Ravintsara essential oil has anti-inflammatory properties that can help relieve the pain and soreness you might be experiencing following injury, exercise or just a long day on your feet. It may also help reduce the joint soreness associated with arthritis and rheumatism. Add a few drops of ravintsara essential oil to a suitable amount of base oil and massage it into your muscles and joints each evening before bed.
8. Deodorant
Ravintsara essential oil has a sharp, penetrating fragrance that when diffused will help get rid of any unwanted odors that may be floating around your home. Whether they are odors caused by tobacco, cooking or pets, diffusing this oil throughout the day will make your home smell clean and fresh and should also help improve your mood.
How to use Ravintsara Essential Oil
There are plenty of ways that you can use ravintsara oil depending on the reasons that you are using it.
Direct inhalation from the bottle or a handkerchief is a quick and effective way to improve your mood or deal with colds.
Diffuse it by adding a few drops to your diffuser machine to help with your mood and sleeping troubles.
Dilute ravintsara essential oil with a carrier oil to make a soothing massage oil.
Make your steam bath as described above to deal with respiratory difficulties.
Precautions and Side Effects
Do not ingest ravintsara essential oil.
Do not apply this or any other essential oil directly to your skin undiluted. Always make sure that you dilute the oil with a carrier oil first.
Once diluted, you should still use a tiny amount of the mixture to perform a patch test to ensure that you do not suffer any adverse reaction.
Pregnant women should consult their doctor before using the oil.
There is still not enough information regarding its safety profile for children so caution should be exercised.