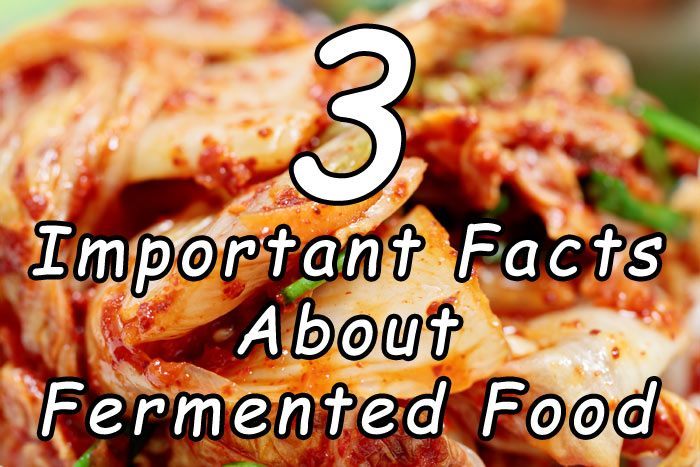 Health Benefits of Fermented Foods
Fermented foods have been produced and eaten for centuries but their popularity is gaining pace recently and food ranging from sauerkraut and kefir to kombucha is becoming all the rage. Fermented foods are being lauded as a healthy addition to the normal diet, they contain a range of natural probiotics which may help you to improve the balance of your healthy gut flora and fight off a variety of sicknesses.
Fermented food products might also help boost your immune system allowing your body to fight off illness and also ease digestive trouble like constipation. Other possible benefits are slightly more difficult to believe and I have seen articles claiming that fermented food could cure baldness and treat cancer and HIV thought here is no real evidence of its effects in this regard.
Is there actually any truth behind these claims and if so, how exactly do fermented foods work? Before we look in more detail at the claims, a little about what exactly fermented food is and the process of fermentation itself.
The Fermentation process
The process of fermentation is a metabolic one where microorganisms like bacteria, fungi and yeast convert carbohydrates such as starches and sugars into alcohol and other acids. An example is yeast converting sugar to alcohol and lactobacilli bacteria turning sugar or starches to lactic acid while other forms of bacteria convert alcohol into vinegar or acetic acid.
Why ferment food?
The fermentation process preserves food enabling it to last the necessary time before being refrigerated. Because of the possibility of extending its shelf life, fermentation has long been an important method of transporting food in a variety of cultures. Common examples of this include cheese, salami, pickled vegetables and wine.
Fermented food is considered to be healthy because it enhances the healthy intestinal flora otherwise called good bacteria that is often diminished following a course of antibiotics or sickness. Many fermented foods are well known for their probiotic qualities including kimchi, yogurt and kefir.
The fermentation process makes your food easier to digest. For example, fermenting breaks down the lactose from milk into basic sugars like glucose. If you are one of the many people who are lactose intolerant or suffering an inflammatory bowel condition like Crohn's disease, fermented products such as cheese and yogurt can be digested and absorbed more readily.
Fermentation can increase the nutritional value of your food especially the B vitamins.
I personally love the taste of fermented food.. in fact I used to drink vinegar from a tablespoon and the fermentation process enhances its flavor though not all find it agreeable.
Fermentation also decreases the amount of time needed to cook.
Anti-nutrients which interfere with nutritional absorption might be destroyed during the fermentation process.
Specific fermented foods
Pickled vegetables
A number of vegetables can be bought fermented including sauerkraut, kimchi and sill pickles. The fermentation of these vegetables involves loctobacill bacteria converting the sugars from the vegetables to lactic acid.
The resulting product is rich in healthy beneficial bacteria but if it is pasteurized before sale then the organisms will be destroyed. Another thing to look out for is that the pickles you buy off the shelf at a supermarket have usually been preserved with vinegar rather than being fermented.
Salami and other fermented meat products
Salami as well as other similar meat products like chorizo and pepperoni are produced from raw meat which has been mixed with spices, salt and sugar. The sugars are fermented and converted to lactic acid by lactobacilli.
This helps to fry out the meat and gives it a tangy taste. These lactic aids also help prevent the growth of microorganisms meaning the meat can be stored easily without being refrigerated.
Cheeses
Lactic acid is produced during the fermentation process which causes the milk to acidify and curdle when it is heated. As the cheese ages, bacteria continues to play a part and helps produce the distinctive tangy flavors of aged cheese.

Kefir
Kefir is an increasingly popular fermented milk product which resembles runny yogurt. It is produced by lactobacilli bacteria and yeast.
Yogurt
Lactobacilli bacteria help convert the lactose sugar contained in milk into galactose and glucose. These are further broken down into lactic acid which gives your yogurt its bitter flavor. The live bacteria continue to thrive in yogurt and when eaten contributes to a healthy intestinal flora.
Kombucha
We have already written on this site about the benefits of kombucha which is a fizzy beverage produced from black tea before being fermented with bacteria and yeast. The health benefits of kombucha range from giving your immune system a boost to iterating digestive complaints and joint issues. For a comprehensive look at the benefits of kombucha, see this article.
Miso
Miso and other fermented bean products like soy sauce and tempeh are great for your health. During fermentation phytic acid is broken down which increases the availability of many nutrients.
The Health benefits of Fermented food

Improving the intestinal flora
Possibly the major health claim regarding fermented food products is that they are a natural source of probiotics. They help contribute towards a healthy and balanced gut flora and can redress the balance when harmful bacteria have taken control.
While antibiotics are essential to stave off certain illnesses, they also tend to kill off the friendly bacteria that our bodies need and fermented foods can provide us with the friendly bacteria that we need.
When we balance is not as it should be, certain illnesses can ensue including irritable bowel syndrome, ulcerative colitis as well as immune system issues, metabolic diseases and diabetes.
Lactobacillus and bifidobacterium are the most common bacterial strains used in probiotic supplements and they are found naturally in yogurts and other fermented drinks such as yakult.
Indeed many studies such as this one published in 2006 have demonstrated that fermented food is beneficial for health. (1) The study suggests that some of the beneficial health impacts of the lactic acid produced through fermentation include improving digestive health, boosting the immune system, reducing lactose intolerance and allergic prevalence. (2)
Cancer prevention
While the research is not conclusive, there have been some studies linking fermented food with cancer prevention. Studies done in the Netherlands and Sweden have found that the risk of bladder cancer can be reduced by consuming fermented milk products.
Another study done on female polish immigrants in the USA found that those who ate 4 kilos of raw cabbage such as sauerkraut each year were far more likely to develop breast cancer than women living in Poland who ate around 13 kilos a year. (2)
Mental health
A recent study published in 2014 set out to examine the effects of fermented food on mental health. The researchers believe that fermentation of certain food and drinks could stimulate the nutritional and the phytochemical content of the food which would have an ultimate effect on mental health as well influencing the health of the brain through indirect pathways.
They concluded that the antioxidant and anti-inflammatory ability of fermented food products had a direct effect on GABA production and could improve emotional wellbeing. You can read the full and very detailed report by clicking the link below. (4)
(1) http://www.ncbi.nlm.nih.gov/pubmed/16696665
(2) http://www.ncbi.nlm.nih.gov/pubmed/16696665
(3) http://www.nutraingredients.com/Research/Sauerkraut-consumption-may-fight-off-breast-cancer
(4) http://www.ncbi.nlm.nih.gov/pmc/articles/PMC3904694/