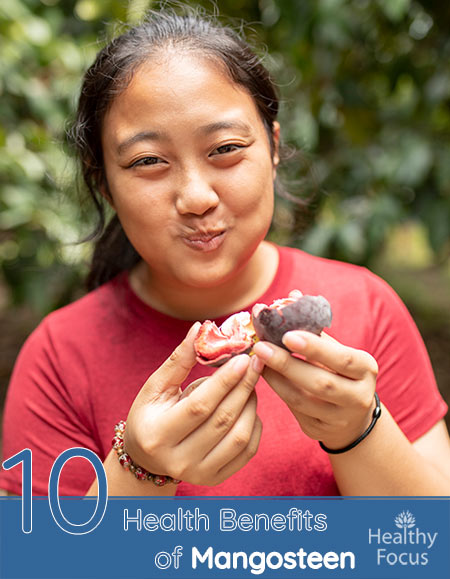 Still fairly obscure in the West, but a common and popular fruit in South east Asia, mangosteen is a delicious fruit that is worth seeking out.
Known scientifically as Garcinia mangostana, this fruit can be eaten fresh or added to your smoothies and shakes. The fruit is highly nutritious and contains a number of unique antioxidants that offer a wide variety of health benefits.
If you would like to find out more about this fruit and how you can eat them, please read on.
What is Mangosteen?
Mangosteen, also known as purple mangosteen is originally native to Southeast Asia ,where it has been cultivated since ancient times. The evergreen tree produces a delicate fruit with a slightly sweet, slightly sour flavor.
The plant mainly grows in Southewast Asian countries including Malaysia, Thailand and the Philippines but also grows in other tropical parts of the world like Puerto Rico, Colombia and has also been introduced to Florida.
The tree itself can grow between 8 and 25 meters in height. The fruit it produces has an inedible, purple shell that surrounds the edible  segments which are slightly tangy and sweet. This edible, white-colored endocarp is about the size of a tangerine. The fruit usually contains between 4 and 8 edible segments which surround a seed that is usually discarded.
The trees typically bear fruit after 8 to 10 years. Young trees may only produce 300 or so fruits each year while more mature trees can produce an average of 500. By the time the trees reach 30 to 30 years of age, they can yield up to 3,000 fruits each season.
These fruits contain a variety of important nutrients that give them a number of potential benefits.
Nutritional Facts
Adding mangosteen to your diet might be a very good choice. It is not very high in calories and offers a range of important nutrients. One cup (196 grams) serving of mangosteen offers the following :
143 calories
35 grams of carbohydrates
3.5 grams of dietary fiber (14% of the Recommended Daily Intake)
1 gram of protein
1 gram of fat
Vitamin C : 9% RDI
Folate : 15% RDI
Thiamine : 7% RDI
Riboflavin : 6% RDI
Manganese : 10% RDI
Copper : 7% RDI
Magnesium : 6% RDI
These minerals and vitamins found in mangosteen are essential for maintaining a number of bodily functions such as immunity, nerve signaling, DNA production and wound healing.
The fruit is also a good source of dietary fiber, which research suggests is lacking from many modern diets.
Health Benefits of Mangosteen
High in Antioxidants
One of the main reasons that mangosteen is so good for you is its antioxidant profile. In fact, the fruit contains certain unique antioxidants with a variety of potential benefits for your health.
It is important for us to get plenty of antioxidants into our system through our diet. These compounds help neutralize the harmful effects of free radicals that we encounter on a daily basis. Free radicals have been linked to a wide range of chronic diseases including heart disease, cancer and Alzheimer's.
As well as antioxidant vitamins like folate and vitamin C, mangosteens contain plant compounds called xanthones. Studies have found that this unique compound contains powerful antioxidant properties. (1)
Several laboratory and animal studies have revealed that the xanthones found in mangosteen have therapeutic actions. These include anti-cancer, anti-diabetic, anti-inflammatory and anti-aging effects. (2)
Anti-Inflammatory Actions
As we have already mentioned, mangosteen contains powerful antioxidant compounds called xanthones. According to several studies, these compounds may help reduce inflammation throughout the body.
Mangosteen is a good source of dietary fiber, which research suggests has a number of health benefits including anti-inflammatory effects. Studies, including a recent study on gout in mice, have linked high-fiber diets to a reduction in the body's inflammatory responses. (3)
Studies done on animals and in the laboratory have found that these xanthones impart anti-inflammatory actions and could help reduce the risk of various inflammatory diseases including heart disease, diabetes and cancer. (2)
While these studies are certainly promising, we need more quality research on humans before we can fully appreciate the effects of the fruit on inflammation and the progression of disease.
Cancer Prevention
Population studies suggest that diets which are rich in fresh fresh vegetables or fruit like mangosteen may be linked to a reduced risk of developing cancer.
Certain compounds present in mangosteen such as the antioxidant xanthones impart various therapeutic effects. These include powerful anti-inflammatory and antioxidant effects that can help prevent cancer cells from developing and spreading.
Several laboratory studies have revealed that the xanthones found in mangosteen can inhibit the growth of certain cancer cells including breast, lung and stomach cancer. (4)
Several animal studies have also observed that xanthones can inhibit the progression of  tongue cancer, breast and colon cancer cells in mice. (5)
To sum up, the results of the studies done to date are promising but it must be noted that they have only been seen in the laboratory or on animals. Testing on humans is necessary before we can draw more concrete conclusions.
Digestive Health Benefits
Mangosteen fruit is packed with dietary fiber. One serving contains around 14% of the recommended daily intake of fiber.
According to studies, getting more fiber into the system has a number of potential benefits including digestive health benefits. Dietary fiber can help reduce the risk of common complaints like indigestion, bloating, constipation and even diarrhea. (6)
Weight Control
Mangosteen is fairly low in calories but high in fiber. This combination makes it a suitable choice as part of a healthy diet plan and may help you to lose some weight in the long run. Several studies have looked at the potential weight loss effect of adding mangosteen to the diet.
One study, published in 2016, looked at the effect of mangosteen on mice given a high fat diet. The researchers found that the mice supplemented with mangosteen gained considerably less weight compared with the control animals. (7)
A small scale study, published in 2009, looked at the effects of mangosteen juice on 40 overweight and obese volunteers. The rseearchers found that after 8 weeks of supplementing their diet with mangosteen juice, the subjects had a lower BMI than those in the control group. (8)
While there is very little data to confirm these findings, experts believe that the weight loss effect of the fruit is linked to its anti-inflammatory properties and its role in stimulating fat metabolism.
Dietary fiber can also help make you feel full for longer and reduce the temptation to snack throughout the day. in the long run, this can result in a reduction in weight.
To sum up, mangosteen contains relatively few calories abut is high in dietary fiber. Studies into the weight loss effects of the fruit are promising. The results may be linked to the anti-inflammatory compounds found in the fruit.
Blood-Sugar
Mangosteen may also be a suitable choice for people with diabetes or those at risk of developing the disease. Studies have found that certain compounds found in the fruit may help keep blood glucose levels under control.
Mangosteen is an excellent source of dietary fiber, which is known to help control blood sugar levels and help manage diabetes. Animal and laboratory studies have found that the xanthones in the fruit helps maintain normal blood-glucose levels. (7)
A recent study looked at the effect of mangosteen supplements on a group of obese women. The study, published in 2018 involved 20 volunteers who were monitored for 26 weeks. The researchers found that the supplements helped significantly reduce insulin resistance compared to the women in the control group. (8)
Immune Health
We are often reminded to eat plenty of fresh fruit to protect ourselves from illness. Adding mangosteen can ensure that you give your immune system a boost because of the high levels of vitamin C and dietary fiber it the fruit contains.
According to studies, fiber helps maintain the balance of healthy bacteria in the gut and this is an important factor in immunity. Vitamin C is well-known for its immune boosting properties. It is essential for the proper function of immune cells while it also has excellent antioxidant properties that help protect against disease.
One study, published in 2009, set out to examine the effects of mangosteen on the immune system. The study which involved 59 people found that a supplement containing mangosteen helped reduce inflammation and stimulated a significant increase int the number of healthy immune cells. (9)
There is also evidence that mangosteen contains compounds with antibacterial properties. These can also help bolster the body's defenses against disease. (10)
The research done so far certainly suggests that adding mangosteen to the diet can help protect you from illness by boosting the immune system, reducing inflammation and fighting bacteria.
Heart Health
According to research done on animals, mangosteen may also be very good for your heart.
Besides its antioxidant properties and and anti-inflammatory actions, studies suggest that it can also help reduce the risk of heart disease. Several studies have found that mice fed mangosteen extract had a reduction in LDL cholesterol (the bad kind, while HDL (the good kind) cholesterol levels actually increased. (11) (12)
Brain Health
Mangosteen may also be good for the brain's health and help prevent am age-related decline in mental health.
According to several animal studies, the antioxidants and anti-inflammatory compounds found in the fruit may help reduce inflammation in the brain while it may also help fight depression. (13) (14)
Skin Health
As well as all of its internal health benefits, mangosteen may also be good for the skin. Several studies have found that it can help protect the skin from damage and help improve the skin;s elasticity.
Exposure to sunlight can be highly damaging to the skin's appearance and is also a leading factor in skin cancer
One animal study treated mice with mangosteen extract and found that it had a significant protective effect. The study found that it protected  the animals' against ultraviolet radiation. (15)
A study on humans, published in 2015, also observed that mangosteen had certain skin health benefits. The researchers found that treating people with oral mangosteen extract helped significantly boost elasticity in the skin. The researchers also noted that the subjects treated with the extract experienced a reduction in compounds related to aging effects. (16)
Researchers believe that the anti-inflammatory and antioxidant actions of the fruit are mainly responsible for the fruits skin health benefits.
How You Can Eat Mangosteen
So now that you know how good it is for you, how do you go about buying, preparing and eating mangosteen?
Fortunately, I live in Thailand where mangosteen is readily available and extremely cheap but for those of you living elsewhere in the world, it may not be such an easy fruit to come across. The fruit also has a relatively short season which may also limit its availability.
Canned versions may be easier to find but they tend to have added sugar. Your best bet might be to look in Asian markets but it can be very expensive to buy fresh. You may also find mangosteen in powdered supplement form or a juice.
If you are lucky enough to find the fresh variety, you are in for a treat. First of all, make sure that you select fruit that has a smooth and dark purple colored outer shell or rind. remove the inedible rind with a knife to find the delicious fleshy fruit inside.
When the fruit is ripe, the edible, fleshy segments are juicy and sweet. They can be eaten raw or added to  a fruit salad, oatmeal or yogurt for a wonderful burst of flavor.
You can also add them to your juice, smoothies and shakes.
However you choose to eat them, i am absolutely sure you will not be disappointed.
Frequently Asked Questions
Is mangosteen good for diabetics?
Mangosteen is definitely a good choice for diabetics and those at risk of developing the disease. Studies have found that the fruit helps keep blood sugar levels in check and reduces insulin resistance. The fruit is high in fiber and contains a compounds called xanthones which may help with diabetes management.
Can mangosteen seed be eaten?
People usually eat the fleshy, white part of the fruits and discard the seeds. However, the seeds are actually quite soft and are very often small enough that you can eat them without noticing. If they are large and hard, simply dispose of them since they are likely to be bitter tasting.
Why is mangosteen banned?
It is not. Mangosteen was actually banned in the USA because of the fear that fruit flies may be introduced to the country. This ban was eventually lifted in the year 2007 but the imported fruit is irradadiated first to make sure the fruit flies are eradicated.
Precautions
Mangosteen has been eaten for a very long time especially in South East Asia. It is considered to be safe when eaten in appropriate, dietary amounts especially if you are eating it as a raw fruit.
In more highly concentrated forms such as supplementary extract, powders or juice, there may be certain risks.
Studies have found that the xanthones found in mangosteen could slow blood clotting in very high doses. As a result, you should avoid using concentrated forms if the fruit if you are taking a blood thinning medication or have a blood clotting complaint.
You should also stay on the side of caution and avoid using supplementary forms of the fruit if you are breastfeeding or pregnant as there is no safety data regarding its safety. The fresh fruit should be fine but speak to your doctor, if you are concerned in any way.
Final Thoughts
Mangosteen is a delicious tropical fruit that has been popular in Southeast Asia for many centuries. The fruit is less well-known in the west and remains expensive and difficult to get hold of.
Mangosteen is a great source of nutrition. it contains unique antioxidants which are responsible for many of its potential health benefits.
Studies have found that the fruit has a number of potential health benefits. these include anti-inflammatory, anti-cancer and anti-diabetic properties. there is also some evidence that the fruit can have a positive effect on digestive health, heart health and brain health. It may even help protect your skin from the effects of sun exposure and aging.
Mangosteen can be enjoyed in a number of ways. it is delicious fresh and can be eaten alone or add to fruit salad, smoothies and shakes. If you can not find the fresh fruit near you, it may be available in canned or supplementary form.
Have you eaten mangosteen? What did you think of its taste. Would you eat it again and do you recommend it?
(1) https://www.ncbi.nlm.nih.gov/pubmed/23649258
(2) https://www.ncbi.nlm.nih.gov/pubmed/28842267
(3) https://www.ncbi.nlm.nih.gov/pubmed/27496979
(4) https://www.ncbi.nlm.nih.gov/pubmed/21902651
(5) https://www.ncbi.nlm.nih.gov/pmc/articles/PMC4790674/
(6) https://www.ncbi.nlm.nih.gov/pmc/articles/PMC6124841/
(7) https://www.ncbi.nlm.nih.gov/pubmed/28656594
(8) https://www.ncbi.nlm.nih.gov/pubmed/29747432
(9) https://www.ncbi.nlm.nih.gov/pubmed/19697997
(10) https://www.ncbi.nlm.nih.gov/pubmed/25229510
(11) https://www.ncbi.nlm.nih.gov/pubmed/26968378
(12) https://www.ncbi.nlm.nih.gov/pubmed/25187725
(13) https://www.ncbi.nlm.nih.gov/pubmed/29101602
(14) https://www.ncbi.nlm.nih.gov/pubmed/25525451
(15) https://www.ncbi.nlm.nih.gov/pubmed/29039482
(16) https://www.ncbi.nlm.nih.gov/pubmed/26236097