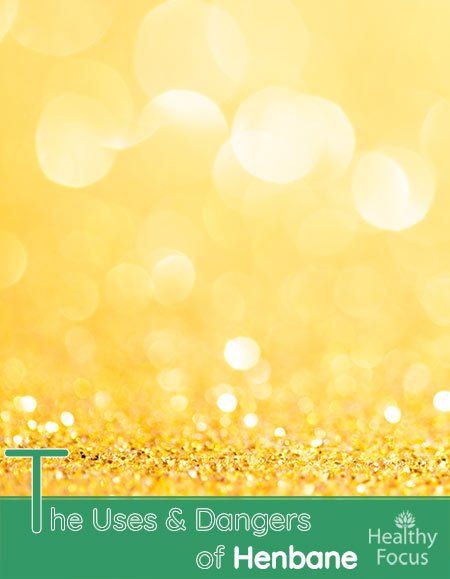 One of the fascinating things about nature is its ability to heal and harm at the same time. A number of plants and herbs found in nature can be both helpful and deadly at the same time. Henbane is one such plant that has been used and abused for centuries.
What is Henbane?
Henbane known scientifically as Hyoscyamus niger, is a plant with a long history of use despite its dangers. Henbane, which belongs to the Solanaceae family, is native to Europe and Asia now grows in much of the northern hemisphere including Africa and North America.
Henbane is known to cause a number of serious side effects from tachycardia to mania and hallucinations but despite these dangers, it is still used for certain medical conditions. (1)
Henbane is mostly used to soothe spasms in the digestive tract while it may also have a calming effect on the mind and body. It is also sometimes applied topically to help get rid of scar tissue. It works because it contains chemicals, like scopolamine and hyoscyamine, which may help relax the muscles which line your digestive tract.
There is very little evidence regarding the medicinal benefits of henbane but a wealth of data regarding its side effects and dangers. Also known by various other common names like fetid nightshade and stinking nightshade, henbane has a long and very interesting history. If you would like to learn more about this fascinating plant then please read on.
History of Henbane
The plant's common name 'henbane' dates back to the 13th century. While the origins of the name are unclear, it is believed that the 'hen' in the word refers to death rather than the bird. The other part of its name may come from the word 'bhelena' meaning 'crazy plant'.
Historically, henbane has been combined with various other poisonous plants including deadly nightshade and mandrake. When combined with these plants it was used for its anaesthetic properties but also to make 'magic brews' with psychoactive effects. These brews were known to cause hallucinations as well as the sensation of flying.
According to historical documents, henbane was first used in Asia and in continental Europe before spreading to the British isles dating the Middle Ages. The use of the plant in ancient Greece was recorded by Pliny who referred to henbane as being 'of the nature of wine and therefore offensive to understanding'. According to ancient texts, it was used by the Greeks as an analgesic and a sedative.
In Europe, henbane was used as one of the main ingredients to flavor beer. Several German cities including Pilsen have been named after the german name for the plant – Bilsenkraut'. henbane was used as a major ingredient in German beers until new laws in the 16th century saw it completely replaced by hops.
Henbane has also been used for more sinister purposes. Dr Crippen famously used the plant to poison his wife before escaping to Canada with his mistress. (2)
Potential Medicinal Uses of Henbane
Historically, henbane has been used to help treat insomnia, pain, toothache, epilepsy, seizures and stomach ache. Today, however, henbane is rarely used for therapeutic purposes and the risk of side effects is far greater than the potential benefits of the plant.
Nevertheless, according to studies, henbane does contain certain compounds with therapeutic properties. Research has found that henbane contains 34 different alkaloids including Atropine, tropane, Hyoscyamin and Hyoscine.
These compounds give henbane a variety of medicinal properties including antispasmodic, analgesic and expectorant effects.
Henbane is sometimes used for the following conditions however evidence regarding its efficacy is lacking :
for toothache
for stomach ache
for stomach spasms
for asthma
for coughs
for nervous system disorders
to kill pain
as a sedative
An oil made with henbane is sometimes applied topically for massage therapy.
Unfortunately, there are no studies to confirm the efficacy of henbane for any of the conditions mentioned above. In most countries, henbane products can only be bought from pharmacies and with a prescription.
Because of the concerns over the toxicity of henbane and the many known side effects, the risk of using the herb is probably greater than the potential benefits.
Side Effects and Precautions
According to WebMD, henbane might be safe for the majority of people if it is taken orally for a short time only. It is also important that henbane is only used under the supervision of your doctor or health care professional.
The known side effects of henbane can be extremely serious. They include the following:
Elevated heart rate
Dry mouth
Overheating and profuse sweating
Constipation
Drowsiness
Restlessness
Visual disturbances
Hallucinations
Delirium and manic episodes
Death
Henbane should never be used without expert medical supervision. Henbane is potentially extremely toxic and the dosage must be chosen by a specialist health professional. In the most severe cases, taking too much henbane can lead to serious hallucinations and can even prove fatal.
While henbane has been used topically, there is insufficient data regarding its safety for topical use.
Special Precautions
Pregnant women and breast-feeding mothers must avoid using henbane.
People with heart conditions including irregular heartbeat must avoid using henbane. Some of the chemicals found in henbane are known to cause tachycardia and can make heart failure or rapid heartbeat even worse.
People with constipation should avoid using henbane because it can make the condition worse.
People with fevers must not use henbane. Some of the chemicals found in henbane can raise the body temperature higher and make the fever even worse.
People with narrow-angle glycoma must also avoid using henbane because chemicals in the herb can make the condition worse.
People with difficulties urinating should also avoid using henbane since the herb can lead to greater trouble with urination.
Frequently Asked Questions
What is good for?
henbane has been used traditionally to treat stomach cramps, coughs, pain, toothache and asthma. These days it is rarely used medicinally because of the danger of poisoning and the potential side effects.
Is henbane safe?
Henbane might be safe as long as it is taken under expert supervision. It is unsafe for self medication and the list of potential side effects is long. Some of the known side effects include tachycardia, hallucinations and mania and death.
Final Thoughts
Henbane was traditionally used in various cultures for medicinal purposes but has also been used for more sinister reasons.
Conditions treated with henbane in the past include coughs, rheumatism, asthma and stomach pain.
These days, the use of henbane for medicinal purposes is extremely rare.
Henbane is a toxic plant and the potential side effects of overuse are very severe.
Some of the more serious side effects include hallucinations, mania and death.
Henbane should never be used unless under strict supervision from a medical professional.
Henbane may have certain health benefits but there are no scientific studies to confirm its efficacy. Henbane is toxic to humans and some of the side effects are very severe. The plant's toxicity and the risk of serious side effects outweigh any potential benefits.
(1) https://www.ncbi.nlm.nih.gov/pmc/articles/PMC4224707/
(2) https://www.ncbi.nlm.nih.gov/pubmed/17526134