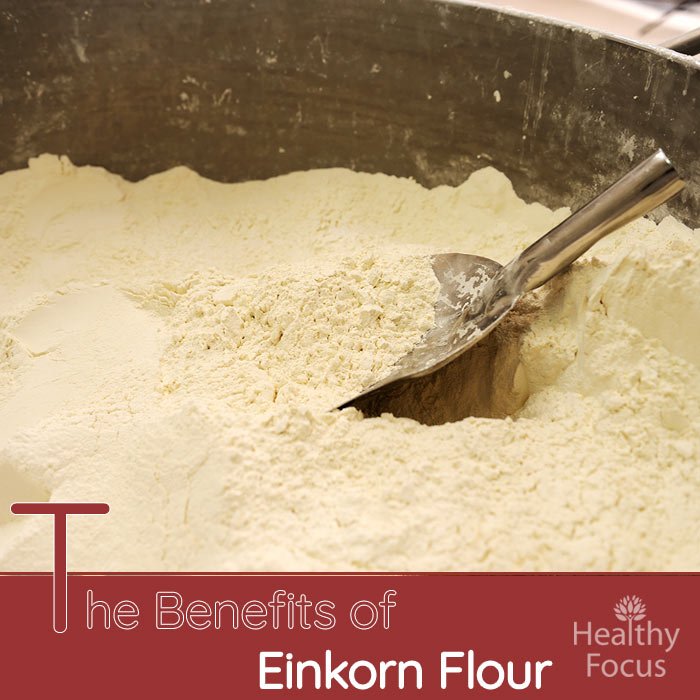 According to estimates, the average American consumes over 50 pounds of wheat flour each year. This is becoming something of a concern since many of the hidden compounds found in wheat are known to cause disease and weight gain. Agricultural geneticists have scientifically engineered wheat giving rise to terms such as 'frankenfoods' and 'frankenwheat'. Many people also have difficulty eating foods that contain gluten which has led people to look for healthier alternative forms of wheat.
There are a number of ancient grains like einkorn which considerably healthier than most of the wheat products on the market. They are considerably easier for you to digest and are suitable for those of you who are intolerant to gluten.
What is Einkorn Flour?
Einkorn wheat literally means single grain in German and can refer to either the domesticated variety – Triticum monococcum or the wild species – Triticum boeoticum.
Einkorn is a type of covered wheat similar to other ancient forms of wheat like spelt flour and emmer or farro. These ancient types of grain contain more nutrition, less gluten and are considerably superior to more commonly used whole wheat. Switching from your traditional wheat products to einkorn flour can offer a wide range of potential health benefits.
Ancient grains like einkorn are regarded as nutritionally superior to modern varieties. Einkorn is one of the most ancient and offers a wide variety of essential and trace minerals. It contains a good supply of protein and dietary fiber and is a wonderful source of iron, thiamine and many other members of the B vitamin family. Not only that but einkorn is also a great source of lutein – a powerful antioxidant with significantly higher antioxidant prowess than bread wheat and durum.
When einkorn is processed, far fewer nutrients are lost than when others wheats are processed. It is mainly eaten boiled in porridge or whole grains but is also used to make flour. You can happily substitute einkorn flour for your regular wheat flour in the vast majority of your recipes but the texture may vary. It also lacks the rising qualities you need in order to make bread. It is certainly worth experimenting with einkorn flour since the potential benefits are so great.
If you would like to find out more about what einkorn flour can do for you, then read on.
The Health Benefits of Using Einkorn Flour
1) Fewer Allergy Symptoms
The number of people allergic to wheat and wheat products has been increasing significantly over recent years. This has led researchers to look for alternatives which are less allergenic. One recent study set out to investigate the 324 wheat varieties taken from various areas around the world.
The researchers found that several varieties of wheat including einkorn were less allergenic than the others. The findings made by the research will prompt further research into less allergenic alternatives with the end goal being to help wheat allergic people and to treat or eliminate food allergies. (1)
2) Reduced Risk of Macular Degeneration and Eye Disease
The sprouting process is known to provide us with significant health benefits. A study published in 2016 looked at the activity of carotenoids found in various sprouted grains including einkorn wheat, durum, spelt and farro. The study found that the levels of antioxidant carotenoids increased significantly during the process of sprouting especially when exposed to light. (2)
Dietary carotenoids like the ones found in einkorn wheat provide a number of health benefits. One of the most significant is the decreased risk of eye disease such as macular degeneration. Several compounds found in einkorn such as lutein, β-carotene and zeaxanthin might protect the eyes from damage and disease because they are able to help absorb the light which enters the eyes.
3) Weight Loss
Because einkorn is easier to digest, it can benefit your digestive system and may ultimately help you to lose some weight.
It should be noted that it is better to eat all wheat products in moderation but substituting your regular unhealthy four for flour made with einkorn grains can certainly benefit your weight. Einkorn is not the best source of dietary fibers but it is a rich source of protein, fructans, unsaturated fats and has trace amounts of minerals like iron, zinc and potassium.
Try to make sure that you buy einkorn products in their most pure form to benefits from the nutrition it has to offer.
4) Diabetes
Studies suggest that eating ancient grains like einkorn, spelt and emmer can significantly delay the onset of type 2 diabetes.
A study published in 2014 used rats to determine the effects of ancient grains on the development and the progression of diabetes over a 9-week period. The researchers were specifically looking at the glycemic response to various grain diets including einkorn, rye flour, spelt, refined wheat and emmer.
Rye and spelt actually induced a lower glycemic response than the other diets. The group of rats few wheat had higher overall cholesterol and HDL cholesterol levels. The researchers concluded that diets based on ancient forms of wheat could decrease cell production related to fat and glucose metabolism meaning that the onset of type 2 diabetes could be delayed. (3)
5) Einkorn Flour Contains Less Gluten
Many people have great difficulty digesting wheat products because of the high gluten content. The good news for people suffering gluten intolerance is that ancient wheats like einkorn are far lower in gluten than modern wheat and far easier to digest. This is certainly good news for endurance athletes who like to load up on carbohydrate before they race.
Ancient wheats have fewer chromosomes than many modern forms of wheat and research tells us that wheat possessing fewer chromosomes also has a lower level of gluten. Modern wheat has 42 chromosomes while surum and emmer have 28. Those are far higher than einkorn which has only 14 chromosomes.
Although einkorn wheat is suitable for most people with an intolerance to gluten, it is still unsafe for people suffering from celiac disease. (4)
6) Antioxidant Benefits and Disease Prevention
Einkorn is a rich source of antioxidant carotenoids and phenolic acids. These acids are available to us through various herbs, vegetables and fruit and can protect us from the damaging effects of oxidative stress. They can help combat the damage done to our bodies from free radicals and prevent the onset of various diseases including heart disease, cancer and degenerative brain disease.
A recent study published in 2016 looked at the influence of the antioxidant activities of the phenolic acids found in puffed kernels and whole flour biscuits made from einkorn and bread wheat. They found that the level of phenolic acids increased in products made from einkorn though some were lost when different ingredients got added to the mix.
These results demonstrate that antioxidant activities actually increased during the processing stage. They found that einkorn maintained its excellent nutritional value throughout. (5)
Einkorn Flour Vs Whole Wheat
Einkorn grain is considerably smaller than the grains of more modern types of wheat. Einkorn wheat doesn't have the familiar crease visible on modern grains of wheat. This crease arose as a result of genetic alterations by choosing the seeds which delivered a higher yield to suit larger scale production.
Although einkorn does contain gluten, it has significantly less and may well be a healthier form of gluten. Einkorn is also far easier to digest.
Einkorn contains higher amounts of carotenoids which may help prevent serious diseases.
(1) https://www.ncbi.nlm.nih.gov/pubmed/16161773
(2) https://www.ncbi.nlm.nih.gov/pubmed/26752117
(3) https://www.ncbi.nlm.nih.gov/pubmed/26177485
(4) https://wholegrainscouncil.org/blog/2012/01/research-sheds-light-gluten-issues
(5) https://www.ncbi.nlm.nih.gov/pubmed/26787973