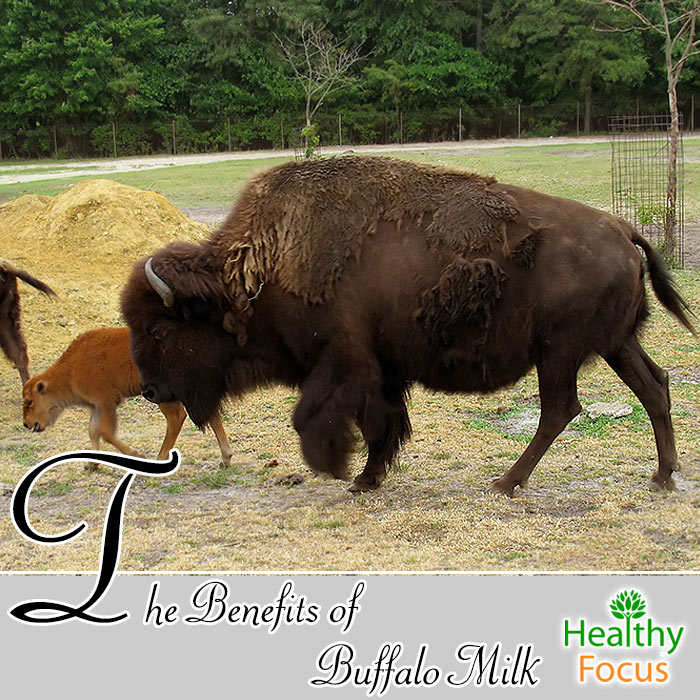 Most of us have grown up on a staple of cow's milk and probably do not give much thought to the alternatives.. There are plenty of alternatives to cow's milk however and we have looked at some of those options already on this site. Goat's milk, almond milk, soy milk and and even hemp milk all have benefits that you may not find in standard dairy milk.
Buffalo milk is another option with which you may not be too familiar especially if you are from a western country. Buffalo milk may not be a popular option in the West but in certain parts of the world especially South Asia it is widely consumed. The biggest producers of buffalo milk are India, Pakistan and China.
The Difference Between Buffalo Milk and Cow's Milk
Production
Buffaloes do not produce as much milk each day as cows. While cow's can produce anywhere between 15 and 20 liters of milk each day, buffaloes produce about half the amount and typically yield somewhere between seven and eleven liters each day.
Nutrition
Both types of milk provide you with excellent nutrition. Both cow's milk and buffalo milk are excellent sources of calcium known to be great for your bones and other bodily functions. Buffalo milk is also a really good source of other essential minerals like potassium, magnesium and phosphorus.
Health Benefits
Buffalo milk has more calories than cow's milk providing you with around 100 calories a glass compared to the 70 you get from cow's milk. Buffalo milk also has a higher fat content than cow's milk.
Both types of milk are excellent for the bones, teeth and muscles but buffalo milk is a great choice for people looking to gain a bit of weight.
Buffalo milk is higher in fat but is actually lower in cholesterol making it a good option for people with high cholesterol levels. There are many risks associated with high cholesterol especially an increased risk of heart disease.
Uses
Buffalo milk has a thicker consistency and is especially suitable for producing thick, creamy products including yogurts and cottage cheese.
While cow's milk is one of the most popular drinks in the world and dairy products made from cow's milk are consumed the world over, buffalo milk and its products are more far more popular in parts of Asia and Italy.
You can also preserve buffalo milk for longer than cow's milk.
Health Benefits of Drinking Buffalo Milk
The majority of the benefits you can get from drinking buffalo milk apply equally to the standard cow's milk you have probably grown up drinking. There are however some differences especially with regard to fat content, calories and cholesterol content. Buffalo milk is both higher in calories and fats but is actually lower in sodium and cholesterol.
1) Heart Health
Heart disease is one of the world's largest killers today and doing anything we can to reduce the risk of heart disease is vitally important.
One of the advantages that buffalo milk has over cow's milk is that it contains less cholesterol. High cholesterol levels are known to increase a person's risk of cardiovascular disease and potentially fatal complications like heart attacks, atherosclerosis and stroke.
If you are concerned about your cholesterol level but do  not want to give up on the pleasures of dairy entirely, consider switching to lower cholesterol buffaloes milk. It is equally tasty but almost certainly better for your heart.
2) Bone Health
We have all been told that milk is good for the bones. The benefits of calcium on bone strength and dental health have been at the forefront of milk promotion since I was a child and free milk is still provided to school children around the world.
Both types of milk are very high in calcium and experts have always told us that calcium is crucial to good bone health. Notwithstanding some recent contradictory reports, the majority of health experts still believe that milk is necessary for strong bones and to prevent conditions like osteoporosis later in life.
Buffalo milk is just as high in calcium as cow's milk and also contains a number of other important minerals like manganese, copper, phosphorus and zinc.
3) Development and Growth
Buffalo milk is very high in protein essential for the growth and the development of our bodies. Buffalo milk actually contains slightly more protein than ordinary cow's milk making it a very good choice for young children who need to grow fit and strong.
Of course, protein is not only necessary for children or adolescents. We can all benefit from it because it is necessary for a raft of bodily functions and processes.
In buffalo milk, you will find complete proteins invaluable to the body. The body can convert them into energy or apply them for bodily growth and quick repair.
4) Immune System Support
Drinking buffalo milk can help boost your immune system which offers protection from illness. It contains a decent amount of vitamin A and C which are important for overall immune function.
These vitamins are also natural antioxidants which help repair damage to the cells done by environmental free radicals. Free radicals are believed to be at the heart of many major diseases from cancer to heart disease to Alzheimer's disease but they can also have a devastating effect on your appearance. Antioxidants like the ones found in buffalo milk can help protect your cells from damage and have an anti aging effect on your skin.
5) Blood Pressure
Buffalo milk contains a good supply of potassium – more than the amount found in ordinary cow's milk. Potassium is known to benefit the heart in several ways. It acts as a type of vasodilator meaning that it helps enable the flow of blood through the arteries. This puts less strain on the blood vessels and can actually help to reduce blood pressure which is a major risk factor in heart disease and stroke.
6) Weight Gain
You would be forgiven for believing that everybody on the planet is looking to lose weight rather than gain a few pounds. However, there are plenty of people that could benefit from the extra calories provided by buffalo milk including children and adults in the developing world, people recovering from illness and those with a very skinny frame.
As well as being higher in calories, this creamy milk also contains considerably more fats that can help people to gain their desired weight faster while the protein content can help provide energy and add to muscle mass.
7) Energy
The higher calorie content in buffalo milk can also provide you with additional energy necessary to get through the day. A hundred ml of this milk contains around a hundred calories which is some 30 calories more than you would find in cow's milk.
It may not be suited for people on a calorie controlled diet but it is definitely worth considering if you need a boost of energy for manual work or exercise.
Despite being so creamy, buffalo milk can also help keep your body well-hydrated because it is around 90% water.
Precautions
Buffalo milk is significantly higher in fat than cow's milk. While this may benefit certain people, it may prove detrimental to others. People who have weight problems or live a more sedate lifestyle may end up gaining too much weight simply from switching to buffalo milk.