What is Sarsaparilla?
If you have never heard of sarsaparilla, you will not be alone but natives of South and Central America have been using it for many thousands of years to treat numerous health complaints.
It is also known as Honduran sarsaparilla, Jamaican sarsaparilla or by its scientific formal name Milax ornata. According to traditional use, the herb can help treat illnesses ranging from skin conditions like dermatitis to respiratory problems and other symptoms of the cold.
During the 1950s, sarsaparilla was widely used in Europe as a general tonic to purify the blood and also to promote sweating. Today, it is a widely used herb with a variety of medicinal benefits that we will look at in some detail later in the article.
Plant Description
Sarsaparilla is a prickly vine which is native to South America, central America and the Caribbean. It is a hardy plant that can climb well and grow up to 40 meters in length.
It produces deep colored berries which are popular with birds and people alike. Its common name is taken from the Spanish word 'zarzaparrilla' which essentially means bramble grape vine.
This is a fairly accurate physical description of the plant which belongs to the Lily family. The root of the vine measures up to 8 feet and does not have any particular taste or smell but is used to make a medicinal herb that can benefit your health in several significant ways.
Active Ingredients
Sarsaparilla derives the majority of its medicinal uses from plant sterols and natural antioxidants that are known to benefit human health. It is a rich source of flavonoids which are known to benefit the immune system, prevent cellular damage and reduce the inflammation responsible for numerous diseases.
Sarsaparilla contains a chemical component known as saponins which deter insects from eating the leaves but also have anti-fungal properties in people.
The Health Benefits of Sarsaparilla
Ever since sarsaparilla was introduced to the West, people have used it to treat a variety of conditions and illnesses from gout and arthritis to coughs, fevers and high blood pressure.
It first arrived in Europe during the 15th century when it was used to promote urination and sweating and to purify the blood. Later, it was used in both Europe and the United States to combat syphilis among other diseases.
Some of the most common uses for the herb today include the following:
1. For the Cold and Fevers
Sarsaparilla is often used to help prevent seasonal colds and flu from occurring and also to treat symptoms including coughs, respiratory difficulties and fevers. It may help boost the function of the immune system which will help prevent the illnesses from occurring to begin with.
Sarsaparilla supplements and teas can also be used to help treat the common symptoms of colds and flu by helping eliminate the build up of mucus in the sinuses and respiratory system.
Sarsaparilla has antioxidant and anti-inflammatory properties which help loosen phlegm and mucus allowing it to pass from a person's body more readily.
Try a soothing cup of sarsaparilla tea at the first sign you are coming down with the flu or a cold. If your symptoms are bad and you are looking for something more potent, you may have more success with another stronger form of sarsaparilla supplement.
2. To Improve Hormonal Balance
Sarsaparilla has the ability to balance both male and female hormones and is often used as an ingredient in supplements to boost libido and treat impotence. According to research, the plant steroids and the saponins in sarsaparilla may actually mimic natural reproductive and growth hormones such as testosterone and estrogen.
Saponins are sometimes referred to as natural steroids and there is evidence that they can relieve many of the symptoms associated with the menopause.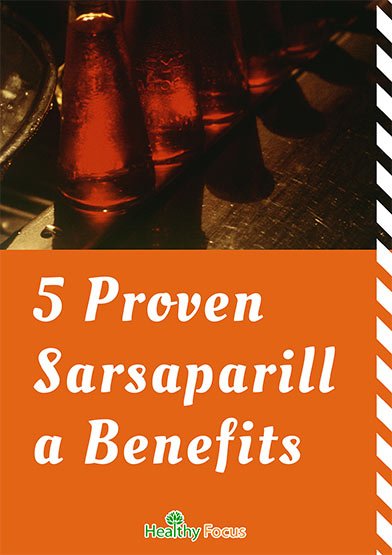 3. For the Skin
Sarsaparilla has traditionally been used in South America to treat a long list of skin complaints because of its antibacterial and anti-inflammatory properties. It may be a safe, effective natural remedy for eczema, acne, psoriasis, bites, minor wounds and rashes which was especially useful in developing regions where bacterial infections are more common.
Some of the earliest studies done on the plant during the 1940s examined topical application of sarsaparilla on psoriasis. The study discovered that when sarsaparilla was applied topically, it helped to improve the severity of symptoms in 40% of the participants.
Another study comparing the abilities of around 100 plants to treat skin infections reported that sarsaparilla was among the most effective because of its powerful anti-fungal ability. (1)
4. To Detoxify the Body
Sarsaparilla has diuretic properties meaning that it can stimulate the production of urine and promote sweating. This is useful to relieve any build-up of fluid, puffiness and swelling.
Indeed, one of the traditional uses of sarsaparilla was to cleanse the blood of impurities helping to treat liver complaints and helping to eliminate toxins.
According to studies, sarsaparilla has a protective effect on the liver because of its antioxidant properties and plant sterol content. It is believed to help the detox process because it binds to toxins like bacterial cells in the gastrointestinal tract which prevents them from doing damage in the blood stream. (2)
5. Anti-inflammatory and Cancer Protection
Studies show that a number of the compounds found in the herb have the potential to prevent cancer, reduce inflammation and slow down aging. (3)
Recent research conducted in Queensland, Australia found that sarsaparilla possessed five or more steroidal saponins with the ability to destroy cancerous cells especially in the colon. (4)
Research also shows that sarsaparilla contains a number of antioxidant oils and anti-inflammatory compounds which can help reduce oxidative stress, help neutralize cellular damage and slow down the aging process. (5)
How to use Sarsaparilla
These days, sarsaparilla is widely available either online or in health stores. It can be taken in several forms but it is worth noting that just a little will go a very long way. The majority of available products contain only a small dose of the root but its effects are very potent. You can boil up the roots at home to make a very effective medicinal tea or buy it in ready-made capsule and tincture form.
Sarsaparilla Tea
Provided that you can get hold of the roots, you can make a great medicinal tea by following some basic instructions.
First of all, boil up a cup of water and add it to a teaspoon or so of your sarsaparilla roots,
Allow it too steep for at least 20 minutes before draining the mixture.
Drink it up several times each day especially if you feel that you are coming down with a cold or a fever.
Sarsaparilla Capsules
The appropriate dosage of these capsules depend on the brand you buy and the condition that you are trying to treat. Make sure that you do your research and read the labels carefully before starting any treatment.
Precautions and Side Effects
Although sarsaparilla has been used for many long years by indigenous populations, it does not mean that it is totally safe. Just like any other herb, you need to exercise a degree of caution before taking it.
It is generally regarded as safe but several minor side effects have been reported on rare occasions. These side effects include upset stomach, nausea and allergic reaction.
There are no studies to confirm its safety for pregnant women, nursing mothers and young children so it is best avoided to stay on the safe side.
If you are in any way concerned about taking sarsaparilla supplements, speak to your doctor beforehand.
(1) https://www.ncbi.nlm.nih.gov/pubmed/2056755
(2) https://www.researchgate.net/publication/232082983_Hepatoprotective_and_Safety_Evaluation_Studies_on_Sarsaparilla
(3) https://www.ncbi.nlm.nih.gov/pubmed/16827159
(4) https://www.ncbi.nlm.nih.gov/pubmed/22285850
(5) https://www.ncbi.nlm.nih.gov/pubmed/25732255