What is Inositol?
Inositol otherwise known as vitamin B8 is one of the lesser known vitamins which doubtless does not receive the attention that it deserves.
It used to be considered part of the B complex vitamins until it was discovered that the body is able to produce its own inositol.
Because it can be produced by the body it stopped being bracketed as a true vitamin and was classed more as a pseudo vitamin.
Despite this demotion, inositol has plenty of benefits especially with regard to mental health issues.
It is in the area of mental health that inositol has received the most scientific attention and there have been numerous studies with regard to its effect on depression, panic disorders and bipolar disorder.
Other Forms of Inositol
This article is discussing "plain" inositol. Inositol discussed here and used in studies is myo-Inositol or d-chiro-inositol. The confusion starts with other supplements that have the name inositol in them.
These "inositols" are different and have different effects and benefits. IP-6 or inositol hexaphosphate is one with a similar name. IP—6 is NOT the inositol we are discussing here. The other similar sounding one is Inositol hexanicotinate—aka "No Flush Niacin". More about Niacin and a Niacin detox can be found here.
Inositol Benefits
Inositol is effective in dealing with a wide variety of health issues as well as mental health conditions. It is especially effective in treating female emotional problems such as PMS and binge eating but can also be used to reduce cholesterol levels, strengthen hair and might even protect against cancer.
Inositol for Mental Health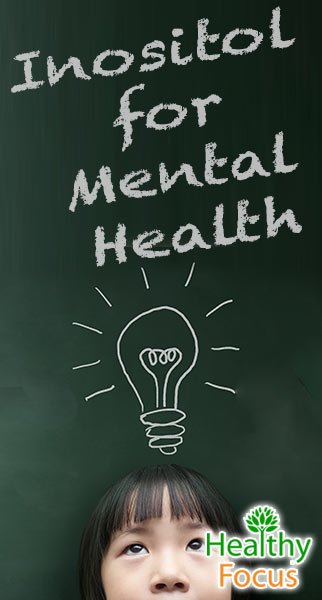 Inositol is present in high concentrations within the brain and the key to its benefits begin in the cells. Inositol fortifies cell integrity by synthesizing a number of different compounds.
It has a close relationship to calcium and helps access stores of calcium contained in the brain. This in turn stimulates the release of various neurotransmitters such as serotonin and GABA which are known to promote feelings of calm and wellbeing.
Inositol helps the nerves communicate with each other and promotes the formation of new nerves, improves signaling between neurons and promotes better cognitive function, clear thought and a general sense of health and wellbeing.
Because of its importance to so many brain functions, inositol can help treat a host of mental health issues which will be discussed below.
Inositol for Depression
Depression is one of the most common modern mental conditions affecting millions of people around the world. It has been noted that inositol levels tend to be lower in those suffering from depression which led scientists to examine the link between inositol and depression.
Although logic would tell you that supplementing with inositol would be an effective treatment, results have been mixed so far.
An early study published in the mid-1990s found that treating depressed patients with inositol for four weeks was very effective. Subjects given inositol experienced far significantly greater improvements in their symptoms compared with those given a placebo and although no explanation was found, women tended to experience better results than men. (1)
However, a meta-analysis which looked at four trials including 141 patients found that the studies proved inconclusive based on their quality and results with regard to inositol's effect on depression. (2)
Inositol for Anxiety and Panic Attacks
Anybody that has experienced anxiety or panic attacks will be sadly familiar with their enormous effects. Panic attacks can have a huge impact on your quality of life, your ability to hold down a job or even to socialize.
There are plenty of pharmaceutical products available to treat anxiety disorders but they often come with dangerous side effects and they are not guaranteed to work for everybody. Inositol supplements may offer a more natural and safe alternative.
A study published in 2001 found set out to analyze the effects of inositol on various panic disorders compared to a well-known selective serotonin reuptake inhibitor called fluvoxamine. The study found that inositol was effective in reducing the number of panic attacks and other anxiety measurements and was even more effective than fluvoxamine.
The study also found that there were significantly fewer side effects associated with inositol and encouraged further studies in the future.
Inositol for Obsessive Compulsive Disorder
Obsessive-compulsive disorder more often abbreviated to OCD is a form of anxiety disorder which is characterized by recurring behaviors and thoughts. It can be a very debilitating condition and like the medications prescribed for panic attacks.
The popular prescription drugs do not always work and have numerous side effects so studies that indicate inositol may offer a natural and safe respite are welcome.
A study published in the American Journal of Psychiatry found that inositol was effective in reducing OCD symptoms during a 6 week-long trial. The authors concluded that inositol was a potentially effective natural treatment for depression, panic disorders and OCD. Only 13 subjects were involved however and further research is definitely necessary. (3)
Inositol for Mood Swings and PMS
As I already mentioned, inositol seems to work better for women than for men in regards to depression and it can also help women by helping alleviate some of the common symptoms of premenstrual symptom and a more severe condition called premenstrual dysphoric disorder.
A study published in 2011 which examined the effects of inositol on the symptoms of PMDD found that women taking the supplement experienced a significant reduction in symptoms including irritability, mood swings and anxiety. (4)
Inositol for PCOS
Inositol has also proven effective in treating a condition called polycystic ovarian syndrome which is characterized by infertility, menstrual irregularity, and weight gain. Studies show that it works by normalizing hormonal levels.
Women with Polycystic Ovary Syndrome (PCOS) have high levels of testosterone and free insulin. In addition to aiding with fertility, Inositol can lower testosterone and insulin. Normalizing hormones and insulin levels help reduce unwanted hair and weight gain.
Inositol for Bulimia
Bulimia nervosa is a serious and potentially life-threatening condition which typically affects women involving binge eating followed by deliberate vomiting or purging. Inositol may well offer a potential natural treatment for this awful condition.
A study published in 2001 found that when given in high doses, inositol was significantly more effective compared to a placebo. (5)
Inositol for Lithium Side Effects-Psoriasis
While there is no evidence that inositol can help treat bipolar disorder, there is some evidence that it can help counteract the effects of the lithium prescribed for bipolar patients. Many people who take lithium develop a side effect called lithium psoriasis.
Lithium is believed to deplete the body's inositol levels and lead to psoriasis. Supplementing with inositol can improve this skin condition without affecting the drug's effects on the mind. This study published in 2004 suggests that taking inositol could help patients taking lithium to counteract psoriasis. (6)
Other Inositol Benefits
The majority of the scientific studies done on the effects of inositol have been focused on its mental health benefits and unfortunately many of these studies were done over a decade ago.
Clearly more research is necessary before we know exactly how effective this forgotten vitamin can be. However, inositol may have several other health benefits beyond its mental health applications including the following:
It helps Reduce Cholesterol
When it is used in combination with choline, lecithin is produced by the body. Lecithin helps to break down fats in the body and can help prevent fat from building up in the arteries and brain resulting in lower cholesterol levels.
It helps promote healthy hair-being a member of the B vitamin group, inositol can help improve the strength, health, and appearance of your hair.
It can ease constipation-by stimulating muscular action in the intestines.
Insulin Resistance
Inositol is an insulin sensitizer. It can lower free insulin levels in women with PCOS. It may help others as well (7)
Lowers Testosterone
Inositol can lower testosterone levels. This can be a benefit if you are a woman suffering from PCOS and a drawback if you are a bodybuilder. (7)
Inositol with Choline
In order to amplify its effects, many people combine inositol with another member of the B-complex group- choline. Choline is thought to interact with inositol in significant ways by boosting cognitive function and fighting against stress and anxiety. The combination of the 2 compounds can be found in several manufactured supplements.
Inositol Dosing
Doses typically begin at around 500mg a day for general cognitive improvements.
For more serious conditions, a larger amount may be recommended.
Based on the studies recommended powder doses for conditions are:
Fertility 200mg powder
PCOS 4 g powder /1.2g soft-gel
Depression 6 g + powder / 1.8 g + soft-gel
Other Neurological issues 12g + powder /3.6g + soft-gel
Bulimia, Binge eating 18gm /5.4g soft gel
*In general, the myo-inositol softgels require only 30% of the powdered dose (8)
Inositol Side Effects
There are few if any side effect risks from taking inositol even at high doses. In extreme cases way beyond the recommended dose, nausea is possible but is still rare.
Studies have shown that doses up to 18 grams a day were well tolerated for obsessive compulsive disorder, bulimia, and anxiety.
(1) http://www.ncbi.nlm.nih.gov/pubmed/7726322
(2) https://www.ncbi.nlm.nih.gov/pubmed/15106232
(3) http://www.ncbi.nlm.nih.gov/pubmed/8780431
(4) http://onlinelibrary.wiley.com/doi/10.1002/hup.1241/abstract
(5) http://www.ncbi.nlm.nih.gov/pubmed/11262515
(6) http://www.ncbi.nlm.nih.gov/pubmed/15149510
(7) http://www.ncbi.nlm.nih.gov/pubmed/19499845
(8) https://examine.com/supplements/inositol/