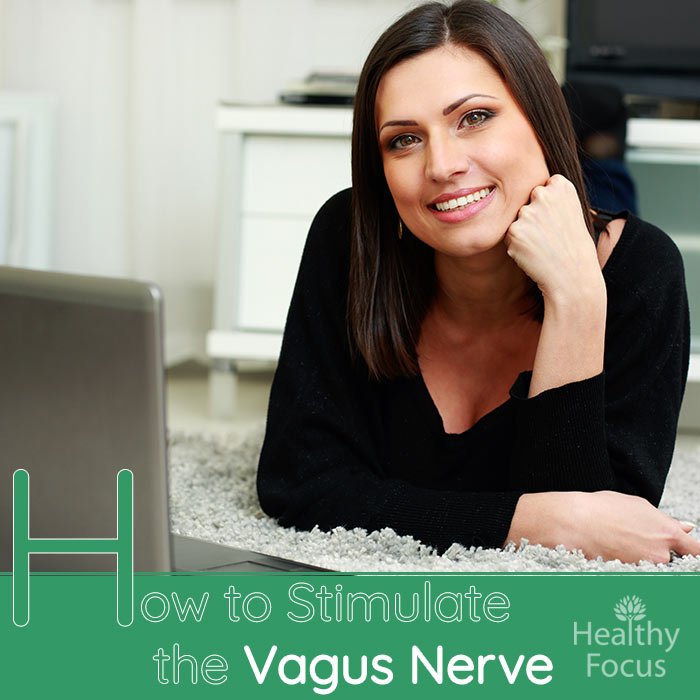 When your nervous system is especially sensitive, it can cause many adverse impacts on your health. By understanding he way your vagus nerve works, it might be possible for you to work with the nervous system so that it benefits you rather than working against you. Studies show that taking care of the vagus nerve with some home strategies can help you overcome emotional problems like stress, anxiety and fatigue. It can also have a positive physical benefits especially with regard to inflammatory conditions.
What is the Vagus Nerve?
The vagus nerve is the longest nerve in the human body, extending all the way from the brain stem all the way down to the stomach and the intestines. It enervates your lungs and your heart and connects the facial and throat muscles.
The nerve fibers running through the intestines are often referred to as the enteric brain because some 90% of those fibers connect back to the brain via your vagus nerve. As such, the vagus nerve plays a key role in the connection between the human body and mind. It can help a person remain in touch with their feelings and emotions. It puts the sparkle in a person's smile but also the knot in their throat.
The Role of the Vagus Nerve
Several recent news articles have looked at the potential health benefits associated with vagus nerve health. It has been linked to various illnesses including those related to inflammation like rheumatoid arthritis, inflammatory bowel syndrome and epilepsy. As well as the physical benefits bestowed by regulating the vagus nerve, it can also play a significant part in improving mental health. Studies indicate it can help treat anxiety, depression PTSD and fatigue helping your take control of your emotional well-being naturally.
Vagus nerve stimulation or VNS is an electronic intervention which is increasingly used to treat depression, anxiety and epilepsy. VNS involves implanting very small electronic devices into the body to send tiny shocks to the nerve. Less invasive external devices are currently being studied which will allow the vagus nerve to be stimulated through through your skin.
Inflammation and the Vagus Nerve
Your vagus nerve is critical to the immune system, keeping it in good health and protecting against illness. There is also a very close link between inflammation, immune functioning and chronic stress. By activating your sympathetic nervous system, you release cortisols and keep the immune system healthy. Stress has an adverse effect on immune health leading to inflammation throughout the body and increasing your risk of many diseases including serious illness like heart disease.
Activating your vagus nerve helps boost the immune system and release various enzymes and hormones like oxytocin and acetylcholine. The result is a reduction in inflammation, and a general improvement in overall health, fewer tension headaches and reduced allergic reactions.
What is Vagal Tone?
Good vagal tone is the key for activating the nervous system. We measure vagal tone by measuring breathing rate along with the heart rate. When you inhale, the heart rate gets a little faster and slows down slightly when you exhale. The greater the difference between heart rate when you exhale and inhale, the higher a person's vagal tone.
When vagal tone is higher, your body is able to relax better, and more able to deal with feelings of stress and anxiety. Higher vagal tone also helps the body regulate blood sugar levels and reduces the risk of diabetes and heart disease.
On the other hand low vagal tone has been linked to depression, fatigue, anxiety and cognitive issues. It is also linked to physical problems like diabetes, heart disease and a wide range of inflammatory and autoimmune disorders from arthritis to lupus.
How to Stimulate the Vagus Nerve
Unless a surgical device has been implanted into your body, it is not possible to directly stimulate the vagus nerve. There are however a number of simple methods of indirectly stimulating it to achieve the right balance. Because it passes through so many parts of the body, practices which alter or contol those areas can have a major influence on the way the vagus nerve functions. And the best thing about these methods – you can try then in the comfort of your home.
1) Humming or Chanting
Your vagus nerve runs through your vocal cords and inner ear. The vibrations caused by humming is a very simple way to positively influence your nervous system. Pick a song and hum it to yourself – it really is that simple. Another option is to use the 'Om' chant popular in certain cultures and in yoga. It may sound odd, but go with it and let the sensations wash over you.
2) Conscious Breathing Exercises
Controlling your breath is also one of the best ways to get your nervous system under control. The aim of this exercise is to move your diaphragm and belly with your breath and to slow your breathing down. You can stimulate the vagus nerve by slowing sown your breathing to between 5 and 7 breaths a minute or about half the rate as normal.
Inhale while counting to 5 then hold your breath briefly before exhaling slowly. Try counting to ten as you exhale. Slightly constricting the back of your throat while performing this exercise can further stimulate your vagus nerve. You can accomplish this by breathing as if you are fogging a mirror.
3) Meditation
Another way to stimulate the vagus nerve is meditation. In a study published in 2013, 70 staff members at a university were recruited for a study on the link between vagal tone and positive emotions. The researchers recorded vagal tone at the outset and again at the end of the 9-week experiment.
Half of the subjects learned a meditation technique designed to promote positive feelings towards themselves and other people. Those that used this technique saw a significant increase in their vagal tone and this was linked to an increase in positive emotion. (1)
4) Massage
You may be able to influence the vagus nerve by performing a massage in certain areas of your body. Massaging the neck may stimulate the vagus nerve as can a good foot massage. Massaging the neck along your carotid sinus is one of the best spots for vagus nerve stimulation.
5) Diving Reflex
There are several ways to achieve the diving reflex to stimulate the nervous system. This reflex slows down the heart rate and increase the flow of blood to your head. It can both relax the body and the mind.
Simply splashing some very cold water onto your face all the way from the lips to the scalp can cause a diving reflex and have an excellent effect on the vagus nerve.
You can achieve the same result by filling a ziplock bag with ice cubes and holding it briefly on your face while holding your breath.
6) Form Healthy Connections
When you are feeling anxious or emotionally fragile, reaching out to friends can help a great deal. Whether you make connections face to face or by telephone and social media, this can help stimulate the vagus nerve and promote a healthier mind and body.
Playful relationships and laughter with friends can have a very powerful impact as can hugging a close friend or partner until you feel relaxed.
One hugging exercise is extremely effective and very simple. Just stand on your feet, embrace your partner wit both arms and focus on yourself until you quiet down fully.
7) Yoga
Yoga is another great way to stimulate the activity of your vagus nerve. Studies have found that yoga is linked to improvements in anxiety and mood. One study found yoga was more effective than walking exercises and increased GABA levels in the brain. Increased GABA is linked to decreased anxiety and better mood.
8) Fasting
The nervous system on the whole and the vagus nerve in particular play a significant role in digestion. Stress can cause many complications and result in poor digestive function. If you fast or restrict your calorific intake, your stomach informs the brain that digestion is not necessary meaning it can better use its energy resources on relaxation instead.
These simple methods can do a great deal for improving your physical and emotional well-being. If you are prone to anxiety or sickness, try them out and see what they do for you. Don't forget to let us know whether or not they helped out.
1) https://www.ncbi.nlm.nih.gov/pubmed/23649562