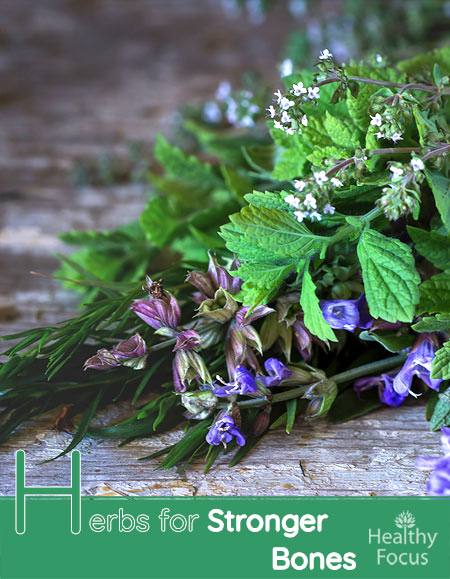 Building strong and healthy bones at a young age is essential. Minerals get incorporated into the bones during your childhood and on to early adulthood.
When you reach your thirties, bone mass will have peaked. This means it is essential to create sufficient bone mass earlier in life to avoid complications later on. Research shows that if you do not build up your bone mass during early life, there is a significantly greater risk of you developing weak and fragile bones that can break later in life. (1)
Fortunately, there is plenty you can do to ensure your bones will remain strong in later life. Dietary choices as well as sound lifestyle habits can go a long way to reducing your risk of bone weakness and common conditions like osteoporosis.
When thinking about bone strength, most people will immediately think of milk. However, the role of milk in developing bone strength has become a controversial topic. This article will focus on herbs that can help provide the minerals and other nutrients to support healthy bones throughout your life.
Herbs for Healthy Bones
Horsetail (Equisetum arvense)
Horsetail is an herb belonging to the genus – Equisetaceae. Its name is derived from the resemblance of its leaves to horse hair. Among its medicinal uses are the ability to strengthen bones and fingernails.
There is some scientific evidence to support these traditional uses by helping to build osteoblasts. One laboratory study, published in 2012 set out to evaluate the antibacterial and bone strengthening actions of the herb.
The results demonstrated that extracts of the herb had a positive effect on human osteoblasts – cells which support the creation of bone. (2)
Another study, published later in the same year, found that the herb could help prevent bone from being broken down by cells. (3)
Horsetail is a good source of silica which is important for building bone health and strength.
Horsetail is available in supplementary form but can also be consumed in the form of a tea. To make the tea, Add a teaspoon of the dried herb to a cup of boiling water, Steep for about ten minutes, strain and drink up three times each day.
Dandelion (Taraxacum officinale)
Considered by many gardeners as an annoying weed, dandelion leaves, stems and roots have a wide variety of potential benefits.
They are a rich source of important nutrients including calcium and boron which are important for bone health and strength.
Unfortunately, there has been very little research into the effects of dandelion on bone health However, many of its individual nutrients are known to help strengthen and maintain healthy bones.
The leaves and stems of the dandelion are a very good source of calcium as well as vitamin K. Both of these nutrients have been linked to a reduced risk of bone loss. (4) (5)
Dandelion root may also play a part in healthier bones. The plant's roots contain a fiber called inulin which research suggests has a positive impact. Inulin helps support healthy bones by improving digestion and promoting healthy intestinal bacteria.. (6)
If you have a garden that is overrun with dandelions, do not simply throw them away. You can put the plant to good use.Alternatively, you can buy the dried leaves and roots from health food stores.
To make a tea, add a teaspoon of the dried dandelion leaves or roots to a cup of hot water. Allow it to steep for around ten minutes. Strain and add some honey to taste. Drink up two or three times a day for a few weeks.
Red Clover (Trifolium pratense)
Red clover is a flowering plant but like lentils or chickpeas, it is actually a legume. The plant contains isoflavones, which is a type of plant based estrogen. Because of this, the plant is often used by women going through menopause to boost their estrogen levels which drop with the menopause.
It is used by women to deal with many of the common symptoms of menopause such as night sweats and hot flashes and is also used to help bolster bone density.
Recent research has confirmed that red clover has a positive impact on bone strength and health. A study, published in 2015, found that red clover supplements taken for 12 weeks helped improve bone status in menopausal women. (7)
The herb is available in supplementary tablet form either on its own or combined with other herbal ingredients. You can also use red clover in the form of a tea.
To make a tea, add a teaspoon of the dried flowers to a cup of hot water. Let the tea steep for at least ten minutes then strains and drink up three times each day.
Be sure to read the manufacturer's labels careful if you are taking a supplement and get advice from your doctor if you are in any way concerned.
Stinging Nettles
Stinging nettles have a surprising number of medicinal uses including their use for allergies and sinus infection. They are also an excellent source of nutrients including minerals like calcium that can help support healthier bones.
Nettle leaves are also rich in silica as well as vitamin K that studies have demonstrated has bone supporting properties.
Unfortunately, there are no scientific studies into the effects of the plant on bone health and we are reliant on traditional use and anecdotal evidence.
Nevertheless, stinging nettles make for a healthy cup of tea. The dried nettles do not stung and are readily available pretty much everywhere.
To make a cup of nettle tea, add a teaspoon or so of the dried nettles to a mug of boiled water. Allow the tea to steep for about ten minutes to extract the nutrients. Strain then drink up three times each day.
Alfalfa (Medicago sativa)
Alfalfa is another legume but it is also regarded as an herb. It was used as animal feed for centuries but it is now recognized as a very healthy herb for humans.
Studies have also revealed that alfalfa can help treat the symptoms of menopause because it contains phytoestrogens. One study demonstrated that alfalfa extracts helped completely eradicate hot flashes and night sweats in 20 menopausal women. (8)
Alfalfa is a rich source of nutrients including vitamins D and K as well as minerals like calcium, silca and zinc.These nutrients may help support bone health but there are no studies into its specific benefits for bone health.
Frequently Asked Questions
How can I strengthen my bones naturally?
There are a number of ways that you can help strengthen your bones. Lifestyle choices and dietary changes can make a huge difference. It is important to choose a diet with plenty of nutrients. Make sure that you get plenty of protein and eat lots of healthy vegetables. As well as diet, you can strengthen your bones by doing strength exercises and keeping yourself as physically fit as possible.
The herbal remedies mentioned in this article can also help as can vitamin K supplements, calcium supplements and collagen supplements.
Can you rebuild bone density?
There is plenty that you can do to boost bone strength but whether or not you can rebuild density will depend on the loss. Unfortunately, lifestyle changes are not always enough to rebuild your bone density. Depending on how great the loss, you may have to think about conventional medical treatments. Some medicines can slow down the rate of bone loss while others actually help rebuild bone.
What tea is good for bones?
The herbs we have looked at in this article are excellent choices for bone health and several can be used in the form of a tea. To boost your bone strength and health, try drinking dandelion, red clover, nettle or horsetail tea. They are easy to make and pack a powerful medicinal punch. Another good option is Rooibos tea which is a rich source of antioxidants as well as nutrients anti-inflammatory properties that keep the bones healthy.
Can osteoporosis be cured naturally?
While strengthening your bones or reducing the risk of bone disease is possible, there is no actual cure for osteoporosis. Certain natural and medical treatments can certainly help boost bone health and bone density but the condition can not be completely cured.
Other Home Remedies for Bone Health
As well as the herbal remedies discussed in this article, there are various other home remedies that can help improve the strength and health of your bones. It is essential to eat the right sort of diet while exercise can also help. Certain supplements can also help support the bones. Here are some of the best ways you can take naturally care of your bones
Eat lots of Fresh Vegetables
If you want to boost your bone health, it is essential to eat plenty of fresh vegetables.  They are a great source of vitamin C, which helps promote bone forming cells.
Studies have also showed that the antioxidant effects of vitamin C can protect the bone cells against damage. Vegetables also increase your bone mineral density and help protect against common conditions like osteoporosis.
One study found that women over the age of 50 that ate the most vegetables were at a significantly lower risk of developing osteoporosis. (9)
Consume Enough Protein
To ensure healthy bones, it is also important that you get sufficient protein from your diet. 50% of your bone is actually made from protein.
Research has demonstrated that insufficient protein can negatively affect the way calcium is absorbed by the body. There is also research that suggests older women have better levels of bone density if they consume more protein. (12)
Consume Plenty of Calcium
It is important to get plenty of calcium into your diets to boost the health of new bone cells. The recommended daily intake of calcium is 1000 mg, but older women require 1200 mg.
If possible, it is better to get calcium from your diet rather than relying on supplements.
Eat Foods Rich in Magnesium and Zinc
Apart from calcium, magnesium and zinc are also important minerals for bone health. Magnesium is especially important for improving the absorption of calcium. Studies have found that women who consumed more magnesium had improved bone density. (13)
It might be beneficial to supplement with magnesium if you can not get enough from your diet.
Eat Foods High in Vitamins D and K
Vitamin D helps the body to absorb calcium better making it important for your bones. Studies indicate that people who get less vitamin D have inferior bone density putting them at greater risk of bone loss. (14)
Vitamin K2 also helps support the bones by modifying a protein called osteocalcin. Vitamin K is found in the highest levels in fermented foods like sauerkraut and natto.
Strength and Conditioning Exercises
Certain specific exercises are an excellent way to build then maintain healthy bones. High impact and weight bearing exercises are especially useful.
Studies have revealed that both children with diabetes and adults can benefit from these exercises. They can help bones develop in children and reduce the risk of bone loss in adults. (10) (11)
(1) https://www.ncbi.nlm.nih.gov/pubmed/21520276
(2) https://www.ncbi.nlm.nih.gov/pubmed/22672309
(3) https://www.ncbi.nlm.nih.gov/pubmed/23106302
(4) https://www.ncbi.nlm.nih.gov/pubmed/12905754
(5) https://www.ncbi.nlm.nih.gov/pubmed/22609892
(6) https://www.ncbi.nlm.nih.gov/pubmed/26419466
(7) https://www.ncbi.nlm.nih.gov/pmc/articles/PMC4523657/
(8) https://www.ncbi.nlm.nih.gov/pubmed/9677811
(9) https://www.ncbi.nlm.nih.gov/pubmed/25856221
(10) https://www.ncbi.nlm.nih.gov/pubmed/22246217
(11) https://www.ncbi.nlm.nih.gov/pubmed/17140871
(12) https://www.ncbi.nlm.nih.gov/pubmed/11914191
(13) https://www.ncbi.nlm.nih.gov/pubmed/24500155