What is Roobios Tea?
We are often warned in the news and media that there can be too much of a good thing. Fortunately, this golden rule does not apply to Rooibos tea. This sweet, full-bodied, earthy red tea is packed full of antioxidants, has high nutritional value, and is caffeine-free.


Roobios tea or red bush tea is Indigenous to the Western Cape of South Africa. This form of tea is made from the leaves of the red bush plant (Aspalathus Linearis).
Roobios tea can be either green or red. If the tea is left out in the sun to dry slowly a natural fermentation process will turn the green leaves the characteristic red color. Some of the leaves are quickly dried and remain green-to make green Roobios.
Green Roobios has higher levels of antioxidants—but that does not mean it is "better". It is not just the levels of antioxidants that are important but also the ratio of specific compounds.  Studies have shown that both green and red Roobios have health benefits.

Rooibos tea has been used to cure many ailments as well as served as refreshing beverage. Celebrated for all of its health benefits, this vibrantly tea has steadily be gaining popularity in Western countries.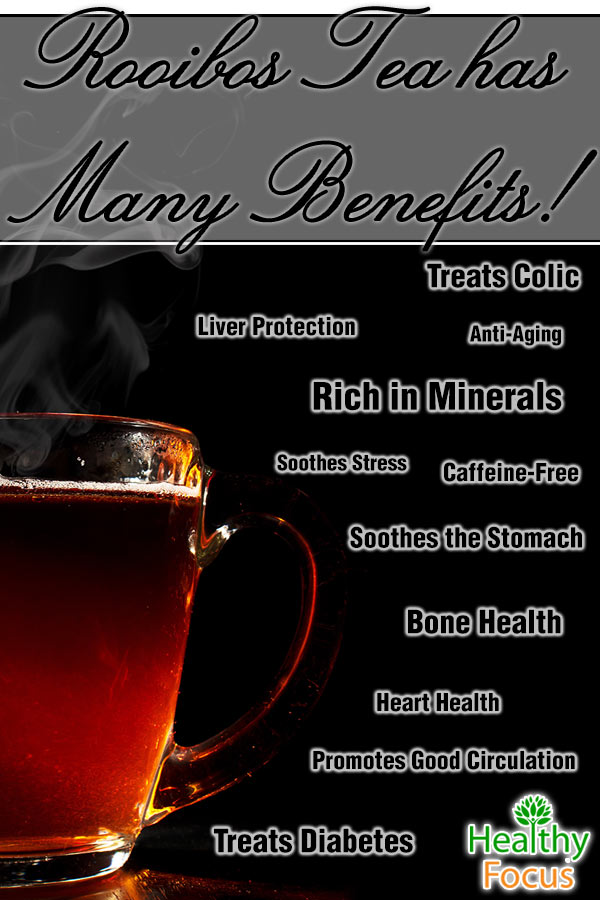 Health Benefits of Roobios Tea
Delicious, healthy, soothing. When you enjoy a cup of Rooibos tea, you are treating your mind and body to numerous health benefits. Low in calories, this sweet-tasting drink is a great alternative to coffee and a perfect drink to fit into your healthy lifestyle.
Rooibos Tea and Weight Loss
There are very good reasons to think that Roobios can help you meet your weight loss goals. A 2014 Study examined the role of fermented (Red) Roobios and fat cell development. The study, done on mice showed that Roobios may be able to inhibit the development of fat cells. (1)

The interesting part of the study is that it was done using a typical Roobios tea preparation—and not some special extract made with only certain components. It is probably not a "cure" for obesity but it definitely is a tasty way to prevent fat development.

Rooibos Tea Antioxidants and Polyphenols
Many teas are filled to the brim with antioxidants but Rooibos tea has 50% more antioxidants than you will find in green tea. In addition, rooibos tea has the added benefit of two very rare antioxidants you will be hard pressed to find anywhere else. These antioxidants are unique to the tea.

Aspalathin helps to regulate the hormones in the body, decreases the output of adrenal hormones, therefore decreasing stress and helping to prevent metabolic disorders. Aspalathin also helps to control blood sugar, and therefore is great for minimizing the risk of Type 2 diabetes and controlling fat production.
Nothofagin, the other rare and beneficial antioxidant is an anti-inflammatory and paired with aspalathin, helps to decrease the risk of Alzheimer's disease. Both of these antioxidants also appear to have the added benefit of protecting the nerves.

Rooibos tea also contains high levels of phenolic compounds and antioxidants that eliminate free radicals in your body.   Fermented (Red) Roobios is high in quercetin-3-robinobioside and phenylpyruvic acid glucoside. (2)
These compounds protect against heart disease, chronic disease, cancer, inflammation, and premature aging. Enjoy a cup if you want to boost your immune system and protect your overall health.
Roobios Tea and Liver Protection
A 2013 study done with rats highlights some of the potential liver protecting functions of Roobios.  In the study the rats were given a liver damaging chemical—and some rats were given water and others green Rooibos.  Roobios protected the rats and also helped reverse some of the liver damage (3).  While more studies and human studies are needed it looks promising.
Rooibos Tea Minerals
Rooibos tea is loaded with minerals, making it an ideal health drink. When you drink a cup of Rooibos tea, you will be getting a dose of magnesium, calcium, potassium, manganese, zinc, and iron. As you can see, Rooibos tea is naturally designed to support our health and well-being.
Rooibos Tea is Caffeine-Free
As with most herbal teas, Rooibos tea is completely caffeine-free and low in tannins, giving it a soothing effect on the nervous system. Rooibos tea is also gentle enough that it can be consumed in high amounts. Rooibos tea is also safe for children and pregnant women.


Rooibos tea is a great coffee alternative, giving you all the energy and health benefits without the addictive nature of caffeine. If you are looking to wind down you can also drink this tea. Many people have found this form of tea is great for preventing and treating insomnia.
Rooibos Tea Soothes the Stomach
Rooibos tea is known to have antispasmodic properties due to its high flavonoid content. This means that drinking a soothing cup of Rooibos can calm stomach cramps, abdominal pain, and relieve digestive upset. You may find that having a cup of this red tea during periods of gastrointestinal distress can relieve symptoms of diarrhea and other intestinal issues.

Rooibos Tea promotes Blood Circulation
This red drink is an ally to your blood health. Rooibos contains chrysoeriol, a powerful flavonoid antioxidant. Chysoeriol promotes blood circulation by blocking enzymes that contribute to cardiovascular disease.  Research has found that by drinking Rooibos tea regularly, you can help reduce your blood pressure and overall cholesterol level. (4)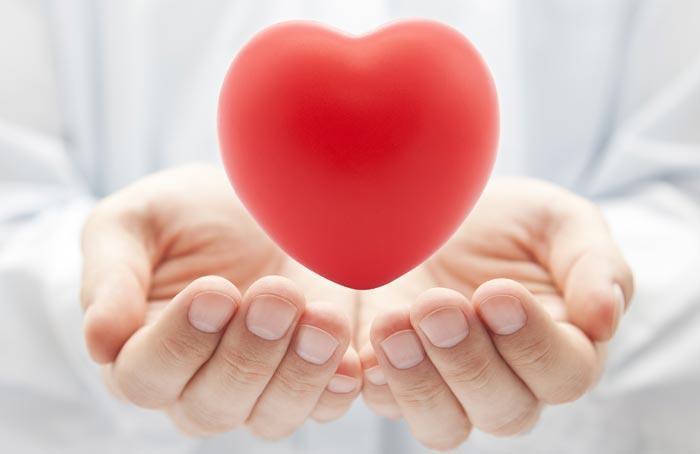 Rooibos Tea and Heart Health
Rooibos contains a powerful antioxidant called quercetin, which has been linked to preventing a wide range of cardiovascular conditions. This antioxidant is an anti-inflammatory, working hard to reduce your blood pressure.
For added protection, Rooibos promotes good cholesterol while preventing bad cholesterol from binding to the walls of blood vessels and arteries. You may want to consider drinking if you want to help decrease your chances of heart conditions such as atherosclerosis, strokes, and heart attacks.
Rooibos Tea and Bone Health
Rooibos tea is dense in calcium, manganese, and fluoride minerals, which promote good bone structure and healthy, stronger teeth. By consuming the minerals in this tea, you can reduce your risk of developing osteoporosis, arthritis, and chronic joint pain.

Meanwhile, the manganese content insures your ability to build new bones and repair damage. Often found in toothpastes and mouthwashes, the natural fluoride content in Rooibos tea helps to ensure strong teeth. So drink up and smile!

Rooibos Tea and Diabetes
Type 2 diabetes currently one of the most dangerous and common diseases effecting people all over the world. By drinking Rooibos tea, you are consuming the rare antioxidant aspalathin.


This unique antioxidant helps shield against diabetes by balancing blood sugar, improving the glucose absorption by muscles, improving insulin resistance, and promoting insulin secretion from the pancreas. Rooibos works to protect against diabetes by balancing your overall blood sugar, preventing dangerous spikes and drops.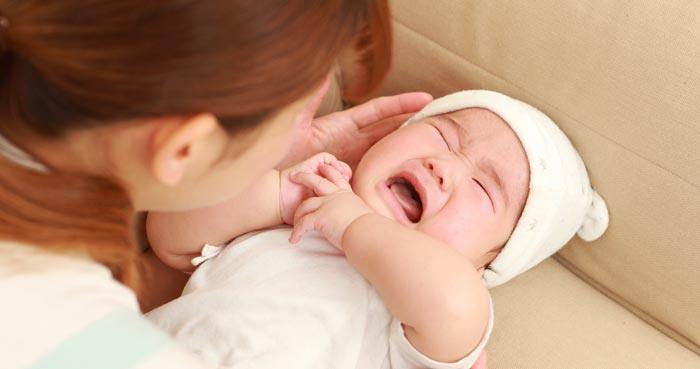 Rooibos Tea and Colic
Rooibos tea was first promoted in South Africa as a health aid for infants. African women touted that this magical red tea was soothing to their colicky babies and eased stomach cramps in their children By adding a little bit of sweetened milk, rooibos is a palatable drink and safe, caffeine-free drink for children and adults alike.


Rooibos Tea and Anti-Aging
If you are looking to hold on to your smooth, glowing complexion a little bit longer, Rooibos tea just may be your fountain of youth. Rooibos tea contains alpha hydroxy acid and zinc, which are usually found in pricey skin creams promising to reduce wrinkles and reverse the signs of aging.

Zinc and Alpha hydroxy are also found in popular chemical peels, used for its ability to invigorate the skin, removing dead layers and revealing radiant, healthy skin below. Some people find, that by apply the red powder directly to the skin, you can alleviate sunburn, acne, and blemishes.

Rooibos Tea and Stress
Rooibos tea has proven to be good for the mind, body, and spirit. This soothing tea is caffeine-free and research at Stellenbosch University shows Roobios helps to reduce cortisol production.  Cortisol is the body's stress hormone—reducing cortisol levels can have an overall calming effect. Drinking this tea is a great way to kick back and relax before bedtime and comes highly recommended for insomnia sufferers.
How to Drink Rooibos
Traditionally, people in South Africa prepare Rooibos tea by adding a bit of milk and sugar to enhance the taste. Some people prefer to add a slice of lemon and a dash of honey instead.

If you are looking for a refreshing drink, iced Rooibos tea is a great thirst quencher.

Where to Find Rooibos Tea
You can find organic Rooibos tea in most health food stores. Many coffee shops carry the delicious red tea; giving you a pleasant alternative to the standard green, black, white teas. As with most things, you can also purchase organic Rooibos tea online.  You can find loose leaf and bagged versions on amazon.
Roobios Tea Side Effects
Although Rooibos tea boasts numerous health benefits, it is not suitable for everyone. The consumption of Rooibos tea may interfere with some health conditions and chemotherapy treatments for cancer patients, so please be aware.
Some studies have also found that drinking Rooibos tea is not recommended for women suffering from hormone-sensitive cancers such as breast cancer. In addition, if you suffer from kidney and liver conditions, rooibos tea may cause more harm than good.
Rooibos tea is best used as a preventative measure and not as an alternative cure to proven medical treatments. If you are considering adding Rooibos tea to your dietary routine, speak to your health care provider to get tips on how to best and safely add red tea to your diet.