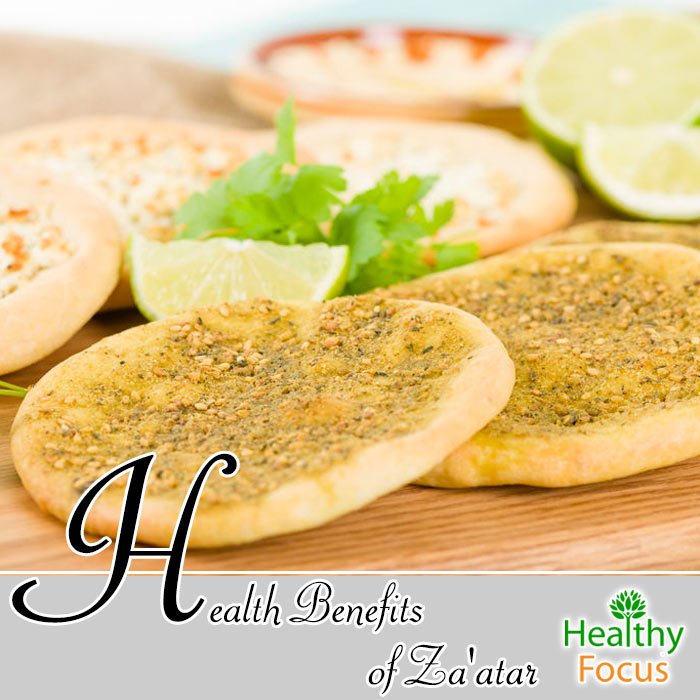 A staple of the Middle East for many centuries, za'atar has a long and very interesting history. You may not have heard of it in the West but Za'atar which appears several times in the Bible is a delicious blend of spices which is still incredibly popular in much of the Middle East. Today it is widely eaten across the Middle East in countries like Syria, Saudi Arabia, Palestine, Lebanon and Jordan while it is also popular in North Africa especially in Tunisia and Morocco.
What is Za'atar?
The precise ingredients that go into za'atar vary depending where exactly you are in the Middle East. It typically involves a combination of dried oregano, ground sumac, thyme (or marjoram) and toasted sesame seeds.
All of these ingredients are extremely healthy in their own right and bring with them a number of excellent health benefits. In fact, the history of za'atar as a health food also dates back centuries.
During the 12th century according to records, the Spanish philosopher – Maimonides prescribed za'atar to treat a wide variety of ailments. Modern research has started to confirm that this great man knew what he was talking about when it came to health.
Both oregano and thyme are jam packed with healthy oils and compounds like thymol, phenol and carvacrol while sumac as rammed with antioxidant flavonoids. Thymol is known to help treat respiratory issues and can help overcome coughing fits in bronchitis patients. Za'atar may also be good for your brain, recent research has found that carvacrol increases the level of dopamine in the brain.
As well as being absolutely delicious, za'atar offers many more incredible health benefits. If you would like to learn more about this healthy, exotic mix of spices, read on and find out.
The Health Benefits of Za'atar
Although the ingredients vary from country to country and region to region, there are several major ingredients that are common and each of them has its own benefits for your health. Thyme, sumac, oregano and sesame seeds are the major ingredients of za'atar and when they are combined, you can get an even greater health kick.
Sumac
Sumac is probably the least known of the spices that go into za'atar. Sumac shrubs are actually fairly widespread in temperate and tropical climate and are especially common in Africa, East Asia and North America. They bear fruit which grows in dense clusters and the dried fruit of some sumac species are ground into a tangy red spice popular in Asia and North Africa.
This spice has many excellent health properties. It is rich in a compound called gallic acid which researchers have found to have antiviral, anti-fungal and cancer prevention properties. It is also an extremely potent antioxidant and contains quercetin which has a wide variety of health benefits including cancer fighting properties.
One study published in 2009 suggests that sumac protected the DNA against when cells reproduced. However, the results are based on animal studies and human studies proved less conclusive(1)
Thyme and Oregano
Both thyme and oregano are extremely rich in phenolic compounds called carvacrol and thymol. Both of these compounds have been well-researched and their benefits well documents. They have excellent antimicrobial and antiseptic benefits and have proved effective against various types of fungus and bacteria.
One study published in 2010 demonstrated that carvacrol and thymol were both very effective against certain dangerous drug-resistant bacterial strains including Staphylococcus aureus and salmonella. Researchers found hat these compounds weakened the bacteria and made them more susceptible to treatment with antibiotics. (2)
Laboratory tests have also found that the antioxidants found in thyme were good for the skin and were even strong enough to fight off the bacteria responsible for acne.
Thyme is also beneficial for patients with respiratory issues like bronchitis. Fluid extracts made from thyme have been found to help bronchitis patients and people experiencing coughing fits. When Maimonides prescribe za'atar for coughing, it looks like he was well ahead of his time.
Is Za'atar Good For The Brain?
As well as the physical benefits you can get from za'atar, there is some research that suggests it could give your brain a boost.
Za'atar is renowned for its brain boosting abilities in many parts of the Middle East. In Syria for example, schoolchildren are encouraged by their parents and teachers to sprinkle za'atar onto their meals prior to taking their exams.
There is not a great deal of clinical evidence to prove that the ingredients found in za'atar can actually boost your cognitive powers but studies on animals have proved positive. Researchers have begun to theorize that the phenols and carvacrol present in oregano and thyme can boost brain power and enhance the mood.
One study published in 2011 found that when rats were fed with oregano extract, their serotonin levels were increased. Serotonin is a very important neurotransmitter responsible for regulating many of the brain's vital functions including learning, mood, appetite and sleep. Serotonin reuptake inhibitors are commonly prescribed for human depression and researchers are hopeful that these herbs can provide a more natural alternative. (3)
Another study published a year later found that the thymol and the carvacrol found in oregano and thyme could alleviate many dementia symptoms. When rats were fed with these compounds rats that were previously impaired performed significantly better in maze tests. (4)
Another more recent study found that rats fed carvacrol at a relatively low dose experienced a boost in serotonin as well as dopamine. Dopamine is also key to many emotional and cognitive functions such as mood, well-being and learning. (5)
How to Make your own Za'atar
This is a traditional and very simple recipe that is used widely across the middle East. It takes very little time to make, keeps well for a ling time and can be used in a number of different ways.
You will need
2 tablespoons each of thyme, marjoram and dried oregano
a quarter cup of powdered sumac
a tablespoon of roast sesame seeds
a teaspoon of coarse sea salt
To make your za'atar
First of all, grind up your roast sesame seeds with a food processor or the old fashioned way with a pestle and mortar.
Add all of your other ingredients and mix it all up well.
And that is it, you are done. Easy wasn't it?
Now all you need to do is store your finished za'atar in an airtight container or a zip bag and put it in a cool and dry place. If you store it properly, you will be able to use it for between 3 and 6 months.
How to Use Za'atar in the Kitchen
The flavors in the recipe blend together beautifully and you will be amazed at just how powerful the flavors are especially from such a simple looking group of ingredients.
Feel free to experiment with the recipe above until you find a flavor that hits home.
Once it is made, you can use it in an amazing variety of ways. Try sprinkling it on some warm, fresh bread, add it to dips and dressing or on top of your pasta, rice and meat dishes. We think that you will absolutely love it and will be very hard pressed not to find a savory dish that is not enhanced by your za'atar.
(1) https://www.ncbi.nlm.nih.gov/pubmed/19022266
(2) http://www.sciencedirect.com/science/article/pii/S0168160510001868
(3) http://journals.cambridge.org/action/displayAbstract?fromPage=online&aid=8234656
(4) https://www.ncbi.nlm.nih.gov/pubmed/22470103
(5) http://www.mdpi.com/1420-3049/18/6/6161