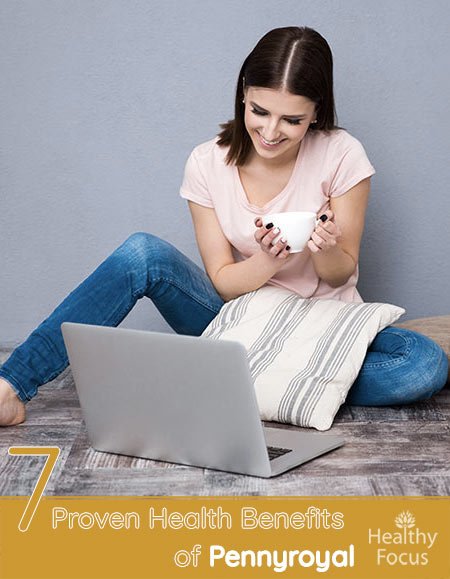 If you are unfamiliar with pennyroyal, let me tell you right now that its use is controversial. While it does undoubtedly have health benefits when used by healthy adults in moderate doses, it can also be extremely toxic in higher doses. For that reason, its consumption is not generally recommended especially. An essential oil made with pennyroyal is very potent and should never be taken internally, however milder variants such as pennyroyal tea are not considered to be as dangerous.
What is Pennyroyal?
Pennyroyal which is known scientifically as Mentha pulegim is an herbaceous plant belonging to the Labiatae family. The herb thrives in damp areas and is a native of Europe, the Middle East and North Africa. Pennyroayal is also commonly known by a number of other names including mosquito plant, pudding grass and squaw mint. When crushed, the herb gives off a very strong aroma reminiscent of spearmint.
It was traditionally used as a culinary herb and a historical folk medicine. An essential oil made with pennyroyal is still used by aromatherapists for topical application. However, the oil is extremely high in a compound called pulegone which is highly toxic and is known to cause damage to the liver and affect uterine function.
While a tea made from the plant remains relatively popular, the consumption of the oil can be extremely dangerous and even fatal and should be avoided at all costs.
The reason that pennyroyal tea is still popular is mainly because of its relaxant effects. It can also help improve digestion and relieve stomach pain and upset. It can also be applied topically to the skin and is known to have a variety of medicinal uses.
Historical Use of Pennyroyal
Pennyroyal has been used for a very long time and there are documented records of the herb's use dating back to the ancient Greeks and the Roman empire. It was used to flavor wine by the ancient Greeks while numerous Roman recipes called for its use alongside herbs like oregano and coriander. The use of pennyroyal as a culinary herb continued into the Middle Ages and it was commonly used as a flavor for pudding, however its popularity gradually dwindled and it is very rarely used for culinary purposes today.
Despite being extremely toxic, it has been used for various purposes throughout history. The early settlers in Virginia are known to have used the dried plant to eradicate unwanted pests and bugs. Indeed, it was so popular at one point that a Royal Society article was published in 1665 recommending its use to protect against rattlesnakes.
Pennyroyal has long been used as an ingredient for herbal teas which have traditionally been drunk to treat a variety of health complaints. It has been consumed to stimulate menstrual flow and regulate a woman's cycles. It has also been employed to treat stomach upset and ease flatulence and cramping. The dried leaves of the plant were also used to treat colds and flu and to help induce sweating and have also been used to treat serious conditions like tuberculosis and smallpox.
Perhaps the most infamous use of pennyroyal was to induce abortion. However the large doses that are needed to cause abortion have also proven to be fatal for the woman taking it. In one documented case in 1994, a woman who drank just 2 teaspoons of the essential oil over the course of 2 days died from the dose.
The Potential Uses and Benefits of Pennyroyal
Despite its known toxicity, pennyroyal essential oil is still used by aromatherapists for topical application and pennyroyal in tea form is considered a much safer option for consumption. These are some of the reasons that pennyroyal can be used but please be aware of the dangers and be sure to read the precautions section at the bottom of the article.
1) For Digestion and Stomach Pain
Going back many generations, pennyroyal has been used to improve general digestive health and to treat several common digestive complaints. You can drink small doses of the tea to help treat bloating, gas or stomach pain. The plant also has antispasmodic actions that can help soothe stomach pain or cramp. Many proponents believe that the plant can be consumed in moderation to improve liver function and stimulate the production of bile which can help aid digestion.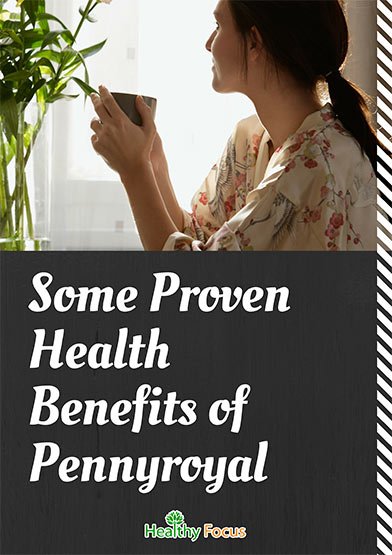 2) For Respiration
Because of its high menthol content, pennyroyal has been used over the years for its expectorant qualities and its ability to relieve the symptoms of colds or flu. It may help aid breathing and act as a decongestant for the respiratory system and the lungs. According to proponents, the expectorant properties in pennyroyal can help loosen build ups of mucous or phlegm and clear it out of your system.
3) For Relaxation
Pennyroyal may have mild sedative properties. It was used in the past to combat hysteria and may help to calm the nerves and help people overcome their difficulties with sleeping. However, there is no evidence that pennyroyal works beyond the anecdotal and there are definitely safer and better researched natural options for dealing with stress and sleeplessness.
4) For Muscle and Joint Pain
Pennyroyal oil has a warming and numbing quality and is used in massages to help treat sore muscles and joints. Also, because of its depurative qualities, pennyroyal makes for a good treatment for rheumatism and arthritis because it can help eradicate uric acid from the system.
5) To Promote Menstruation
Pennyroyal is well known for its emmenagogue activity. It has been used throughout the years to help stimulate menstruation in women with irregular cycles or in those who do not menstruate at all. There are however many alternative options to stimulate menstruation, many of which are far safer than pennyroyal. For this reason, most experts would not recommend using pennyroyal for this purpose.
How To Use Pennyroyal
Pennyroyal essential oil is available but should never be consumed. You should only use it topically under expert supervision as improper use can be extremely dangerous. There is less known about the safety of drinking pennyroyal tea but it is likely a far safer option. Tinctures are also available.
How to Make Pennyroyal Tea
Tea: Add between one and two teaspoons of dried pennyroyal leaves to a large cup. Add boiling water to the leaves and let the tea infuse for at least 10 minutes. You can drink up to three cups each day.
Infusion: pour 1 cup of boiled water onto 1-2 teaspoonfuls of the leaves and let it infuse for around 10 minutes. This should be drunk three times a day. Tincture: take 1-2 ml of the tincture three times a day.
Pennyroyal Tinctures
A tincture is also available. According to the manufactures' instructions, you should take between two and 5 drops with juice or water up to three tomes each day.
Precautions and Side Effects
The use of pennyroyal in any of its forms is extremely controversial and it is likely unsafe.
Pennyroyal should never be used by pregnant women or nursing mothers. It can cause uterine contractions and an increase in menstrual flow and significantly increase the risk of abortion.
Consumption of the herb has been linked to numerous adverse side effects including seizures, loss of consciousness, and even death.
Pennyroyal essential oil has been linked to many severe side effects. These include abdominal pain, nausea, vomiting, swallowing difficulties, fever, chills, muscle spasms, organ failure, increased heart rate, irregular blood pressure changes and coma.
Pennyroyal should never be taken by people with kidney or liver diseases. It may irritate the organs and make the disease worse.