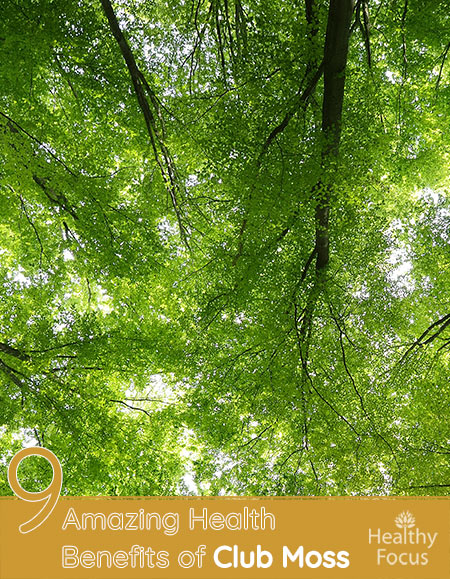 We have written a number of articles on a wide variety of herbs and their benefits to health. Some are very well known and have been extensively studied while others are far less popular. Today we are looking at one of the latter – a lesser known plant called club moss which may have some surprising health benefits. If you would like to find out more about this little-known herbal remedy, I hope this article will help.
What is Club Moss?
Club moss is just one of the many common names used to refer to Lycopodium. This plant is a perennial evergreen which grows in woodlands, pastures and moors around Northern Europe, Great Britain and North America.
Over the years, club moss has been widely used as a homeopathic remedy for urinary tract issues, kidney complaints and digestive disorders. Unfortunately, there is very little in the way of modern research to confirm the traditional uses of the plant.
Most of the studies into the effects of club moss have focused on the Lycopdium clavatum species. Lycopodium clavatum is often confused with Lycopodium serratum or Chinese club moss but the two species have different medicinal properties. Chinese club moss has been widely studied because of the presence of a compound called huperzine A, which may help boost memory and cognition.
Other names for club moss include stag horn, wolf's claw, vegetable sulfur and witch meal.
Club Moss Facts
Despite its common name, club moss is not a true moss. It is actually a spore producing plant belonging to the fern family.
The plant's yellow spores are highly flammable and a powder made from the spores was used in the early days of flash photography.
It was also used by stage designers to create theatrical effects.
These early uses gave the plant one of its names – 'vegetable sulfur'. Other common names for the plant include clubmoss, wolf's claw, witch meal, running pine and stag horn.
During the 18th century, the spores were used as a baby powder.
During the middle ages, the herb was used for various conditions including digestive complaints and kidney issues.
These days, the leaves and the stems of the plant are used to make an herbal tea.
Supplements are also available in capsule and tincture form.
Club moss is sometimes confused with Chinese club moss (Lycopodium serratum). Chinese club moss contains huperzine A -a compound which has been widely studied for its effects on memory and cognition.
Benefits of Club Moss
Club moss has been used for medicinal purposes for a very long time. It has been used traditionally as a remedy for digestive complaints, kidney disorders and urinary tract conditions but does it really work?
Very few studies have been done into the effects of the herb that verify but there have been some promising studies into the anti-inflammatory and potential cancer prevention properties of the herb.
Anti-inflammatory Effects
Inflammation is at the heart of a wide range of diseases including serious disease like heart disease and dementia. Herbs and other fresh foods that can reduce inflammation can play a huge role in combating a host of inflammatory conditions.
While the precise effects of club moss and its mechanisms of action are not well understood, one study, published in found that it does have anti-inflammatory benefits possibly because of its alkaloid content. (1)
Digestive Health
One of the traditional uses of club moss was to boost digestive health and to relieve a variety of digestive symptoms such as flatulence, bloating and indigestion. While there are no studies into the specific effects of the herb on the digestive system, the anecdotal evidence goes back a very long way.
Kidney Stones
There is some evidence that Lycopodium clavatum can be used as a natural remedy for painful kidney stones.
One recent Indian study published in 2017 set out to analyze the effects of taking club moss over a 6 month period. 30 adults suffering from kidney stones were recruited and treated with club moss extract.
The researchers analyzed the effects of the herb based on various symptoms including pain, painful urination, blood in the urine and colic. The results were very promising with 18 of the 30 subjects experiencing significant improvements with 10 (33%) being completely cured of the condition. Furthermore there were no adverse side effects reported by any of the participants. (2)
Urinary Tract Infections
Lycopodium clavatum has traditionally been used in parts of Asia as a natural treatment for infections of the urinary tract and kidney infections. While there are no large scale studies to prove its efficacy, there are a number of published case studies that prove it may be worthy of further exploration.
Because urinary tract infections often prove difficult to treat with both conventional and natural treatments, the author of the paper suggests that club moss could provide a future treatment option for the condition.  (3)
Cancer
Very few stones have been left unturned in the ongoing battle against cancer. It is no surprise to find that scientists have cast their eyes towards club moss and evaluated its anti-cancer potential.
Up to this point, there has been very little research into the plant's anti-cancer potential but one study published in 2013 is encouraging. The researchers found that Lycopodium clavitum was effective against HeLa cells and induced apoptosis in cancer cells. (4)
Improved Memory
Recent studies have found that club moss may help boost memory making it a potential future treatment for common diseases that impair memory like dementia.
First of all, scientists discovered an alkaloid in the plant that could theoretically help people with dementia. The researchers then set out to test the effects of Lycopodium clavatum extract on memory impairment and cerebral blood flow in rats.
Rats were induced with memory deficit and then given club moss extract in tincture form in varying doses for 17 days. The researchers found that rats treated with club moss showed significant improvements in both memory and learning.
According to the researchers, the results suggest that Lycopodium clavatum could be used as a natural remedy for memory impairment because of its beneficial effects on cerebral blood flow. (5)
Antioxidant and Antimicrobial Actions
A study published in 2007 found that club moss had antioxidant potential as well as being effective against several strains of bacteria and fungus.
The researchers found that Lycopodium clavatum was effective against a number of bacterial strains including E.coli, Staphylococcus aureus, Klebsiella pneumoniae and Pseudomonas aeruginosa. They also found it was effective against certain fungi including Candida albicans.
As well as its antibactertial and anti-fungal properties, the researchers demonstrated that club moss was effective against certain viruses including the Herpes simplex virus. (6)
Liver Health
Club moss has also been used traditionally to help treat liver conditions and boost the organ's general health. Recent animal studies suggest that this traditional use has merit.
A study published in 2015 set out to evaluate the effects of Lycopodium clavatum on liver damage in rats. The rats were pre-treated with club moss extract for an eight day period. The rats were then induced with hepatitis from a paracetamol overdose.
The rats who were given the club moss treatment before liver damage was induced had fewer hepatic lesions than the control group. The researchers concluded that club moss exerted some liver protection as a result of its anti-inflammatory and antioxidant actions. (7)
How to Use Club Moss
Club moss is available in various supplementary forms including tincture and capsules. There is not enough information to recommend a suitable dose so it is important to read the manufacturer's instructions on the label and follow them carefully.
Club moss can also be drunk in the form of a tea.
Precautions and Side Effects
Club moss contains certain toxic compounds but up to now, there have been no reported poisonings from its oral use. It is likely to be safe for the majority of healthy adults but there are a number of special precautions you should be aware of.
Women who are pregnant or breast-feeding should avoid using club moss. There is insufficient data to prove its safety.
Club moss might slow down a person's heart rate which might be an issue for people with an already slow heart rate.
People with stomach ulcers should avoid using club moss as it may increase secretions in the intestines and stomach. Because of this, it may may make ulcers worse.
People with lung conditions like emphysyma and asthma should avoid using club moss. It might increase secretions in the lungs and there are concerns it may make those conditions worse.
Club moss might cause urinary tract obstructions because it increases urinary tract secretions.
There are some concerns that club moss may cause a intestinal congestion causing problems for people with z blockage in the intestines.
Club moss might increase the chance of getting seizures.
Final Thoughts
Club moss known scientifically as Lycopodium clavatum is a plant with a variety of potential health benefits.
Studies suggest it has antioxidant, anti-inflammatory and antimicrobial benefits.
It has been used traditionally to treat digestive upset, liver complaints urinary tract and kidney infections.
Some recent studies suggest it could help improve memory and ,may have some future application against cancer.
No adverse side effects have been reported in any of the clinical trials done to date but you should consult your doctor before using the herb.
(1) https://www.ncbi.nlm.nih.gov/pubmed/16962272
(2) http://www.allresearchjournal.com/archives/?year=2017&vol=3&issue=1&part=K&ArticleId=3126
(3) http://www.ijrh.org/article.asp?issn=0974-7168;year=2014;volume=8;issue=1;spage=31;epage=36;aulast=Pannek
(4) https://www.ncbi.nlm.nih.gov/pubmed/23972240
(5) https://www.ncbi.nlm.nih.gov/pubmed/25576268
(6) https://www.researchgate.net/publication/225699196_Antioxidant_and_antimicrobial_actions_of_the_clubmoss_Lycopodium_clavatum_L
(7) https://www.ncbi.nlm.nih.gov/pubmed/25576269