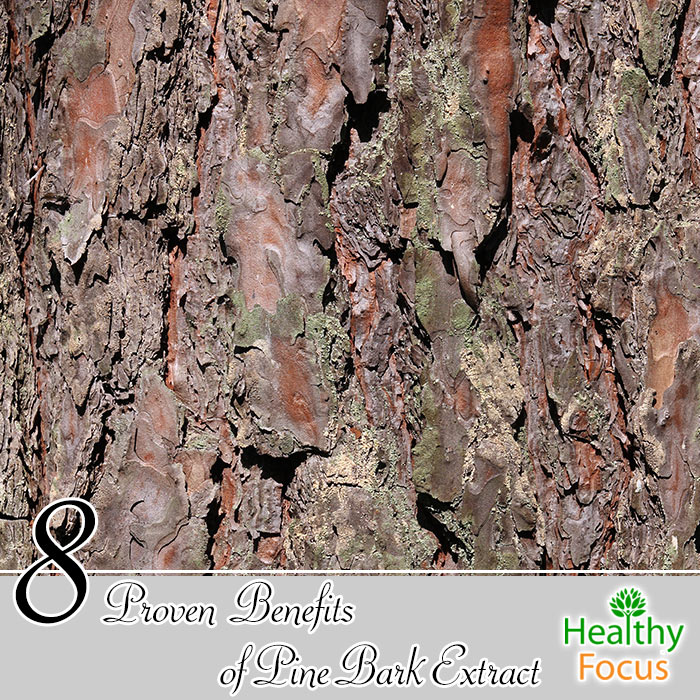 If you are looking for a way to benefit your overall health, pine bark extract may be something to consider. Pine bark extract, also known as Pycnogenol, this supplement improves everything from blood pressure to healthy kidney function.
Pine Bark Extract
Pine bark extract is the essence taken from the interior of European pine trees called Pinus pinaster. Heavily researched, Pycnogenol contains many active compounds that contain health-boosting antioxidants and substances that boost the immune system and encourage blood flow.
The Benefits of Pine Bark Extract
Some studies have found that taking pine bark extract can produce numerous benefits for your health. Listed here are some benefits linked to taking pine bark extract.
1) Encourages Healthy Blood Pressure
Taking pine bark extract supports healthy blood pressure. Studies have found that supplementing with pycnogenol effectively strengthens the blood vessels, stabilizing blood pressure.
This ensures that there is a healthy flow of blood to and from the heart. Taking pine bark extract also increases the blood circulation between blood vessels and tissues, getting oxygen to all the organs. Oxygenated blood also improves the health of cells and therefore benefits your overall health.
2) Improves Kidney Health
One study found that taking pine bark extract may increase the functioning of kidneys while decreasing the potential for kidney damage resulting from high blood pressure.
3) Reduces Inflammation
One study has found that taking pine bark extract may reduce inflammation in those suffering from osteoarthritis. Taking this extract may reduce overall symptoms, however, more evidence is needed to determine pine bark extract's ability to deliver pain relief associated with osteoarthritis.
4) Allergies
Some people have found that supplementing with pine bark extract before allergy season helped to reduce allergic symptoms in those with an aversion to bark.
5) Blood Circulation
As previously stated, taking pine bark extract helps improve overall blood flow. This benefit of taking pine bark extract for blood circulation helps with pain management, particularly those with poor circulation in their legs. Pine bark extract has been found to decrease the feeling of heaviness of limbs while decreasing fluid retention.
6) Asthma
Some research has found that in conjunction with traditional treatments, pine bark extract helps to reduce symptoms associated with asthma. Research has found that supplementing this pine bark extract appeared to reduce the need for emergency inhalers in both adults and children suffering from asthma.
7) Improves Mental Function
Some studies have found that taking pine bark extract may help with memory in both the elderly and young adults. Research is still underway to determine whether or not supplementing with pine bark extract protects that brain from degenerative diseases like Alzheimer's.
8) Improves Athletic Performance
Research suggests that consistently taking pine bark extract for over a month may improve athletic performance. The study found that young adults supplementing with pine bark extract were able to run on a treadmill for a longer duration of time compared to those taking a placebo.
Dosing for Pine Bark Extract
A physician should be consulted before taking pine bark extract to determine the right amount of dosage to suit your needs. Pine bark extract can be taken orally in pill form. How much depends on the condition you are treating:
For allergies, take 50mg twice a day.
For normalizing blood pressure, take 200 mg everyday.
To improve blood circulation, take 45-360 mg a day.
To improve athletic performance, take 200 mg a day.
Some Considerations and Potential Side Effects
Before taking pine bark extract or any supplement, always consult your physician first. Before taking this supplement, take the following into consideration:
Pine bark extract is generally considered safe when taken in doses of 50 to 450 mg.
Pine bark extract may result in some side effects such as headaches, dizziness, gastrointestinal problems, and ulcers in the mouth.
There is currently not enough research to determine whether or not taking pine bark extract is safe for women who are pregnant or breastfeeding.
Taking pine bark extract may increase the functioning of immune system, thus increasing the symptoms of such autoimmune disorders as lupus, rheumatoid arthritis, and multiple sclerosis.
Taking pine bark extract may increase the symptoms of those suffering from bleeding disorders.
Those taking pine bark extract should abstain from taking the supplement at least two weeks before surgery as it may slow blood clotting.