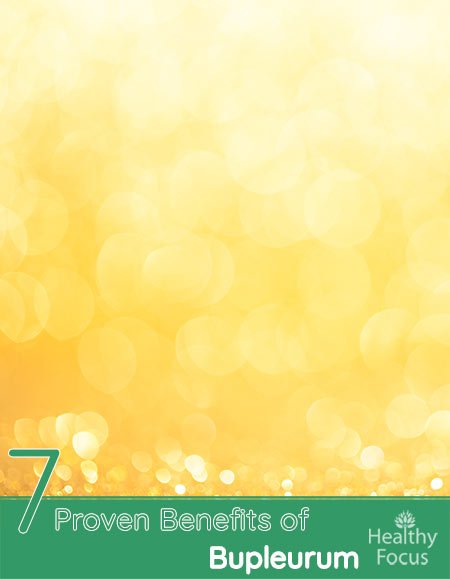 If you feel frequently run down and lacking in energy, there is a good chance that your body is in need of a detox. One of the best natural ways to detoxify your system and get it back into the best working shape possible is an ancient remedy used in Chinese medicine called Bupleurum.
This herb is well known for its detox abilities and benefits for the liver but that is not all. If you want to know what this wonderful herb can do for you, then read on as this little known herb packs health benefits that may surprise you.
What is Bupleurum?
Bupleurum which is known scientifically as bupleurum chinense is a plant native to certain areas of Central Europe and East Asia though these days it is found in various other parts of the world including the United States.
The plant resembles dill with its yellow flowers and long leaves but it is the root of the herb which contains most of the beneficial medicinal compounds and is used for making supplements.
In China, bupleurum was known traditionally as 'harmony herb' because of its ability to support bodily synergy and maintain healthy balance. It is available in various supplementary forms and also used as an ingredient in a number of herbal formulas.
Medicinal Properties of Bupleurum
The root of the herb contains a variety of active chemical compounds including saponins, sterols and saikosaponins which have natural antioxidant abilities which have various health applications including detoxification of the liver, immune system support and anti-inflammatory abilities.
Bupleurum is also home to a compound known as rutin which helps to strengthen the capillaries which lends support to the circulatory system and helps to overcome various circulatory issues including varicose veins and hemorrhoids.
The Health Benefits of Bupleurum
1. For Detoxification and general Liver Health
Your liver is undoubtedly the hardest working organ in your body especially when it comes to detoxification. Ensuring that your liver is healthy should be a priority as it performs numerous vital functions including eliminating and neutralizing the effect of harmful toxins, producing bile and helping the body to properly absorb and utilize fats and vitamins from food.
Many of our bad habits can have a very damaging effect on the ability of the liver to function as it should including drinking excess alcohol, eating poor diets heavy on processed food, prescription medications and environmental pollution.
Ensuring that your liver remains fully healthy may require certain lifestyle changes but certain supplements are also known to be effective. Bupleurum has earned a reputation for its ability to aid the detoxification process and improving overall liver health and function.
2. For Liver Disease
As well as its ability to improve liver function, bupleurum can also help treat serious liver diseases such as cirrhosis. Cirrhosis of the liver is most commonly linked to the excessive consumption of alcohol but can also be caused by chronic infection from hepatitis C.
This potentially life threatening disease usually progresses slowly but surely and is characterized by healthy liver tissues being gradually replaced by scar tissue which blocks the flow of blood and bile through the organ preventing it from functioning properly.
Studies have showed that a Japanese herbal formula called Sho-saiko-to which includes bupleurum as an ingredient has a significant liver protective effect. One study conducted on animals at Osaka City university in Japan found that this herbal medication helped to prevent liver cancer from developing in patients suffering from cirrhosis. (1)
This is especially significant considering that cirrhosis patients are at a far greater risk of liver cancer than any other group of people.
3. For Epilepsy
There is evidence that bupleurum in combination with other herbs might be able to help people suffering from seizures caused by epilepsy. Bupleurum is one of the ingredients in two well-known Chinese formulas called Saiko-keishi-to and Sho-saiko-to.
The other herbal ingredients found in these formulas are ginger root, pinella root, cassia bark, licorice root, ginseng and Asian skullcap root.
Preliminary studies into the beneficial effects of these formulas have been promising and demonstrated that they have some potential to benefit epilepsy patients. The trials done on these formulas also showed that these herbal formulas were safe and had no interactions with any anticonvulsant drugs taken at the same time. (2) (3)
4. For Ovarian Cancer
Recent studies have revealed that bupleurum has some promising potential in the battle against certain types of cancer. A Chinese study published last year set out to evaluate the antioxidant and anticancer effects of the herb in an in vitro study.
The results demonstrated that bupleurum extract in sufficient doses had a destructive effect on ovarian cancer by causing the cancer cells to shrink. (4)
Researchers attributed the effects of bupleurum to its ability to induce cell death or apoptosis of cancerous cells and its ability to disrupt energy metabolism in cancer cells. While it is still too early to truly evaluate the potential of this herb, the signs are very promising.
5. For Depression and Anxiety
Emotional conditions like anxiety and depression are a modern day scourge; they have a devastating effect on a person's quality of life and have created a dependence on medications that is difficult to break.
Pharmaceutical anti-depressants and anti-anxiety pills come with a number of potential side effects not to mention the potential for addiction. This is the reason that more and more people are looking for a more natural remedy in nature.
Traditional practitioners of Chinese medicine take a different approach to depression and anxiety believing that the stagnation of energy flow in the body or qi is one of the root causes.
A herbal formula called Chai-hu-shu gan san which contains bupleurum and several other herbs is often recommended for depression and is thought to be especially helpful for mood and emotional problems commonly suffered by menopausal women.
6. For Respiratory Issues
Bupleurum is sometimes used to treat respiratory conditions stemming from the common cold, the flu, bronchitis and even pneumonia. It may have a beneficial effect on the immune system but there is no real evidence regarding its effects on the respiratory system.
7. To Stimulate the Adrenal Gland
Bupleurum is sometimes combined with licorice and ginseng to stimulate the function of the adrenal glands. It is considered particularly effective in patients who have been using corticosteroid drugs for prolonged periods as these drugs can have an adverse effect on the health of the adrenal glands.
For this reason, bupleurum in combination with other beneficial herbs may help boost flagging energy levels.
How to Supplement with Bupleurum
Bupleurum supplements or formulas using bupleurum can be found online or at many health stores. It is available in capsule, pill and liquid form and can also be bought as a tea. You may also be able to find bupleurum sold in dried root form at Chinese markets.
The dried root can be made into a tea by adding a teaspoon to a cup of boiling water and allowing it to steep for around ten minutes.
There is no set standard dose of bupleurum and you should follow the directions on the label.
Side Effects of Bupleurum
Bupleurum is generally regarded as safe with few reports of adverse side effects. Rare side effects that have been reported include intestinal gas, drowsiness and irregular bowel movements.
There is not enough evidence regarding its safety for pregnant or nursing women and it should be avoided in the interests of safety.
It is also not recommended for people with diabetes, autoimmune conditions or bleeding disorders.
(1) http://www.ncbi.nlm.nih.gov/pubmed/8625175
(2) http://www.ncbi.nlm.nih.gov/pubmed/1753783
(3) http://www.mottchildren.org/health-library/hn-2056002
(4) http://www.ncbi.nlm.nih.gov/pubmed/26537084