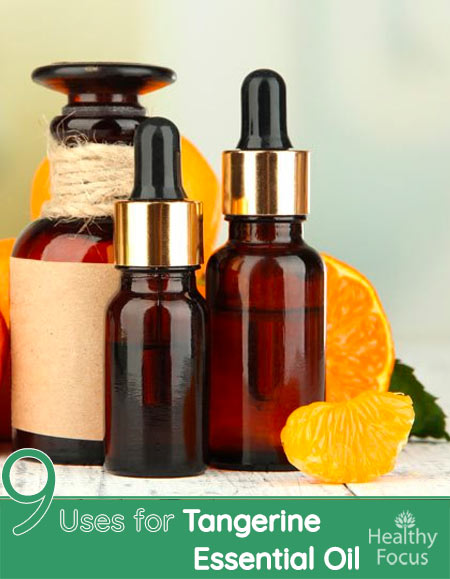 There is something about the smell of citrus fruit that I absolutely love. I find it delightful, uplifting and energizing and perhaps most importantly from a personal point of view, it reminds me of very happy childhood holidays to Spain where I spent a lot of time wandering around the orange groves.
Tangerines themselves are almost exactly the same as mandarin oranges and I must admit that I did not know the difference until very recently. Unlike mandarins, tangerines do not have those annoying pips; they also have a deeper color and are harvested at different times of the year.
Tangerines originate from China but are now grown in a variety of regions around the globe.  Tangerine essential oil has many beneficial compounds. Most citrus based oils have high levels of Limonene.
Limonene is antimicrobial, antibacterial and an antioxidant. Distilled Tangerine oil is more likely to contain Geranial and Neral.  Geranial has shown some ability to inhibit colon cancer cells. Expressed tangerine oil typically has higher levels of limonene and small amounts of Myrcene. Myrcene has anti-inflammatory and pain relieving properties.
Tangerine essential oil is typically extracted through a process of cold compression from the peel of the fruit.  Tangerine extracted in this method contains a host of chemical compounds such as alpha pinene, limonene, linalool, citronellal and camphene.
Tangerines have a rich history of use in Chinese culture as well as Chinese medicine and the essential oil is used today in aromatherapy to treat a variety of physical and mental conditions. Tangerine essential oil is extracted from Citrus reticula—the same plant as the mandarin.
Properties
The therapeutic value of tangerine essential oil is derived from its properties which include the following: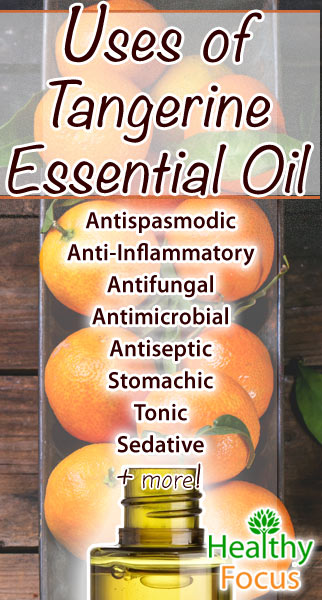 Antispasmodic
Anti-Inflammatory
Antifungal
Antimicrobial
Antiseptic
Depurative properties that aid the detox process.
Cytophylactic which essentially means that the oil stimulates the regeneration of cells which benefits the skin.
Stomachic
Tonic
Sedative
Uses of Tangerine Essential oil
1. For Wounds and Cuts
Because of its antiseptic properties, tangerine essential oil can be used topically to fight the growth and spread of several types of bacteria.
Apply tangerine essential oil directly to any minor wounds or cuts to help kill bacteria at source and to disinfect the affected area of skin. By applying tangerine essential oil you can also help reduce swelling and redness of the affected skin.
2. For Skin Regeneration
Like a number of other essential oils, tangerine oil has cytophylactic properties, which is a fancy word meaning that it can stimulate the generation and growth of new cells. This property of tangerine oil makes it especially useful for aging or mature skin that needs rejuvenation and can also help speed up the healing of skin damaged by burns.
3. For Skin and Hair Conditions
Tangerine essential oil is a common ingredient in a number of skin care products because of its antiseptic and anti-fungal properties. Like other citrus oils, it is one of the essential oils that can be used for acne and other skin complaints.
Many experts warn against its use on areas of the body likely to be exposed to direct sunlight because of its photosensitivity, which is common to all citric essential oils. The same properties make it suitable for treating dandruff or other conditions related to scalp dryness.
4. Sedative and Anxiety Relief
Many people nowadays are afflicted by stresses caused by their day to day lives while a growing number of people are affected by a variety of anxiety disorders. Just like physical conditions, these complaints can be debilitating in the extreme. Those affected are often looking for a natural alternative to pharmaceutical medications that bring with them the risk of addiction and a host of nasty side effects.
Tangerine essential oil has the ability to calm the mind and relieve the symptoms of anxiety and stress. It can be safely used whenever you feel the need for some mental calm and its sedative properties also make it ideal when you feel the need for a good night's sleep.
There are several ways that you can use tangerine essential oils to relieve stress and anxiety including diffusing it and inhaling it directly. When diffusing make sure to check the recommendations regarding citrus oils, especially ultrasonic units, as they can often cause ring damage
5. To Purify the Blood
Tangerine essential oil is believed to be a potent depurative which means that it helps purify the blood and promotes the detoxification process. The oil is said to aid excretion of toxins and other substances such as excess salt and uric acid from the body. The oil is also thought to increase the ability of red blood cells to retain oxygen.
6. For the Digestive System
The properties of tangerine essential oil make it useful in treating a variety of digestive system and stomach conditions. It can help keep the stomach in good working order by regulating the flow of digestive juices and maintaining acid levels in the gut. This oil is also said to help heal any internal stomach wounds and relieve internal inflammation.
7. As an Antispasmodic
Tangerine essential oil has antispasmodic properties that can help treat and relieve a variety of conditions caused by spasms. Spasms can occur throughout the body and are not restricted to common stomach cramps.
They can also occur in the respiratory, nervous and digestive systems and can lead to further difficulties such as breathing difficulties, coughing, diarrhea and convulsions. It is said that tangerine essential oil can provide relief for many of these conditions before they become too serious.
8. For Cellulite
As we age and our weight fluctuates, many of us will develop tell –tale signs that we would rather be without. Unfortunately these marks are not easy to get rid of but several essential oils are purported to help and many people claim that tangerine essential oil is effective.
If you make a massage blend with tangerine oil, you can use it on your body to help reduce unsightly marks caused by cellulite.
9. To Clean the House
As well as its therapeutic benefits, tangerine oil can be diffused and enjoyed for its scent alone or for practical cleaning purposes. Because it contains antiseptic and antifungal properties, you can put tangerine essential oil to good use around the home.
Simply add a few drops of your tangerine oil to clean water, mix it well and use a cloth or rag to wipe and disinfect the kitchen, bathroom and other areas of the house prone to a build-up of bacteria. Its delightful citrus scent is a welcome bonus.
10. Anti-Inflammatory
Tangerine oil can help decrease inflammation and pain. Research from 2003 has shown that tangerine oil inhibits 5-lipoxygenase (5-LOX) which is responsible for the inflammation response. (1)  5 LOX levels typically raise as people get older so lowering this might prove especially beneficial to older people.
To disinfect and clean wounds, you can apply the oil directly to the affected area.
It can be added to a suitable carrier oil to make a soothing massage blend. Recommended carrier oils for this purpose are virgin coconut oil, jojoba and sweet almond.
It can be diffused but certain diffuser machines are known to be damaged by citrus essential oils so check your manufacturer's guidelines before you diffuse with it.
Dilute a few drops with your chosen carrier oil and rub it into any cellulite marks that you want to get rid of.
To clean and disinfect the home, mix a few drops with clean water and apply the mixture to a cloth or a rag then wipe the dirty surfaces thoroughly.
Tangerine essential oil is generally considered safe and is non-toxic and non-irritating but care must always be taken before using any essential oils.
Pregnant women should always consult their health professional before using essential oils.
Like most citrus essential oils, tangerine oil is phototoxic and you should not expose your skin to direct sunlight for at least 48 hours after applying it to your skin. Citrus essential oils contain compounds that react to UV ray exposure and might lead to inflammation, blistering or burned skin.
Always dilute it with a suitable carrier oil before applying to the skin.
Even after dilution, do a patch test on a discrete area of skin to ensure that you do not have a reaction.
(1) Baylac S, Racine P. Inhibition of 5-lipoxygenase by essential oils and other natural fragrances. Int J Aromatherapy. 2003;13( 2-3): 138-42.