What is Rosehip Oil Used for?
For an oil so delicate in nature, it is extremely powerful and capable of adding strength and resiliency to your skin. This sweet-smelling amber-colored oil is just what the doctor ordered for weathered skin, damaged by harsh winter conditions.
Rich in fatty acids, antioxidants, vitamins A, B, C, and E, it soothes and heals the most dehydrated and dry skin. In fact, working at a cellular level, rosehip essential oil will not only heal your skin from the inside out but will give it a radiant glow as well. Whether you use it neat or combined with a lotion, rosehip essential oil is a natural and inexpensive way to treat your skin and hair care needs.
Benefits of Rosehip Essential Oil
If you are looking for a natural way to moisturize your skin, heal vexing facial scars, or get rid of that pesky scalp itch, look no further. Rosehip essential oil, an ancient Egyptian beauty secret can reverse a bad skin and hair day in no time.
Hydrates Dull Skin
Rosehip essential oil is considered a dry oil in that it quickly absorbs into the skin without leaving behind of a greasy residue. Rich in omega fatty acids, rosehip essential oil is great for rehydrating dry, cracked skin.
This healing oil will nourish even the driest knees and elbows. With consistent use, rosehip essential oil will bring out a vibrant glow in the dullest complexions. For an added bonus, apply some rosehip oil to dry, chapped lips for extra protection in winter.
Avoid Premature Aging
The rich omega-3 and omega-6n content of this oil not only provides a surge of moisture to thirsty skin, but it helps stop the first signs of premature aging as well.
Many people like to apply this oil to avoid developing sunspots as well. To be diligent about fighting the initial signs of again, add a couple drops of rosehip oil to a cotton ball and apply to the affected area at least twice a day.
Make Scars Vanish
Rosehip essential oil immediately soaks into the skin, going deep and regenerating skin cells. The high vitamin and antioxidant content of this oil addresses marks left behind from burns, scars, stretch marks, age spots, and hyperpigmentation.
By rubbing this oil on the daily, it not only helps speeds up the healing process, but it also keeps the area hydrated and protected from further damage.
Prevent or Heal Sunburn
Sunburn not only hurts, but it has lasting effects as well, such as dry, scorched feeling skin that peels, itchiness, and maybe even sunspots. Gently apply rosehip essential oil to your sunburn to help speed up the healing process and protect your skin from resulting damage. This healing oil will soothe and reduce inflammation. Keep this oil in the refrigerator for an extra cool treat.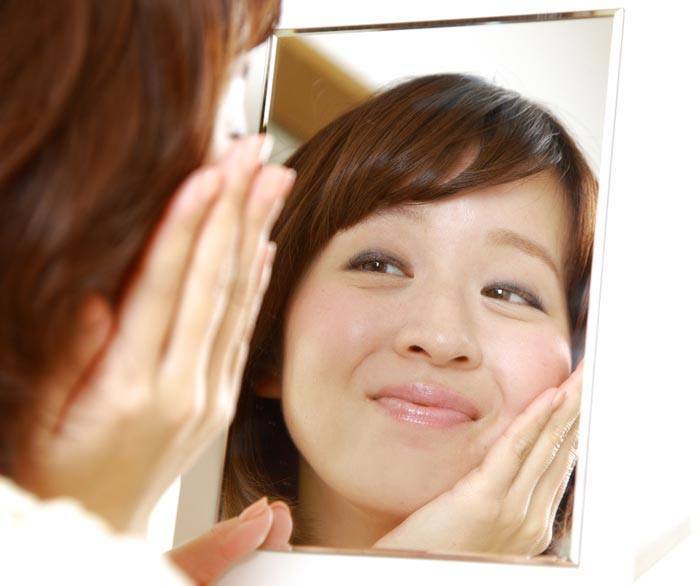 Achieve a Radiant Complexion
Being in the depths of the icy dark, cold winter months, it is hard to maintain a complexion that radiates light. We are all walking around looking like dried up ghosts.
To avoid the ghost look, try massaging some rosehip oil into your skin before bedtime. The nourishing properties of this oil will fade blemishes; hydrate dry spots while adding a glowy, dewy finish.
Nourish Dry Hair
Hot oil treatments have long been valued for its hydrating and rejuvenating abilities for dry, tired, over-processed hair. The vitamins, antioxidants, and fatty acids make rosehip essential oil the perfect, natural, inexpensive alternative to commercial hot oil treatments.
To restore life to your hair, heat up some rosehip essential oil in a bowl. Make sure it is not too hot so as not to burn yourself, it should be pleasantly warm. Dip your fingers into the warm oil and massage into your scalp and work into your hair. Let sit for an hour.
Once the hour is up, shampoo your hair, making sure to wash out all of the oil. A weekly hot oil treatment with rosehip essential oil will guarantee and softer and more vibrant mane.

Revitalize Dull Hair
These harsh winter months rob both our skin and hair of its vibrancy and moisture. Fortunately, you can use rosehip essential oil year round as a pre-wash treatment to ensure your hair stays strong, shiny, and healthy.
Whenever your hair is feeling limp and lifeless massage some heated up rosehip essential oil into your scalp and hair for about 30 minutes. Rinse out and then follow your normal washing and styling routine. This treatment is especially beneficial to colored and permed hair that deficient of vitamins and moisture.
Nix Dandruff
This healing oil is great for soothing dry, irritated scalps in distress. If you're suffering from dandruff, massage some rosehip essential oil into your scalp and leave on for 30 minutes. Rinse and then shampoo. Use this treatment daily until your dandruff subsides. This treatment is great for preventing and treating other similar scalp conditions as well.
9)Treat Brittle Nails: If you're taking all of these steps to nourish your skin and hair, you should probably take care of your nails too. They do so much for us so we should make sure that they're healthy and strong.
If your nails are looking a little ragged and brittle, simply massage a little rosehip essential oil into them every day for a week. This will make sure that your nails stay strong and healthy.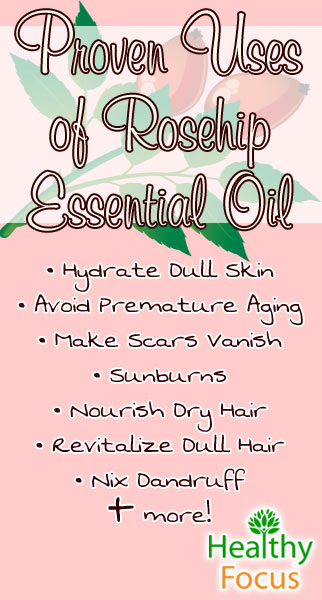 How to Use Rosehip Essential Oil
To get the most out benefits out of rosehip essential oil, make sure to store and use it properly. Here are some helpful tips:
To use in your skin care routine, apply rosehip essential oil directly to the affected area and gently massage in a circular motion. Considered a dry oil, it will absorb immediately into your skin.
Apply rosehip essential oil to your skin twice a day to combat dryness, aging, hyperpigmentation, and scarring. When applying to the skin, allow it to absorb completely before moving on to the next step of your skincare routine.
While rosehip essential oil may help in the healing of your sunburn, it does not protect your skin from it. Regardless of season, always apply sunscreen to your skin before heading out for the day. This will help protect your skin from harmful UV rays, sunburn, hyperpigmentation, and premature aging.
Rosehip essential oil is great for healing scars, even acne scars. However, make sure not to apply this oil to active acne, which can make matters worse. Rosehip essential oil is rich in fatty acids, which can make acne even more volatile.
Some Considerations
When treating any health or skin condition, it is wise to contact your health care provider to ensure absolute safety.
Before using rosehip essential oil, to an allergy patch test to make sure you're not allergic to it.
Rosehip essential oil should never be ingested.
Due to its high content of fatty acids, rosehip essential oil is not recommended for acne prone and oily skin.
You may notice that most products that contain rosehip essential oil are packaged in dark bottles; this is because this essential oil is extremely sensitive to light and heat exposure. Not adequately taking care your essential oils may diminish their potency, so take care. It is recommended to store rosehip essential oil in your refrigerator.
To increase the shelf life of rosehip essential oil, add pure vitamin E oil to it.