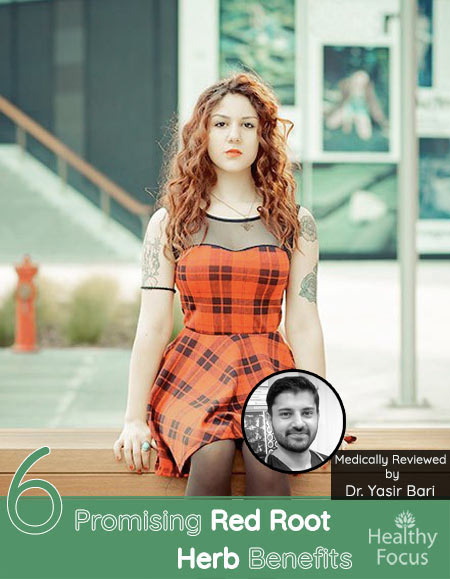 Medically Reviewed
by 
Dr. Yasir Bari

Bsc,
(
Med) Bsc, (Nutrition), MBBS,
DCN (Diploma in Clinical Neurology) – Reviewed & Approved on June 09, 2019

-Written by
Marc Seward
What is Red Root Herb?
"Red Root is one of our great unsung plant medicines." – Michael Moore
Red root otherwise known as New Jersey tea or by its scientific name Ceanothus americanus is a relatively small shrub with a long history. It is a hardy little plant that grows to a size of between 20 and 40 inches in height; its powerful roots grow very deep allowing it to survive wildfires even when everything else around it perishes.
Its roots and the bark of the root have been used in herbal medicine for centuries owing to its astringent, expectorant and sedative qualities while it is especially well known for its ability to treat a variety of conditions related to disorders of the lymphatic system. Red root is native to the Eastern part of North America from Canada to Texas and its New Jersey tea moniker dates back as far as the Revolutionary war period when it was drunk as a substitute for expensive imported tea.
Manaseh Cutler explained its use when writing in 1774 that it was the best substitute for tea that the country offered. Its leaves and roots were boiled and dried over a gentle heat then cured before being drunk and had what Cutler described as an agreeable taste resembling oriental teas. These days, Red root is more commonly available as a tincture and is available online and in some health food stores.

Some Facts about Red Root
Here are some interesting facts about red root. They may not all be especially important but I hope you enjoy learning a few interesting tidbits about this herb.
Called Red Root because of its deep crimson-colored roots, the shrub is known by a variety of different names. It is also commonly referred to as Moutain lilac, Redshank, Snow Brush, Desert buckthorn, and Buckbrush.
Because it was drunk during the revolution at a time when tea was difficult to come by, it was given the name New Jersey Tea which is still used to this day.
While the leaves have been used for medicinal purposes, the bulk of the herb's therapeutic properties come from the root. 
Red root was mentioned in the American Dispensatory back in 1898. However, it was overlooked as a medicinal herb for most of that period in history. At that time, it was mostly the leaves that people used for medicine but the effect was not great. Once the root was utilized in the early 20th century, red root became much more popular as a medicinal herb.
We have learned a great deal about the herb's uses from the Native Americans. Red root was used by the Chippewa to ease digestive problems such as bloating, indigestion and constipation. It was also used by the Native Americans to treat shortness of breath and lung conditions.
Red root was used by the Cherokee as a general digestive tonic while the Iroquois used the leaves to make a decoction to prevent diarrhea. They also made use of the medicinal root to help improve respiration and blood flow.
Red root has also been used by the Native Americans throughout history to cleanse and promote the healing of wounds as well as sores caused by venereal diseases.
The extensive root system of the plant is incredibly hardy. These roots can grow to a diameter of 8 inches. The red root is one of the first plants to grow back following a wildfire.
Red Root Herb Benefits
Many people consider that red root or redroot is under-appreciated and underutilized as a medicinal herb. Far from just being a cheap tea, it has a variety of possible therapeutic uses which deserve to be explored further.
According to the renowned naturopath and herbalist Sharol Tilgner, the Red root herb is an excellent lymphogogue – that is an herb which offers support to the lymphatic system. It remedies the stagnation and congestion of lymphatic fluids and boosts the immune system.
It can be used to treat a host of ailments related to lymph system problems as well as having a benefit on the body's respiratory and digestive functions.
1) For Lymphatic system support
One of the most important uses of Red root is its ability to support the spleen and treat a range of lymphatic system disorders.
The importance of a healthy lymphatic system is often overlooked; effective lymphatic circulation is critical to good health. An efficient lymphatic system prevents illness and promotes healing as well as general wellbeing. A vital part of the lymph system, the spleen protects your body by cleaning worn red blood cells and other toxins out of the bloodstream which helps fight infection. Lymph nodes also contain white blood cells known as lymphocytes which produce antibodies that protect against infection by trapping and destroying dangerous pathogens.
Poor lymphatic circulation can also cause excess lymph fluid to accumulate in the tissues of the body causing swelling and tenderness.
There are a variety of illnesses caused by a sluggish lymphatic system including sinusitis, tonsillitis, arthritis and even more serious conditions like heart disease and cancer. An inefficient lymph system can also cause general health issues like fatigue, muscle soreness, headaches, obesity and sleep complaints.
Red root has long been considered an effective herbal remedy for spleen and lymphatic system complaints making red root a potential natural gift especially given the host of health issues that can be caused by these complaints. You can try it if you are suffering from a lymph system disorder or chronic spleen pain or stitches which are often accompanied by breath shortness.
2) To Alleviate Respiratory Complaints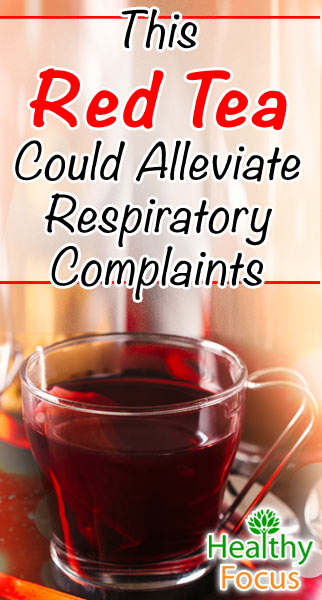 Red root has expectorant properties and has been used by the Native Americans traditionally to treat respiratory sicknesses such as whooping cough and bronchitis long before it was discovered by European colonists.
When consumed in tea form, people noticed its ability to reduce mucus viscosity and to expel phlegm from the respiratory system. These days it is also seen as an effective treatment for colds, sinusitis and even asthma. Believed to be antispasmodic in nature, it can help ease muscle spasms and control coughing caused by respiratory ailments.
3) For the Digestive System
Homeopathic practitioners consider that red root can be utilized effectively to promote overall digestive health and to treat a variety of complaints related to the digestive system. As well as abdominal pain, constipation irritable bowel syndrome and diarrhea, homeopaths have noted red root's efficacy in treating painful menstruation.
Red root also can help those with breathing difficulties and frequency of urination which they link to the digestive system. As a tea or gargle, it can help alleviate sore throat symptoms.
4) Potential Antibacterial Property
While I must point out that there is no scientific evidence regarding this claim, many homeopathic practitioners believe that red root has antibacterial abilities. This claim relates to its organic compound content including high concentrations of tannins, lignins, and ceanithene which are thought to be antibacterial phytochemicals.
These phytochemicals are purported to have been observed effectively treating sexually transmitted disease like syphilis. Red root can also be used as an effective mouthwash to treat a number of oral complaints such as canker sores, gum disease, and tooth decay.
5) For Detoxification Purposes
As well as helping the body's lymphatic system to operate efficiently, Red root is considered to be an excellent herb for those wishing to detoxify their system. Modern lifestyles and diets, as well as our inevitable daily collision with pollutants and chemicals, means that an ever-increasing number of people are looking to give their body a helping hand by detoxing their systems; essentially giving themselves a fresh start. Red root is thought to be beneficial for our important internal organs like the kidney and most significantly, the liver.
6) For the Skin
Red root has astringent properties and can be applied topically to help treat a variety of skin complaints like acne, blemishes and to help reverse the signs of aging. Red root can also be used to heal skin lesions and minor wounds because of its antibacterial ability.
7) For Hemorrhoids
Red root has astringent properties making it a useful natural remedy for hemorrhoids. Most of the commercial hemorrhoids preparations available use some sort of astringent such as witch hazel in their remedies. While the majority of commercial preparations are used topically to treat external hemorrhoids, red root can be used to treat internal hemorrhoids too.
Make a tea decoction from your red root and dip a cotton ball into the mixture. Simply apply the liquid to the affected area. You can also dring the tea or use a tincture to help internal healing.
How to take Red Root Herb?
Red root can be prepared and consumed as a caffeine free tea or taken in the form of a tincture. If you are fortunate enough to have access to Red root plants, you can prepare your own tea from its leaves and brew it like any ordinary tea.
As a tincture, put between 6 and 12 drops into a glass of water or if you find the taste difficult to tolerate, you can add it to a juice and drink it.
There is no recommended daily dose but 3 times a day is often suggested for overall health support.
Red Root Herb Side Effects
Red root is considered to be a safe natural herb even when used extensively and for long periods; most adults can use it without concern but there are some precautions that need to be noted.
Like any other type of herbal remedy, pregnant and breastfeeding women are advised not to take red root tea or tincture because not enough is known about its potential effects on the unborn child or baby.
Red root might have coagulant properties so Red root should not be consumed if you are taking any form of blood thinning medication. Red root might also prevent iron absorption so those dependent on iron supplements should avoid taking it.
While most experts suggest that there are no known side effects from taking Red root, I have seen several warning that there is a very slight possibility of side effects when it is taken in very large doses. If you are taking any prescription medications or you are in any way concerned, make sure that you talk to your doctor before taking this or any other herbal remedy.
Pros and Cons of Using Red Root
Pros
Red root has a variety of excellent health benefits including digestive health, respiratory health, and skin care.
Red root has excellent antibacterial properties and can be used to treat the skin, oral infections and to disinfect wounds.
Red root provides great lymph system support. This can benefit your health in a number of impressive ways.
Tinctures are available but it is cheap and easy to make your own decoctions and infusions.
Red root can help detoxify the body which we all need to do from time to time.
Cons
There is precious little scientific backing for the traditional uses of the herb.
Red root is generally regarded as safe but there may be some adverse side effects as we have already mentioned above.
Some people have said that it had no positive impact on their health.