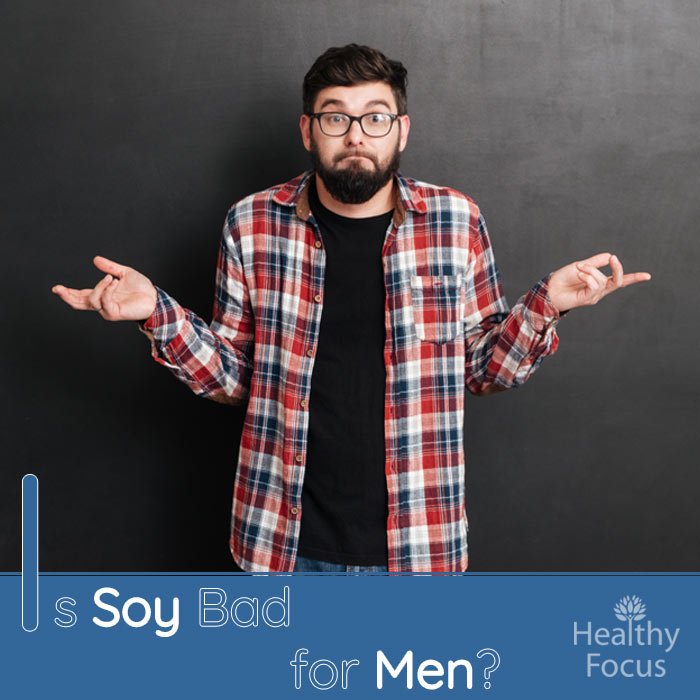 Soy products such as tofu, tempeh, soy milk and miso are extremely popular choices especially for vegetarians and vegans as a source of protein. Soy milk also makes a popular alternative beverage for the many people with lactose intolerance. Soy is also one of the most popular protein supplements among male body builders along with casein and whey.
There is no doubt that soy is highly nutritious and comes with plenty of health benefits but over recent years, there has been a growing debate surrounding the potential side effects of soy milk and other soy products especially when it comes to their effect on men.
While eating small amounts of soy is unlikely to have detrimental effect, men who incorporate large amounts of soy into their diets may be putting themselves at risk of hormonal side effects owing to the estrogen-like effects of soy. Soy contains substances known as phytoestrogens which mimic the effects of estrogen – the dominant hormone in females. Researchers continue to study what effect phytoestrogens may have on both males and females but as of now, the jury remains out.
This article will look at the potential adverse side effects of consuming soy and then look at the potential benefits. It is possible that the benefits of eating soy outweigh the risks and this article will hopefully help you to make a better and more informed choice.
Sex Hormones
Before we get into the specifics of the research, it is worth looking at the roles the sex hormones play in both genders. Estrogen and testosterone are the two main sex hormones – they play an essential role in physical appearance and a person's overall, health. We often assume that these hormones are specific to men and women however research tells us that we need a balance of both hormones whatever your gender. Testosterone is the predominant hormone among men with estrogen being the predominant sex hormone in women.
Testosterone plays many vital roles in the body. It increases bone density and muscle mass but it also has positive effects on the heart and brain as well as enhancing the libido. As men grow older, their levels of testosterone drop but estrogen levels increase. This contributes to a weakening of muscles and bones becoming more fragile as well as a significant decrease in libido. But that is not all; clinical studies suggest that the increase in estrogen and decrease in testosterone can also contribute to the development of chronic illnesses like heart disease, diabetes, prostate cancer and depression.
The Potential Effects of Soy on Male Health
The Effect of Soy on Sex Hormones
The debate centers around the fact that soy protein contains isoflavones which are known to have an estrogen-like effect on the body. Also known as phytoestrogens, these compounds are implicated in the claims that soy products result in testosterone levels falling among men that consume them.
There are certainly a great number of anecdotal reports of the negative side effects of soy in men. These range from a general lack of libido to muscle definition loss all the way to claims that men have developed breasts. However, the research so far is less emphatic.
Several clinical studies have indeed documented the negative effects of soy on men. However in most if these studies, very high doses were used. These dosages are far greater than a realistic daily intake of the protein. In one study, the researchers found that a daily dose of 56 grams of soy protein powder consumed for 28 days significantly decreased testosterone levels in healthy men. These levels then increased back to normal two weeks after the soy supplements were discontinued. (1)
Another study published in 'Fertility and Sterility' in May 2010 reviewed the available studies and found that a high intake of soy resulted in no testosterone changes. They also found that there was no evidence that soy consumption resulted in erectile dysfunction. (2)
Other potential effects of a high intake of soy products are breast development and tenderness in the nipples, a decrease in sex drive and mood swings.
Fertility Issues
There is concern that a high intake of soy could be a contributory factor leading to infertility in men. Because the phytoestrogens found in soy products may exert effects that can alter hormone production, researchers have explored the link between high soy consumption and male infertility.
A review of all the available studies was published in 2010 bu Swiss researchers. They reported that despite the relative lack of studies, a high intake of soy might affect the production of sperm and male fertility. They did however state that the evidence remains inconclusive and also cautioned against infants being given soy formula.
Bottom Line
Despite the fears and rumors that consuming a lot of soy can have a feminizing effect on men and despite the many anecdotal reports of men developing breasts and other feminine characteristics, there is little in the way of hard evidence. The studies conducted to date indicate that soy may have an effect on testosterone levels but only in very high doses.
Other Potential Negative Effects of Soy
There is however some evidence that a high soy intake can have certain effects unrelated to sex hormones.
Brain Health
Consuming large amounts of soy may have harmful effects on a person's brain. A study done by researchers at England's Loughborough University looked at the effect of tofu on the brain and specifically the risk of developing dementia. The researchers found that men and women in their 60s who ate a large amount of tofu were at a higher risk of memory impairment and dementia compared to people who ate moderate amounts of tofu. (3)
Infant Formulas
There is also a growing concern that more and more mothers are feeding their babies with soy-based formulas and soy milk. Estimates suggest that as many as 35% of bottle fed infants receive a portion of their proteins from soy. This is a controversial topic and one that has been addressed by the American Academy of Pediatrics. The group is taking measure to reverse this trend by recommending that any infants who are not able to be breastfed be fed with cow's milk formulas rather than soy. The only exception being where there is a medical necessity for soy.
The reason for the concern over the effect of soy on infants are born from previous studies conducted on mice raised on levels of genistein that made their blood level similar to that of a human infant. Researchers found that the thalamus gland – a key component in the body's immune system shrank. Whether infants would suffer similar effects is unclear but the study did prove soy-based products influenced the body's processes.
Positive Effects of Soy
Despite the concerns over the negative effects of soy, there may well be a number of potential health benefits. Soy is a great source of proteins, vitamins and minerals including magnesium, manganese, selenium and copper.
Soy is very low in calories, saturated fats and cholesterol. It can help to relieve inflammation and there is some evidence that it can protect your heart and your kidneys from diseases.
There is also evidence that soy-based products and soy milk can reduce your chance of developing type-2 diabetes. As regards specific male benefits, research indicates it may reduce the risk of prostate cancer and lower blood pressure.
(1) https://www.ncbi.nlm.nih.gov/pubmed/17416779
(2) https://www.ncbi.nlm.nih.gov/pubmed/20378106
(3) http://www.lboro.ac.uk/service/publicity/news-releases/2008/104_tofu.html