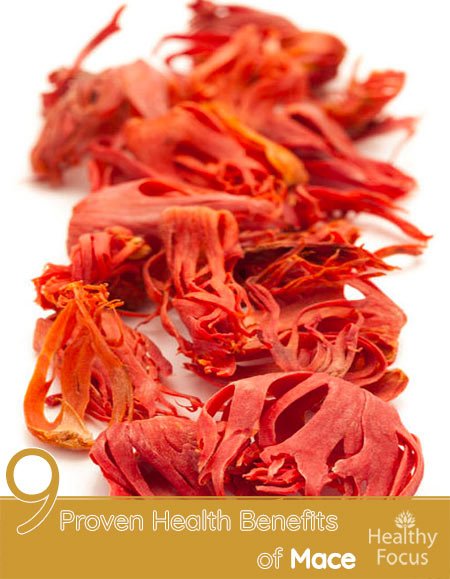 When they hear the word 'mace'. Many people are likely to conjure up an image of the liquid used in self-defense. However, mace in its natural form is not a man-made chemical product but a plant native to Malysia, Indonesia, Sri-Lanka and the West Indian islands.
Mace is commonly used in the kitchen to add considerable spice, flavor and fragrance to a wide variety of savory dishes. It is also really good for you. If you would like to find out more about this incredible spice and what it can do for your health and your cooking, then read on.
What is Mace?
Mace is derived from the Myristica fragrans plant which also gives us nutmeg. You will often find that nutmeg and mace are used interchangeably on labels and in supplements. There is however a difference between the two.
Nutmeg is the dried and shelled seed of the plant while mace is produced from the seed's shell coating. Mace is more commonly used in medicinal supplements because of nutmeg's history of abuse as a psychoactive.
Mace spice is derived from the dried, outer aril of the nutmeg kernel. Despite being produced from the same fruit seed; mace has a higher concentration of volatile oils than nutmeg and produces a more intense aroma.
It is also more expensive and is likely to occupy a special place among the kitchen spices. But mace is not just an outstanding kitchen spice. It also comes with a variety of excellent health benefits and packs a real nutritional punch.
Mace Nutrition
Mace contains a variety of vitamins and an array of important minerals. It provides us with Vitamins A and C as well as some of the B family of vitamins like thiamine, folate and niacin. It also contains calcium, magnesium, copper and iron in greater quantities than nutmeg.
For example, 100 grams of mace contains some 13 milligrams of iron compared with only 3 milligrams in nutmeg.
Mace also contains around 9% essential oils, protein, resin and sugars. The essential oils in mace contain compounds like geraniol, pinene and nyristicin which are largely responsible for its range of therapeutic benefits.
The Health Benefits of Mace
If you add mace to your diet, you will not be sorry. The spice will boost the flavor of your food but will also help your health in a variety of different ways. The following are some of the major health benefits of the spice.
1) Improve your Digestive Health
Mace has traditionally been used as a remedy for numerous digestive complaints including diarrhea, abdominal cramps, nausea and flatulence. A tea which is made from mace, nutmeg and slippery elm and mixed with cream is a popular traditional remedy in China for indigestion and nausea.
Another popular Chinese and Indian remedy for diarrhea is made by placing a few drops of mace essential oil onto a sugar cube which os swallowed after absorbing the oil.
2) Cancer Prevention
Like so many other natural products, mace has exhibited the potential to protect against cancer. A study which was published in 2012 demonstrated that mace essential oil could help prevent cancer by disrupting the formation of certain blood vessels which feed tumors.
Another study published in the same year showed that once of the compounds found in mace – myristicin could effectively inhibit the development of cancer cells in the colon. (1)
3) Alleviate Feelings of Depression and Anxiety
If you are one of the millions of people afflicted with feelings of depression or prone to anxiety, then mace might be able to help. A study published in 2006 found that mace may offer some mild sedative properties with the ability to keep anxiety under control. The researchers also found that mace exerted excellent anti-depressant effects because of its effects on serotonin and dopamine. (2)
4) Alleviates Pain
Chinese practitioners have been using mace in topical preparations to deal with pain for many long years. While eating mace is not likely to have much of an impact on pain, the essential oil derived from mace can be combined with a carrier oil and massaged into any affected areas of your body.
It is a great remedy for sore muscles, bruises, aching joints and arthritis.
5) Oral Health
A pinch of mace each day may be all it takes to keep your breath smelling fresh. Mace has antibacterial properties which can help prevent oral infections and stave off bad smelling breath. Add a pinch of mace to your toothpaste before you brush your teeth and you will immediately notice the difference.
6) Boosts the Appetite
Although many of us spend large parts of our life worrying that we are eating too much, the lack of an appetite can be extremely dangerous for certain people. People struggling with eating disorders, overcome by stress or recovering from illness may lack the appetite necessary to get them back on a healthy track.
Mace is sometimes used to stimulate the appetite, help people nourish themselves and get back into proper physical shape.
7) Better Blood Circulation
Another purported health benefit from eating mace is that it boosts your blood circulation. Better circulation brings with it a variety of benefits including protection from disease, general well-being and healthier skin and hair.
8) Kidney Health
This wonderful spice may also help protect the kidneys from damage. Although there is no scientific evidence backing it up, a traditional use is help to prevent the occurrence of kidney stones and it may even help dissolve them once they have developed. Apart from kidney stones, mace may help treat other kidney complaints or infections.
9) Coughs and Colds
Mace spice is a traditional, natural remedy for colds and coughs and may help prevent the occurrence of flu and other common viral illnesses. Mace is sometimes used as an ingredient in cough syrups or applied topically as part of a rub.
How to use Mace
Mace is available in most cooking stores and markets in ground or whole form. It has a very subtle flavor and should be used quickly to get the best flavor and aroma from the spice.
Make sure that you store the spice in a cool and dry area and it should keep for quite a while. If you find that it has become stagnant, you can revive its flavor by toasting it gently before using it.
Mace can be used to flavor cakes, pastries and jams in the same way that nutmeg is used.
It can be used in savory dishes like curries, soups and stews.
It is an excellent substitute for nutmeg in multiple recipes. It has a very similar taste to nutmeg although it is slightly milder and a but sweeter.
Crushing and grinding your mace releases the volatile oils and adds to both the taste and the aroma of the spice.
You can combine fresh mace with hot milk to make a rather unusual sounding mace tea that many people find tasty and relaxing.

To make mace tea:

Take a handful of fresh mace and add it to two cups of milk in a pot and boil it up.
Strain the spice from the mill, add some honey and enjoy.
(1) https://www.ncbi.nlm.nih.gov/pubmed/22429024
(2) https://www.ncbi.nlm.nih.gov/pubmed/16579733