In the art of soap making, you want each ingredient to not only smell like heaven, but to also give your skin a cherubic rosy glow. When making soap, many people prefer to scent them with essential oils.
Not only do theses soaps smell great, but also they are beneficial to the health and appearance of your skin. Essential oils are wonderful because they are derived directly from nature—distilled from flowers, herbs, leaves, bark and fruit. Essential oils will not only improve the quality of your soap, but some scents have therapeutic qualities as well.
Why Not Fragrance Oils?
Sure, fragrance oils are cheaper, but in this case, you get what you pay for. Fragrance oils are man made and derived from synthetic materials. They do not contain the healing, emotional, and therapeutic properties that essential oils do.
For example, lavender essential oil in soap not only smells lovely, but it also has treats various skin ailments while alleviating stress, whereas lavender fragrance oil simply contains an imitation of the lavender fragrance and nothing more.
Many people choose to make soap because they prefer a wholesome all-natural product. Unfortunately, the use of fragrance oils will compromise this purity.


Essential Oils in Soap Making
Below is a list of essential oils common in soap making. Each essential oil not only has a wide array of benefits, but they also blend well with others as well, boosting their healing abilities.
Lavender
Lavender is arguably the most popular essential oils used in soap making. This lovely essential oil smells great while offering up a ton of benefits. Lavender is a powerful disinfectant that kills germs, perfect for those suffering from acne, eczema, and even dandruff.
Lavender essential oil is great for skin that has suffered the ravages of the environment, treating minor burns, cuts, and even working overtime as an insect repellent. In terms of aromatherapy, lavender essential oil is top notch. A couple drops of this tranquil essential oil, and you can help soothe nervous tension, headaches, depression, and insomnia.
This essential oil is truly a wolf in sheep's clothing, eradicating any ailment that may be plaguing you. Despite its name, lavender essential oil is pale yellow to clear in color, steam distilled directly from the flowers of the plant. Lavender essential oil works great in cold pressed soap making and is a popular oil in aromatherapy, infusions, gels, and lotions.
Lavender essential oils works great on its own or blended with other essential oils, especially other floral and citrus oils. Sage, pine, and rosemary essential oils also compliment lavender essential oil. Lavender essential oil is not recommended for the use of pregnant women.

Lemon
The bright scent of lemon is often associated with cleanliness and for good reason. This uplifting essential oil is a powerful antifungal and disinfectant. Lemon essential oil is great for treating skin ailments, not only working as an astringent, but also restoring the luster to dull, dry skin.
Lemon essential helps to mattify oily skin while zapping blemishes. Used first thing in the morning, soap infused with lemon essential oil will put you in an alert and positive state of mind, putting a zing in your step and you walk out the door to face your day. Lemon essential oil is derived from cold pressed lemon peels.
Although the smell of lemon is nice on its own, it is not strong enough to really scent your soap, so it is recommended to use in a blend. Lemon essential oil blends especially well with neroli, clary sage, lavender, cinnamon, and clove essential oils.
The brightness of lemon essential oil also ends a positive note to woodsy-scented essential oils like cedarwood. Many people enjoy the way lemon essential oil adds a unique twist to eucalyptus, rosemary, peppermint, and spearmint essential oils.
Lemon essential oil is phototoxic, meaning it may cause your skin to be sensitive in direct sunlight. This is not an issue for soap, as it gets washed off, but is a consideration for leave on products like lotion.
Sweet Orange
This citrusy essential oil is uplifting while working hard as an antiseptic, antifungal, anti-inflammatory, antibacterial essential oils. Sweet orange not only works well to preserve your physical hygiene, but your mental hygiene as well, working as antidepressant.
Frequently, sweet orange essential oil is used in commercial skin care products, especially soaps, creams, body lotions, and anti-aging products. Skin that is on the oilier side or has a tired appearance from stress especially benefit from this essential oil.
A light orange color, sweet orange essential oil is derived from orange peels during the cold press process. Sweet orange blends beautifully with many essential oils, especially bergamot, eucalyptus, black pepper, clove, clary sage, bay, ginger, frankincense, geranium, juniper, jasmine, lemon, sandalwood, rose, patchouli, ylang ylang, and lavender essential oils.
There are lots of possibility with these blends. Sweet orange essential oil may cause sensitivity in some people, so be sure to do an allergy patch test on your skin before adding this essential oil to your soap.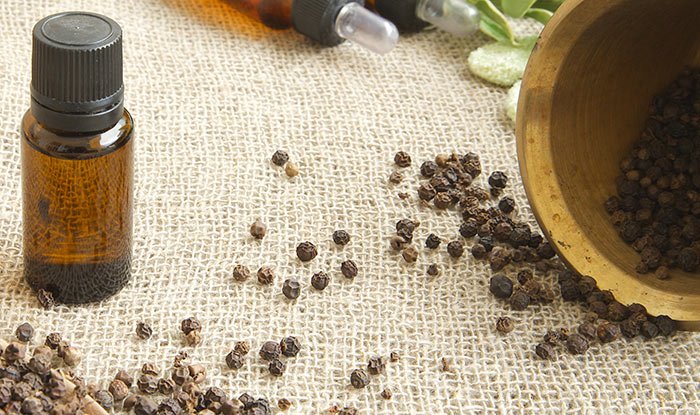 Black Pepper
On first thought, this may be a shocking addition on the list. Black pepper? What value could black pepper have in soap? Lots as it turns out. Black pepper is commonly used in the art of perfume making to add an extra spice to perfume blends.
Black pepper has a sharp, warm, spicy, woodsy scent that adds an antimicrobial and antibacterial quality to your soap. Pale green to clear in color, black pepper essential oil is derived through the steam distillation of dried peppercorns.
Black pepper works best in a blend, especially if you want to make a spicier, antiseptic soap. Black pepper essential oil blends best with clove, geranium, bergamot, clary sage, lavender, juniper, grapefruit, ginger, sweet orange, tea tree, sandalwood, rosemary, sage, lemon, lemongrass, and ylang ylang essential oils.
Black pepper essential oil is known to cause sensitivity in some people, so be sure to do that allergy skin patch test. In fact, do that before using any essential oil for any reason to err on the side of caution. Black pepper essential oil is not recommended for the use of pregnant women.
Patchouli
Patchouli is a divisive scent: people either love it or hate it. Despite its controversial nature, patchouli essential oil is great in soap making for it contains antibacterial, antimicrobial, antiseptic, antiviral, deodorizing, and astringent properties.
Wow! This powerful essential oil is instrumental in treating several skin conditions such as acne, fungal infections, insect bites, dermatitis, dry skin, eczema, parasites, dandruff, bacterial infections, clogged pores, wrinkles, and cracked, chapped skin.
This magic potion of an oil is deep golden brown in color and is steam distilled from the dried leaves of the Pogostemon Cablin tree. A rich and earthy scent, this essential oil works great on its own or blends well with other essential oils.
Blend patchouli essential oil with lemongrass, clove, clary sage, frankincense, geranium, black pepper, sandalwood, chamomile, cinnamon, mandarin sweet orange, ginger, jasmine, and rose essential oils. Use this essential oil sparingly, as the fragrance can become overwhelming used in large amounts.
Rosemary

The uplifting fragrance of rosemary will restore balance to your mental state while fixing a wide variety of skin conditions and ailments. Antiseptic and antimicrobial in nature, rosemary essential oil addressed acne, eczema, dermatitis, and oily skin. Rosemary essential oil restores a rosy glow to dry, waxen skin by balancing oil production and restoring moisture.
Rosemary essential oil is used consistently in commercial hair care products. Regular use of this essential oil has shown to invigorate the hair follicles, encouraging hair to grow longer and stronger. It is also believed to slowdown hair loss and the graying of hair.
Rosemary essential oil is also a great solution for dry, flakey scalps. Rosemary essential oil works great in a blend, particularly with basil, lemongrass, lavender, peppermint, and cedarwood essential oils. Those suffering from epilepsy or pregnant women should not use Rosemary essential oil.