Essential Oil Sensitization
When used with proper care, essential oils are safe, they can be beneficial to people of any age and are able to treat a multitude of physical and emotional complaints. However and without wishing to sound alarmist, caution needs to be taken to avoid allergic reaction from their use
There are 3 main types of possible allergic reaction to essential oils.
Irritation:

this is an almost immediate allergic reaction when a person's skin comes into contact with an essential oil. It causes reactions ranging from a mild itching sensation to a painful burn. Simply removing the substance should be enough for healing to occur.
Photosensitivity: A reaction that occurs when an essential oil applied to the skin is directly exposed to sunlight or UV light from a tanning bed. Photosensitive reactions range from mild red blotches to severe burns. Many citrus essential oils, most notably bergamot, can cause a photosensitive reaction.

Sensitization:

Sensitization to essential oils is considered to be rare but is a potentially far more serious issue and the one on which this article will focus.
Much like a vaccination works, it occurs when an essential oil applied to the skin causes a permanent change to the immune system. Unlike irritation, symptoms might not occur immediately and may be delayed for some time after application of the oil.
Once the body is sensitized to a particular oil, it can remain sensitized permanently and reactions are likely the next time the oil is used. The symptoms of sensitization vary a great deal in severity from mild reactions like itching to anaphylactic shock. Fortunately, anaphylactic shock is an incredibly rare reaction in aromatherapy.
Certain essential oils are known sensitizers but it is important to note that any essential oil could cause this allergic response and if you experience any reaction to an oil, you should stop using that or any similar oils immediately.
Symptoms of sensitization
Sensitization is not an immediate reaction; it typically develops over a period of time. When first exposed to the oil, no reaction is evident but on repeated use which could be days, weeks or in some cases years a reaction will occur. Symptoms of sensitization include the following:
•  A red rash or raised bumps on the skin.
•  Hives
•  Itching which can range from moderate to severe.
•  Dry or cracked and scaly skin.
•  Blisters, crusting and weeping sores.
•  Swelling and tenderness.
•  Painful burning.
•  Shortness of breath.
•  Anaphylactic shock is an extremely rare reaction.
About essential oil sensitization
Essential oils are very potent and they demand a degree of respect especially when you are using them for the first time. People with pre-existing allergies and sensitivities should be extra cautious; those with seasonal, food or chemical allergies are more prone to developing a sensitization response to essential oils.
Others at more risk include people with chronic skin complaints and auto-immune and inflammatory conditions. Even those who have never experienced sensitivity reactions can develop sensitivity through overuse or using essential oils in high concentrations.
Contrary to certain popular beliefs, an allergic reaction to an essential oil is not necessarily a detoxification reaction. This is important because it means continued use of the oil that caused the reaction will not fix the problem.
A typical allergic response is caused when the immune system produces antibodies as a defense against unwanted foreign invaders. Although the production of antibodies has never been observed scientifically, there have been numerous recorded cases of allergic reaction to the topical use of essential oils.
Numerous studies have demonstrated that essential oils can act as haptens or sensitizing compounds through a variety of different pathways in the body. Haptens are powerful sensitizing substances which cause severe contact allergies as a result of reactions like oxidation or attachment to proteins in the skin when they are applied topically.
Certain oils and their compounds are more likely to oxidize than others, especially monoterpenes and when exposed to air they combine with the oxygen to produce skin allergens. As an essential oil ages, so the risk of oxidation increases. In other words, even though these essential oils are not allergens in and of themselves, they might become so when oxidized or contacting the skin.
Allergic reactions to the topical use of essential oils seen on the skin are generally categorized contact dermatitis which is typically characterized by red, swollen, itchy and painful skin. The symptoms can take anything from a few days to a few weeks to heal completely. Sensitization is also known as allergic contact dermatitis as opposed to irritant contact dermatitis which causes an immediate reaction.
Allergic contact dermatitis or sensitization can be very difficult to reverse and may even be a permanent condition. Sensitization is also known as a Type 4 reaction and unlike skin irritation it involves a delayed hypersensitive reaction.
When you apply an essential oil to your skin, it is absorbed into the body and sensitization occurs when the oil interacts with proteins in the skin its properties are altered and it becomes an antigen. This modified protein is transported through the lymphatic system and activates T cells.
These T cells trigger inflammation and other allergic responses to the antigen's invasion. One this reaction occurs, it is very difficult to reverse because the body remembers and repeats its reaction to the presence of the antigen. This type of reaction is not immediate and typically occurs a few days following exposure to the oil.
Such allergic reactions are also usually built up after a long period of use especially when the oils are applied in highly concentrated or neat form. This basically means that unlike contact irritation, sensitization is caused not by using a single oil once but by repeated use of the same oil over an extended period. There are many reports of aromatherapists becoming sensitized as an occupational hazard.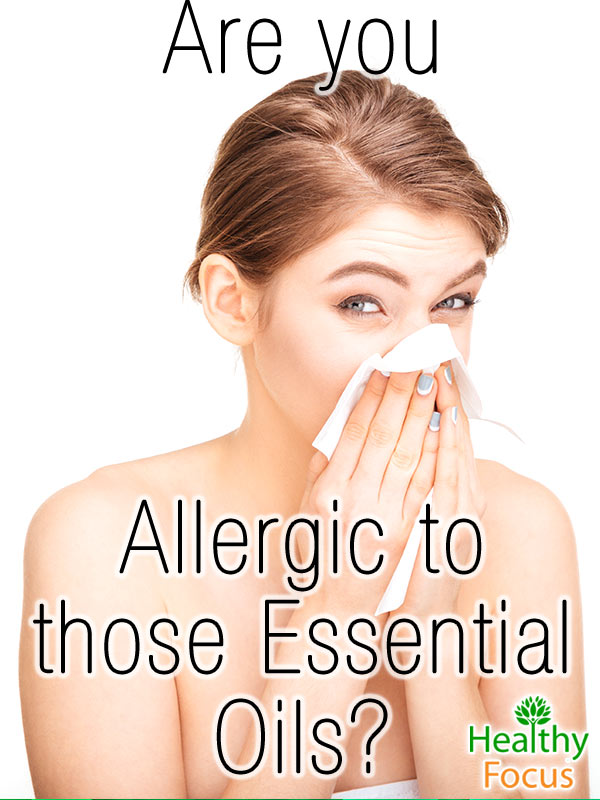 Individual patient risk factors
Certain people are more prone to developing sensitization than others and risk factors include the following:
Pre-existing allergic reactions: People suffering from eczema, hay fever or asthma are more likely to develop sensitization.
Age: People over 60 are more prone to becoming sensitized.
Gender: Women are more likely to develop sensitization.
People with weakened autoimmune systems.
Stress.
Family history of allergic contact dermatitis.
Applying the essential oils directly to irritated, inflamed and damaged skin.
Antioxidant deficiency in the body due to illness or poor diet.
Application risk factors
The type of oil you are using as well as the way it is applied can also increase the risk of sensitization.
• Repeated use of the same essential oils over a long period of time.
• Applying undiluted of highly concentrated essential oils to the skin.
• Poor quality essential oil that may contain adulterants.
• The use of certain essential oils known to be more likely to cause sensitization.
• Using oxidized essential oils.
• Combining essential oils with other known chemical irritants like soap.
• Increased absorption caused by improper application methods.
Known skin sensitizers
While any essential oil, even mild oils such as lavender, might provoke a reaction certain essential oils are known to be dermal sensitizers. The following list is not comprehensive but includes many popular essential oils known to cause sensitization.
Basil Jasmine Vanilla
Bay laurel Lemon Valerian
Cedarwood Lemongrass Ylang ylang
Citronella Orange
Garlic Peru balsam
Geranium Tea tree
Ginger Thyme
Minimizing the risk of sensitization
There are several measures that you can take to minimize the risk of becoming sensitized to your essential oils.
Make sure that you dilute your essential oils well with a pure carrier oil. Proper dilution not only minimizes the risk of irritation and over absorption but may also reduce the risk of your oil becoming oxidized. People new to essential oils or known allergies and sensitivities should dilute their essential oil even more.
Rotate the areas of your body to which you are applying the essential oils.
Sensitization often occurs when the same oil or an oil with similar properties is used for a prolonged period. It is recommended that you change the essential oil that you are using fairly regularly and some experts suggest that you should not use the same oil for more than a month at a time.
If you become sensitized, stop using that particular oil or similar oils immediately.