What is Diverticulitis?
The digestive system is a complex animal—a certain pain or a wave of nausea can be attributed to a myriad of problems or disorders. Diverticulitis is one such condition that often gets lost in the fray.
Women may think that the sharp pain occurring in their lower abdomen is the result of menstrual pain or others may misconstrue the discomfort for bowel movement malfunction. Some may confuse the sweeping nausea, loss of appetite; metallic taste in their mouth, or feverish feeling may be a simple virus.
Perhaps, but all of these symptoms are the classic signs of an infection of the large intestine called diverticulitis. Diverticulitis occurs when one or more of the small pouches of the digestive tract become inflamed.
This condition derives its name from the diverticula, which are small, balloon-like sacks that live inside the intestinal wall. This painful condition may provide chronic discomfort for some while others may experience the pain intermittently.
The older you get, the higher your chances of developing diverticulitis become, particularly for those over the age of 40. Diet is another large factor of developing this condition.
Fortunately, there are some dietary measures you can take to get relief from this painful condition or prevent it from occurring altogether.
Symptoms of Diverticulitis
The symptoms of diverticulitis range from mild to severe. Those suffering from mild symptoms may find that getting enough rest and altering their diet is enough in terms of treatment while those suffering from more severe symptoms may require surgery.
It is important to monitor your symptoms so you know what steps to take in order to have a healthy functioning digestive system and to prevent more problems from developing down the road. If you believe you are suffering from diverticulitis, you may be suffering from two or more of the following symptoms listed below: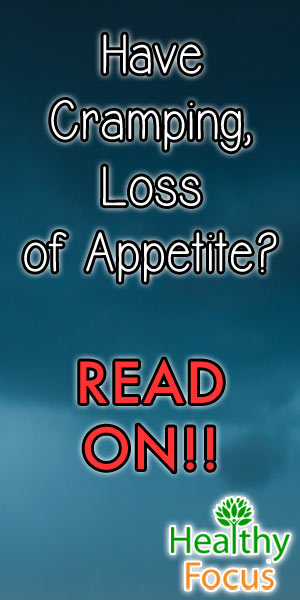 • Cramping
• Intense abdominal pain
• A noticeable change in bowel movement habits
• Blood in the stool
• Nausea and vomiting
• Loss of appetite
• Alternating constipation and diarrhea
• Abdominal tenderness, particularly in the lower region
• Fever that may be accompanied with chills
Its important to monitor your symptoms of diverticulitis because it can lead to life-threatening complications down the road, such as perforation of the intestine.
When the intestine becomes so inflamed or infected that it perforates, deadly complications like peritonitis can occur. If you are suffering from any of these symptoms, call your physician right away and keep an eye on things.
Causes of Diverticulitis
First and foremost, poor diet is the premier cause of diverticulitis. A diet full of fat, sugar, and processed foods spells out trouble for your digestive tract. This can be remedied by a fiber-rich diet.
A Fiber rich diet will not only be healing to your colon, but help prevent the onset of diverticulitis. Along with the poor diet, the following may put you at risk for developing diverticulitis:
• Age, those over the age of 40 are particularly at risk
• Smoking
• Obesity
• Not getting enough exercise
• Taking certain medications such as anti-inflammatories, steroids, and opiates
• History of constipation
Home Remedies for Diverticulitis
If you suspect that you are suffering from diverticulitis, call your physician to ensure that your condition is not severe. Severe cases may require medication or surgery.
Those suffering from a minor case can alter their diet, take supplements, and change their lifestyle to get their digestive health back on track. Below are some remedies you can try at home to help prevent and treat the symptoms of this painful condition.
Diet
The main catalyst for a diverticulitis flare up is poor dietary choices and not enough fiber. In order to begin your healing journey, you must clean that gut out and let it heal itself. Consuming bone broths may help aid in this healing as they contain vital nutrients and minerals and is easy to digest to boot.
Add healthy vegetables and egg to turn your healthy bone broth into a delicious soup. Ginger and ginger tea is another healing food for your gut. Once you've begun the healing process, you can start bringing easy-to-digest foods into your diet, like pureed veggies and fruits.
Drinking these delicious fruit and veggie smoothies will provide you with nutrients while your gut is still healing. Once your gut has been acclimated to the bone broth and smoothies mentioned above, you could slowly start adding fiber-rich foods into your diet.
Be warned, adding too much fiber too soon can result in gastrointestinal discomfort. These fiber rich foods may include raw vegetables, fruits, unrefined grains, fermented grains, sprouted lentils, and black rice. Once you've successfully added these foods to your diet, you can add more substantial fiber-rich foods as potatoes, root vegetables, cereals, oats, and lentils.
Aloe
Aloe is one of the most natural effective remedies for diverticulitis. It encourages the growth of intestinal flora while stimulating healthy bowel movements, removing excess waste.
By drinking a half-cup of aloe vera tea, you can reduce painful inflammation while boosting your immune system. In terms of treating diverticulitis, drink a ½ cup of aloe vera tea three times a day, everyday, for a month.
Licorice
Those suffering from painful inflammation as a result of their diverticulitis will find relief in licorice root. This natural remedy reduces inflammation, painful spasms, while aiding in more comfortable bowel movements by adding bulk and softness.
To use this remedy, add a ½ teaspoon of licorice root powder to one of cup water. Heat the water until it boils and then strain the powder from the water. Drink the water a ½ hour before each meal, two to three times a day.
Those suffering from hypokalemia, high blood pressure, heart problems, or kidney disease should consult their physician before taking licorice root.
Marshmallow
Marshmallow is great if you want to reduce painful inflammation and encourage healthy bowel movements. To take marshmallow root, add five grams of dried marshmallow root to a cup of hot water and let sit for five minutes.
Strain the root from the water and drink the liquid. It is recommended to drink this herbal remedy three times a day. Marshmallow root is not suitable for people with diabetes.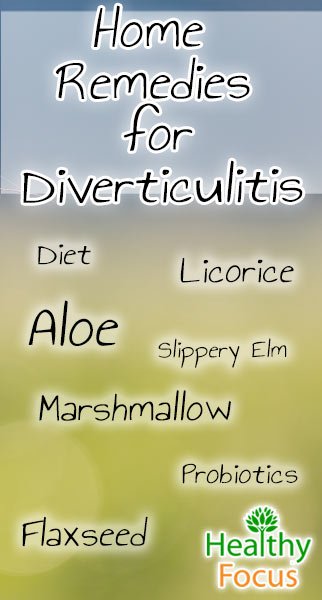 Slippery Elm
Slippery elm is an effective treatment for diverticulitis because it heals irritated tissue while reducing pain and inflammation. To experience the healing effects of slippery elm, follow the directions below to make a soothing tea. In a cup of boiling water, add a teaspoon of slippery elm powder, a teaspoon of sugar, and a dash of cinnamon powder. Drink a cup or two of this tea everyday.
Probiotics
Maintaining a colony of healthy gut flora in your intestines is not only vital to your intestinal health, but your overall health in general. This good bacterium keeps digestion moving along.
Probiotics can also improve the overall health of your intestines and boost your immune system. To ensure you are getting probiotics in your diet, you can take it in supplement form or add probiotic-rich foods to your diet, such as yogurt, kefir, and kimchi.
Flaxseed
Flaxseeds are a natural source of fiber that encourages regular and healthy bowel movements. Regular consumption of flaxseeds softens the stool, adds bulk to the bowel movement, while ensuring its easy passage throughout the intestines.
Rich in omega-3 fatty acids, flaxseeds also help reduce inflammation in the intestinal tract. To get the healing benefits of flaxseeds, add a tablespoon of ground flaxseeds to a glass of water and drink for breakfast and before going to bed. You can also add flaxseeds to your foods, such as your cereal or yogurt.