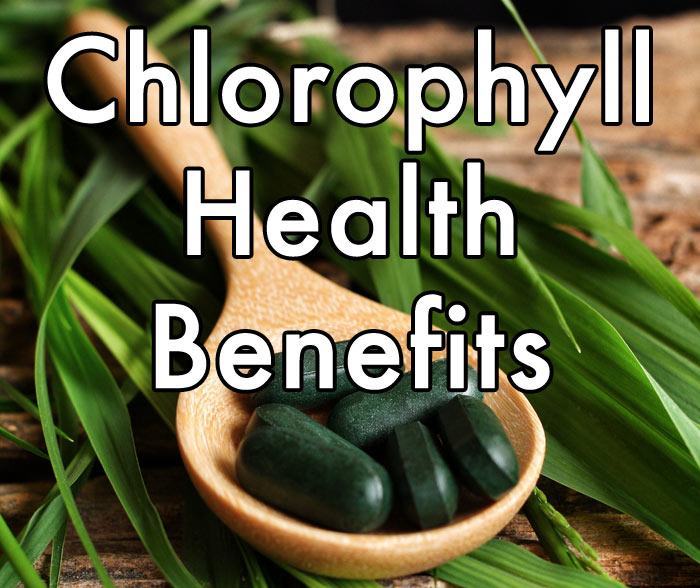 Sunlight feels wonderful. The way it energizes you and boosts your mood. If only we could experience the benefits of sunlight all the time.
With chlorophyll, you can! Chlorophyll is a concentrated form of sunlight and is responsible for the brilliant green color of plants. It is a molecule that absorbs energy from the sun to promote photosynthesis in plants.
Chlorophyll to plants is what blood is to us, even going as far as having a similar molecular structure as hemoglobin. Fortunately, the livelihood that chlorophyll offers to plants transfers to humans as well. Chock full of nutrients and vitamins, chlorophyll is proving to be beneficial to human health and quickly gaining a reputation as a superfood.

Health Benefits of Chlorophyll
Nutritional value: By consuming chlorophyll, you ingest a wide range of nutrients and vitamins. Chlorophyll is rich in beta-carotene, vitamin A, vitamin C, vitamin E, and Vitamin K. Chlorophyll is also packed with antioxidants and health promoting minerals such as calcium, iron, potassium, magnesium, and essential fatty acids.
Antioxidants
As mentioned above, chlorophyll contains powerful antioxidants, which seek out free radicals in the body, neutralize them, and prevent them from damaging healthy cells. This antioxidant action helps prevent the development of various diseases.
Blood health
Being the life-blood of plants, chlorophyll encourages the health of human blood. Rich in vitamin K, chlorophyll promotes blood clotting and restores blood cells, addressing such conditions as anemia, nosebleeds, and women who suffer from heavy menstrual bleeding. Chlorophyll also contains enzymes that help cleanse the blood and help transport oxygen throughout the body.
Bone and muscle health
The essential atom found in chlorophyll is magnesium, which is vital to formation of strong bones and muscles. Magnesium also enhances muscle tone, and the contraction and relaxation of muscles. Nutrients such as calcium and vitamin D are also present in chlorophyll, which is essential to bone health.
Cancer
Chlorophyll potentially helps aid in the fight against the development of cancer. Research has found that by stimulating apoptosis, chlorophyll has the potential of guarding against colon cancer. Chlorophyll further protects the colon by shielding it against a variety of carcinogens we absorb through the air, or by consuming cooked meat and grains. By taking chlorophyll, we are also protecting our gastrointestinal tract by blocking the absorption of harmful toxins such as aflatoxin, which impairs the DNA and may cause hepatitis and liver cancer. Further research has found that via a phytochemical compound, chlorophyll may also reduce the multiplication of cancerous cells and inhibit the growth of tumors.
Digestive health
Chlorophyll provides digestive relief by promoting the regular movement of bowels, alleviating constipation, and soothing discomfort associated with gas. Our intestinal tracts go through a lot to digest food and help maintain our immune system, so luckily chlorophyll acts as a natural drug to prevent intestinal complications and to heal and regenerate wounded bowel tissues. Research has also found that chlorophyll promotes colon cleansing by blocking the growth of coloncytes.
Immunity
Ingesting chlorophyll helps build stronger cell walls and promotes the overall health of your immune system. Magnesium, the central atom in chlorophyll is highly alkaline, which brings balance the acid-alkaline ratio of your body. Foods that are highly alkaline prevent the development and growth of harmful pathogens. Alkaline rich foods also improve brain and liver health, inhibits cardiovascular complications, and enhances the smooth functioning of the kidneys.
Detoxification
Chlorophyll not only cleans the blood, but it also oxygenates it, helping to efficiently flush out harmful toxins. Its cleansing properties don't stop there though. Chlorophyll also binds and eliminates heavy metals such as mercury, which is essential to liver health. It has also been found that compounds found in chlorophyll effectively reduce the effects radiation and help flush out drug and chemical deposits from the body.
Promotes healing
When used topically, chlorophyll helps speed up the process of healing wounds and burns. Chlorophyll reduces inflammation, and by stimulates the production of white cells, enhancing the body's ability to fight infection and kill germs.
Candida albicans
Candida albicans is an infection that is the result of an overgrowth of a yeast called candida. This medical condition can be alleviated by the anti-microbial properties of chlorophyll, which isolates and inhibits the growth of Candida albicans.
Deodorizing
Bad breath isn't just the result of poor dental hygiene, but it can be the signs of poor digestive health as well. It's not as hopeless as it sounds. Chlorophyll not only aids in digestive health, but is also an ingredient in many mouthwashes as it is effective in fighting and eliminating bad breath. Patients have found that by drinking liquid chlorophyll, they eliminate the odor the emanates from wounds relating to colostomies and metabolic related disorders.
Oral health
Along with bad breath, chlorophyll also address inflamed, bleeding gums. Chlorophyll is often used to treat oral infections and dental problems like pyorrhea.
Respiratory health
Chlorophyll has found to be an effective treatment of sinus infections and conditions such as sinusitis, rhinitis, and the common cold.
Arthritis
The anti-inflammatory properties present in chlorophyll have proven to be beneficial to those suffering from the painful effects of arthritis. Chlorophyll has been found to inhibit the growth of bacteria that produces inflammation. Chlorophyll has also been found to be an effective ingredient in medications treating arthritis and fibromyalgia.
Pancreatitis
Medical professionals administer chlorophyll intravenously to help treat pancreatitis. Research has found that chlorophyll alleviates symptoms associated with pancreatitis, such as reducing fever, alleviating abdominal pain without causing any unpleasant or harmful side effects.

How to Enjoy the Benefits of Chlorophyll
Most green plants and vegetables are rich in chlorophyll, making it easy to incorporate into our daily diet. You can be sure to get your daily dose of chlorophyll by consuming such veggies as green beans, arugula, wheatgrass, and leeks.


Leafy dark green vegetables such as kale, Swiss chards, spinach, parsley, and garden cress are also high in chlorophyll. Sprouts and blue green algae such as spirulina and chlorella are also great ways enjoy chlorophyll naturally.
Please be advised that in order to enjoy the full benefits of chlorophyll, its best to steam your veggies or eat them raw, as overcooking can destroy the chlorophyll and magnesium content of the food.


If juicing is your game, you can enjoy the benefits of chlorophyll by adding it to your blended drinks or smoothie. Although the plants that offer chlorophyll are not tasty on their own, you can add fruits such as grapes, apples, and oranges to improve the taste.
There are also Chlorophyll supplements but they are typically made from Sodium Copper Chlorophyllin. You can get many of the similar benefits as Chlorophyll but some people are concerned that it contains copper. It is probably easier and better to eat the greens.

Some Precautions and Warnings
Although chlorophyll offers a wide variety of health benefits, it may not be suitable for all people.
Pregnant and breastfeeding women
There are not enough reliable studies indicating the safety of chlorophyll for women who are pregnant and breastfeeding.
Sensitivity to sunlight
People that take medications that increase photosensitivity please be advised that chlorophyll also increases your sensitivity to the sun. This double whammy can make you more susceptible to sunburn, blistering, and rashes, so be sure to wear your sunblock when heading outdoors.