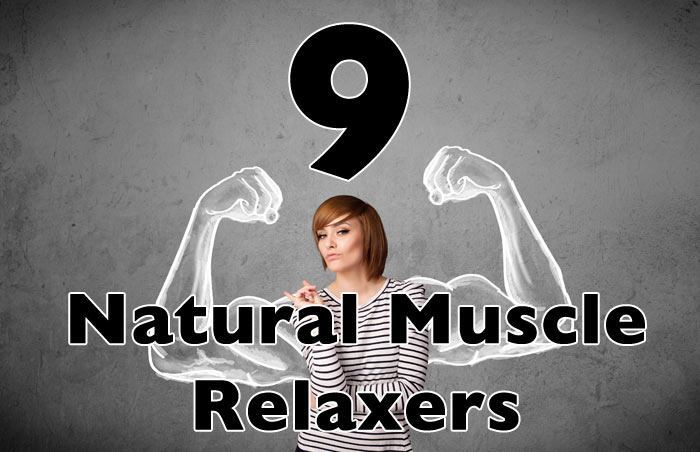 Feeling tense? Muscles seizing up, making your day-to-day routine difficult? There are many reasons why you can be suffering from tense muscles; however, the most common variables are stress and injury.
Muscles relaxers are one solution to this problem; however, they can leave you feeling loopy and interfere with your daily activities. Fortunately, there many natural remedies you can use that will not only alleviate your muscle spasms, but will have you back to yourself in no time.

What Are Muscle Spasms?
Muscle spasms occur when the affected muscle contracts involuntarily. Muscle spasms often occur suddenly and disappear as fast as they come. These painful cramps can affect the many parts of the body and may manufacture a variety of symptoms.
What Causes Muscle Spasms?
A wide variety of things can cause you to suffer from muscle spams. Overuse of the muscle in question can be the culprit. Daily activities such as raking leaves or working hunched over a computer can cause muscles to grow weary and tired.
If you're doing an unfamiliar exercise, such as having a vigorous game of tennis can cause muscles to ache for a couple days. Other common factors are doing heavy exercise in a hot environment and dehydration.
What are the Signs and Symptoms of Muscle Spasms?
There are several signs and symptoms that may be indicative of cramping muscles:
•  Tightness or bulging of the muscle
•  Abrupt onset of pain that generally lasts for a couple seconds
•  Muscle twitching
•  Repetitive contracting of a muscle in an isolated area
Natural Remedies
Cramping muscles may literally be a pain, however, they are a common ailment that is easily treated. Below are several tried and true remedies that will quickly get you on the road to recovery.
1) Lavender Essential Oil
Using lavender essential oil as a muscle relaxer employs a two-pronged approach: the tranquil scent helps you relax while the healing out melts away muscle tension. To get right to the source of stress-induced muscle tension, trying vaporizing lavender essential oil or adding a couple drops to a warm bath.
Soak up the scent and let your mind drift to a happier, calmer place. As you soak, the warm water helps achy muscles and blood circulation is increased throughout the body. Lavender essential oil also makes a wonderful massage oil. Mix a couple drops of lavender essential oil with a carrier oil and massage directly onto the area suffering from tension or spams.
2) Chamomile Essential Oil
Chamomile essential oil is a natural soother. Chamomile is commonly used to treat various ailments, particularly muscle spasms. The herb chamomile is chock full of flavonoids and antioxidants, ridding your body of harmful toxic waste that may be causing muscles spasms to flare up.
Add a couple drops of chamomile essential oil to a carrier oil and massage away the pain. To experience the cleansing, healing properties of chamomile, have a cup of chamomile tea. This will help flush out toxins and ease achy muscles.

3) Rosemary Essential Oil
This fragrant and floral essential oil will not only help to treat stress and athletic muscle cramps, but menstrual cramps as well. To get all over relief, add a couple drops of rosemary essential oil to a warm bath and soak for twenty blissful minutes.
This bath will help soothe sore muscles and joints. To get immediate more localized relief, make a hot rosemary compress.
Soak a clean cotton cloth in a basin of hot water and ring out the excess moisture.
Add a couple drops of rosemary essential oil to the cloth and wrap around the affected area. This hot compress will warm up the muscles and make them more supple.
Soreness and stiffness will melt away in no time.
4) Cherry Juice
Cherry juice is a popular beverage among athletes post-workout. This tasty juice reduces inflammation and eases muscle pain, a shared secret among runners. Full of antioxidants, cherry juice washes away toxic waste helping runners to keep post-run cramping at bay. Try having a glass after each workout to prevent muscle spasms from occurring.

5) Cayenne Pepper
Those suffering from achy muscles as a result of inflammatory diseases such as rheumatoid arthritis and fibromyalgia will find relief in cayenne pepper. This spicy little veggie contains a substance called capsaicin, which is a natural muscle relaxant.
Cayenne pepper can easily be added to your lunch and dinner or used as a cream. Head over to your local pharmacy and look for capsaicin cream, which you can get over-the-counter.

6) Magnesium
While we're on the topic of diet, it's a wise move to make sure you're getting enough magnesium. Magnesium is not only vital to your overall health, but it's integral to your muscle health as well.
To ensure that you're getting enough magnesium in your diet, try to incorporate magnesium rich foods into your meals, such as brown rice, legumes, almonds, and bananas.

7) Vitamin D
Vitamin D is another important mineral vital to your muscular system. If you find that you are chronically suffering from sore muscles or spasms, you may not be getting enough vitamin D. Along with getting enough sunlight, try to incorporate vitamin D rich foods, such as fish, eggs, milk that specifically lists vitamin D on the label.

8) Epsom Salt
Ahhhh soothing, relaxing Epsom salt baths, what can't they cure? Epsom salt baths are great for distressed muscles as they draw out fluid and toxin build-up within the muscles. Simply add some Epsom salt to a warm bath and soak for 15 minutes. After your bath, you should notice looser, more supple muscles.

9) Catnip
Catnip, a minty stimulant for your cat, also works at natural muscle relaxer for humans. Descended from the mint family, catnip has antispasmodic properties which helps calm down the nervous system while providing pain relief to stiff, seized up muscles. Kick back, relax, and enjoy a cup of soothing catnip tea. Your muscles will thank you for it.
Some Other Tips
If you want to avoid your chances of developing muscle cramps in the first place, there are a few preventative measures you can take:
Stretching
Properly stretching your muscles before exercise will help decrease your chances of developing stiff muscles and injury. Before exercise, gently stretch each muscle.
This will help prevent tearing during exercises and will warm up your muscles. Make sure to stretch your muscles post-exercise as well. This will help prevent lactic-acid build-up, a huge culprit of post-workout muscle pain.
Rest
Giving your muscles a break and not overworking them is one of the easiest ways to prevent muscle injury. Often times, muscle spasms are the result of overwork. To prevent this from occurring, give your muscles a rest and drink enough water. Heat pads and ice packs will help calm down overworked muscles.
Massage
Massaging tight muscles will help losing things up and break up lactic acid. Try massaging sore muscles with lavender, chamomile, or rosemary essential oil to really help treat your muscles. This will help speed up recovery time and help promote deep relaxation.
When your mind is relaxed, your body will follow suit. Other essential oils to consider for a relaxing massage: peppermint, lemongrass, frankincense, and cypress essential oils. These essential oils melt away tension, serve as natural pain relievers, improve circulation, and reduce inflammation.