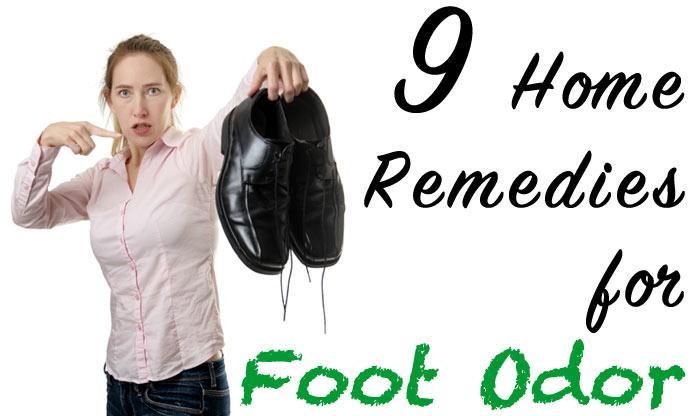 Just like any other type of body odor, anybody that suffers from stinky feet will know how embarrassing it can be. I live in a country where wearing your shoes inside is a big cultural faux pas so making sure that your feet smell acceptable or preferably don't smell at all is extremely important if you want to avoid unnecessary embarrassment and social discomfort.
If you read on, you will find some natural remedies that will prevent your feet from smelling too badly and maybe even keep them smelling fresh throughout the day.

What causes your feet to smell?
The official medical name for what we ordinary people know as 'smelly feet' is bromodosis. It can affect pretty much anybody but is generally caused by your feet sweating more than normal. There is good reason why our feet perspire so much; sweat glands function in order to keep our skin moist and supple and also to regulate temperature when either exercising or during hot weather.
In fact our feet have a greater number of sweat glands than any other area of the body but unlike other sweat glands that respond to heat, the ones in your feet secrete sweat all of the time. Feet will smell badly when the bacteria present on your skin breaks down the sweat when it comes through the pores and then decomposes producing that nasty cheesy smell we are all familiar with.
There are many factors that contribute to your feet smelling badly or sweating more than usual.
Here are the main causes of sweaty and foul smelling feet
Wearing the same shoes daily. I must admit that I am guilty of this; I only have one pair of work shoes at any one time which is far from ideal but has become a lifetime habit. The more often you wear your shoes, the more sweat will soak into them and wearing them again before they dry out fully is a sure way to enhance the smell.
Hormonal changes which is why teenagers and pregnant ladies are more prone.
Poor hygiene: make sure you wash your feet regularly.
Stress
A condition known as hyperhidrosis which causes people to perspire more than normal.
Before looking at the home remedies, there are certain practices that you can follow to reduce how much your feet sweat and therefore smell.
Don't wear the same shoes each day, make sure you change them often and maintain good levels of hygiene. Wash your feet daily including the areas between your toes and be sure to dry yourself thoroughly.
If you have teenage children, try discouraging them from wearing the same trainers every day. It is also very important to change your socks each day and make sure that they are either made of wool or cotton rather than nylon.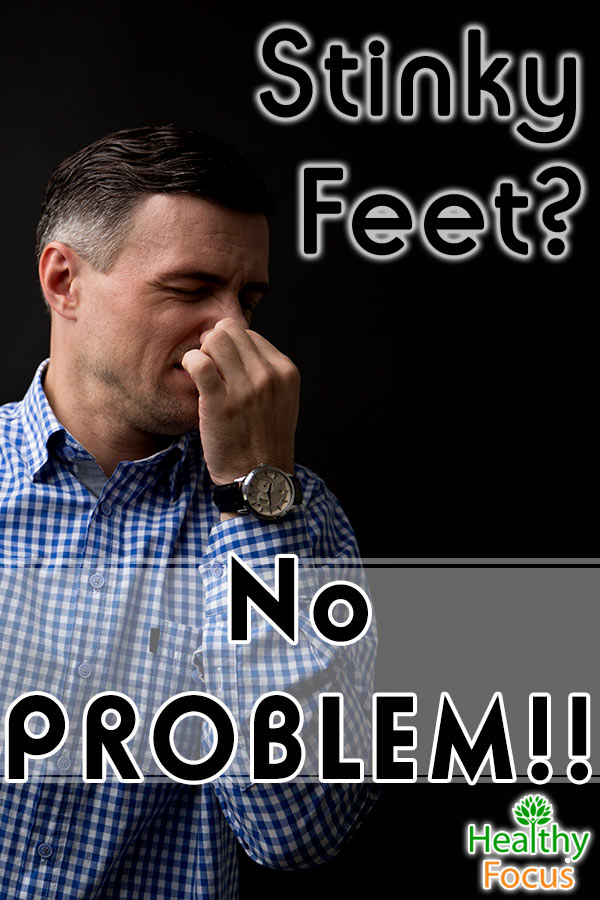 Best Home Treatments for Smelly and Sweaty feet
Deodorant and talcum powder can both help prevent your feet from sweating but if you would like to try a natural remedy then read on…..
1. Essential oils
Essential oils have uncountable therapeutic uses but many of them can help eliminate sweat and kill the bacteria responsible for foul smelling foot odor. Some of the best essential oils to use on your feet include the gently acting and delightfully scented lavender essential oil and the highly antibacterial tea tree essential oil. These oils are also antifungal and can help combat athlete's foot and other fungal foot and toe conditions.
To use these or any other essential oils on your feet, you should simply add a few drops of your chosen oils or combination of oils into a bucket of warm water.
Place your feet in the water and soak them for around 20 or so minutes once or twice a day.
Don't apply the oils to your feet undiluted as they may cause a negative reaction.
2. Baking soda
Baking soda is a cheap and useful product to keep around at all times. Because of its abrasive nature, it can be used to treat a variety of skin complaints and also keep your teeth bright and shiny. When used on your feet, baking soda which is also known as sodium bicarbonate can effectively neutralize pH levels and destroy bacteria that thrive on the feet.
Add a cup full of baking soda into a bucket full of warm water.
Put your feet into the water and soak them thoroughly for around 20 minutes.
Repeat the process each night.
Sprinkle some baking soda into your socks before putting them on in the morning will also help protect against sweat and foul odors.
3. Alum
You might not be as familiar with alum powder as you are with baking soda but it can be just as effective when it comes to stinky feet. Alum powder has antiseptic and astringent properties and can protect against bacterial growth on the feet.
Mix a teaspoon of your alum powder into a cup of warm but not hot water.
Use the resulting solution to wash your feet.
Dry your feet well and then sprinkle a little more of the powder onto your feet.
Repeat the process each day.
4. Epsom Salt
Epsom salt is yet another cheap and useful product to have at hand. It can be used for a number of conditions and in terms of your sweaty feet makes a great remedy. Epsom salt has antimicrobial properties and helps to eliminate and neutralize unwanted foot odor. It can also help soothe your feet when they are aching after a long day.
Mix 3 or 4 tablespoons of your Epsom salt into a bucket full of lukewarm water.
Relax and soak your smelly feet in the solution for 20 minutes or thereabouts.
Do this every evening before going to bed.

5. Black Tea
The tannic acid in black tea kills off the bacteria that contributes to your foot odor and also helps to close the pores of the feet which reduces the amount of sweat that you expel.
Add 3 or 4 teabags to 3 cups of boiling water and allow them to steep for ten minutes.
When the water has cooled down, sufficiently, you can add the solution to another half bucket of warm water.
By soaking your feet in this solution each day, you will prevent sweating and the resultant odors
6. Vinegar
Ordinary vinegar is ok but for best results it is better to use a food quality apple cider vinegar which works wonders on your skin and on your feet. ACV has strong antimicrobial properties and makes it harder for the bacteria, which causes your feet to smell to thrive.
Mix half a cup of ACV into 8 cups of warm water.
Soak those feet for 20 or so minutes.
Wash with soap to get rid of the vinegar odor.
7. Borax
Borax has disinfectant properties able to destroy bacteria on the feet which in turn helps prevent odor.
Mix half a cup of borax into the same amount of vinegar and a few cups of hot water.
Add the mixture to a spray bottle and spray your feet and the insides of your shoes.
Repeat the same process each day
8. Sage
Like black tea, sage leaves have tannic acids which help reduce the amount of sweat produced by your feet as well as excellent antimicrobial and antifungal property.
Sprinkle a liberal amount of dried sage leaves into your socks and shoes to absorb the odor and enhance the aroma.
Alternatively, you can soak your poor feet in a bucket of warm water with a handful of sage leaves.
9. Ginger Root
Ginger is another excellent remedy to deal with foot odor and sweating. It has natural antibacterial properties and a pleasant fragrance of its own.
Chop up a ginger root finely and add the pieces to a cup of boiling water.
Steep for at least 10 minutes.
Strain the mixture and apply the solution all over your feet each night before bed.