Medically Reviewed by Dr. Yasir Bari
Bsc, (Med) Bsc, (Nutrition), MBBS, DCN (Diploma in Clinical Neurology) – Reviewed & Approved on June 09, 2019
-Written by Marc Seward
What is Cystic Acne?
During your teen years, it is very common to develop the odd pimple and a certain amount of acne is almost the norm. Some people however might develop large, red, often very painful breakouts deep inside the skin. This condition is known as cystic acne, a far more stubborn complaint that can last for years, which affects greater areas of the skin and leave you with permanent scarring.
Pimples generally develop when the pores of your skin become clogged by dead cells, bacteria gets trapped in the pores causing skin infection, swelling and redness. When this infection happens deeper within the skin, it creates a tender pus filled lump or cyst; these lumps can be painful and itchy. If these cysts, the infection is likely to spread and cause further breakouts.
You can develop acne pretty much at any stage of your life from as young as 8 to your late middle age but it remains most common among teenagers. Cystic acne can occur all over the body and is especially common on the face, back, chest and shoulders.
If you have a severe case of cystic acne then a dermatologist will be able to recommend a treatment plan which can include a course of oral antibiotics, prescription creams and other acne medications. Unfortunately, medical treatment can be both prohibitively expensive and many people are uncomfortable with the risks involved with taking pharmaceuticals for a long period of time.

Home remedies for Cystic Acne
If you suffer from cystic acne, there are plenty of effective, simple and natural remedies that you can try yourself at home. With any luck, one or more of these remedies will prove effective saving you both money and the risks associated with prescription medications.
1. Baking soda
As well as making for an effective, cheap tooth whitener, baking soda contains antiseptic and anti-inflammatory properties which make it suitable for treating cystic acne. It also helps balance the skin's pH levels, absorbs excess oils and helps exfoliate. Try repeating this simple process once or twice a day until your symptoms have improved.
Mix one tablespoon of your baking soda into a little water until you are left with a smooth paste.
Add a little sea salt.
Apply the paste evenly to the affected area and let it sit for at least 20 minutes.
Rinse it off with warm water.
2. Apple cider vinegar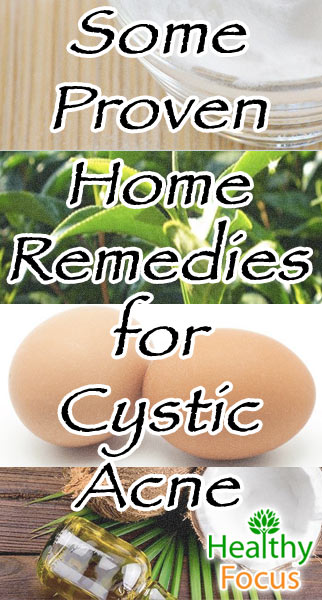 Good quality unrefined apple cider vinegar is a must for anybody serious about natural home remedies. It appears on home treatment lists for numerous conditions and works wonders on skin because of its antioxidant properties as well as its ability to bring pH levels into balance. Try to follow this routine every night before you hit the bed.
Simply add a few drops of your apple cider vinegar to a cotton ball.
Place the cotton ball onto the affected area of your skin.
Leave it on through the night and rinse it off the next morning.
3. Egg whites
Egg whites are extremely beneficial for the skin and can be used to treat numerous skin conditions including cystic acne. They contain riboflavin which helps ensure that your skin receives the protein it needs to stay healthy and fight off the cystic acne.
Take two eggs and separate their yolk from the white.
Put the egg whites into a container.
Apply the egg whites evenly over the affected area of your skin and allow it to sit for between 8 and 10 minutes.
Rinse it off with clean, warm water..
4. Tea tree oil
It always seems counter intuitive to me that an oily substance can help treat the skin but tea tree oil contains powerful chemical compounds that can destroy fungus and bacteria and effectively tackle a range of skin complaints including cystic acne. Tea tree oil has been used in folk medicine for generations and we must not forget that many traditional remedies are as effective now as they ever were.
Mix a tablespoon of your tea tree oil into a cup of fresh water.
Using a cotton ball, apply the mixture to the affected area of your skin.
Leave the mixture on your skin for about 10 minutes then rinse it off with water.
Repeat the process daily for as long as necessary.
5. Virgin coconut oil
This is another oil based treatment that works for many types of skin complaint including eczema, acne and cystic acne. Virgin coconut oil has excellent antibacterial and anti-inflammatory properties which can destroy bacteria and soothe the skin.
Make sure that you are using unrefined, virgin coconut oil.
Either with your fingers or cotton ball; apply the oil over the affected areas before bed.
Rinse it off in the morning.
Repeat this process 3 or 4 times a week.
6. Honey mask
Most types of honey are known to contain antibacterial properties which can be very effectively applied to skin conditions including cystic acne. Certain types of honey like manuka honey are more powerful than regular honey but will cost you much more money. Try to make sure that the honey you are using is a good quality before applying it to your skin. You can repeat this process regularly until you see results.
Spread the honey evenly over the affected areas.
Allow it to sit on your skin for around 15 minutes.
Rinse off the honey with clean water.
7. Aloe vera
Like apple cider vinegar, aloe vera is a staple part of numerous home remedy lists. It is especially effective as a treatment for skin conditions like cystic acne because of its ability to soothe inflammation and swelling.
Cut an aloe vera leaf in half to release the gel (you can also use aloe juice).
Apply the aloe gel to the affected area and massage it into the skin.
Leave it in place for around 5 minutes then rinse it off.
Repeat each day for as long as needed.
8. Lemon juice
Good old lemon juice is an effective skin treatment. It has excellent antibacterial actions, helps to unclog the pores and tighten the skin. You can safely repeat the following process once or twice each day until your complaint has gone.
First up, wash your face with warm water.
Apply the juice from half a medium sized lemon to the affected area with a cotton ball.
Leave it to dry on your skin for at least 10 minutes before rinsing it off.
9. Potatoes
Potatoes have been used traditionally to treat a range of skin complaints. Being highly absorbent, they can help remove the impurities from your skin and also ease inflammation and redness.
Peel a potato and extract the juice with a blender. You could also make the potato into a paste with similar effects.
Apply the juice or the paste to the affected area and leave for 15 minutes before rinsing it off.
You can safely repeat this process several times a week.
10. Steaming
Steaming is a well-known skin cleansing method; it opens up the pores and allows any build -up of dirt to be easily removed from beneath the skin's surface.
Fill a bowl or sink with hot water.
Pull a towel over your head and shoulders and place you face just over the water being careful not to burn yourself.
Try to stay in position for around 5 minutes.
Repeat this process several times a week.
11. Aspirin Mask
A simple home-made aspirin mask is an extremely effective treatment for cystic acne. Aspirin is closely related to salicylic acid and can help ease inflammation and relieve pain.
Crush an aspirin then add a little water.
Mix it into a smooth paste.
Apply the paste directly to your cystic pimple.
Repeat daily until the condition has disappeared.
12. Apply Some Ice
Applying ice is a very simple but very effective way to deal with a cystic acne breakout. It can reduce the inflammation and redness and can also ease the pain and itching that often comes along with the condition. Simply follow these very simple steps :
Take an ice cube from your tray.
Rub the cube in a circular motion over the cystic acne pimple.
Continue until it the skin feels too sensitive to the cold.
Repeat two or three times a day.
Diet and Cystic Acne
It is quite possible that you can help treat or prevent cystic acne breakouts by making some changes to your diet. It is by no means certain there is a link between your diet and your cystic acne but if you are suffering from regular breakouts then making some dietary changes could be beneficial.
Try to avoid or limit the amount of dairy you consume. Dairy products are mucus-forming and are sometimes difficult to digest. When we consume more dairy than the body can deal with, it might be excreted from the body in the shape of cystic acne.
Try cutting dairy products entirely from your diet for three or four weeks to see if there is a correlation. This includes milk, yogurt and cheese. There are plenty of non dairy milk alternatives that you can try instead.
Avoid eating processed and high-sugar foods. There is more than enough evidence that sugary, processed and starchy foods make inflammation worse. This is not only bad for your bodies in general but can lead to breakouts of conditions like cystic acne.
Try watching what you eat and include plenty of fresh fruit, vegetables and grains in your diet. Instead of drinking a sugar-filled soda, opt for a healthy herbal tea or simply stick with water. After a few weeks, you should see whether the new diet has had an effect on your cystic acne but your body is also likely to thank you.
Do Not Pick at Your Cystic Acne
There is always a temptation to poke, scratch and pick at your pimples. However, it is much better to simply leave them be.
Unlike regular acne, cystic acne lives beneath the skin and although you can feel the lump, it is not possible to make the infection rise to the skin's surface. Picking and scratching can make the inflammation worse and can lead to more irritation and pain. it may also cause bleeding or scarring and increase the risk of germs entering the skin. This can in turn increase the risk of infection.
Frequently Asked Questions
How can I get rid of cystic acne fast?
There are several good topical treatments that can help relieve cystic acne quickly. These include over the counter topical treatments like salicylic acid, topical retonoids and benzoyl peroxide. Other effectve home remedies include tea tree essential oil, steam face baths, applying ice, baking soda and alove vera gel.
What is best for cystic acne treatment?
The best way to go about treating cystic acne is with a multi-pronged approach. First, you should remove the excess oil from the skin, then exfoliate any dead cells. Other treatments can then help reduce inflammation and kill the bacteria.
What is the main cause of cystic acne?
There is no one single cause of cystic acne. Breakouts are often caused by a combination of oil, dead skin cells becoming trapped in the pres and bacteria. While anybody can suffer from the condition, it is especially common in those with oily skin, It is also more prevalent in teenagers, women and older people with a hormonal imbalance.
Can you pop cystic acne?
You should leave your cysts alone as trying to pop them will not only be ineffective but could well make the condition worse. Many people feel the urge to squeeze or poke around at their cysts but you must avoid the temptation. In fact, by trying to pop the cyst yourself, you can cause the infection to spread to the surrounding skin, It can also result in bleeding, scars and scabs.
---
Final Thoughts
If you are unfortunate enough to be suffering with cystic acne, we hope that you try some of these natural treatments. They are all natural and perfectly safe and hopefully one or more will prove effective for you.
Good luck and let us know how you got on.