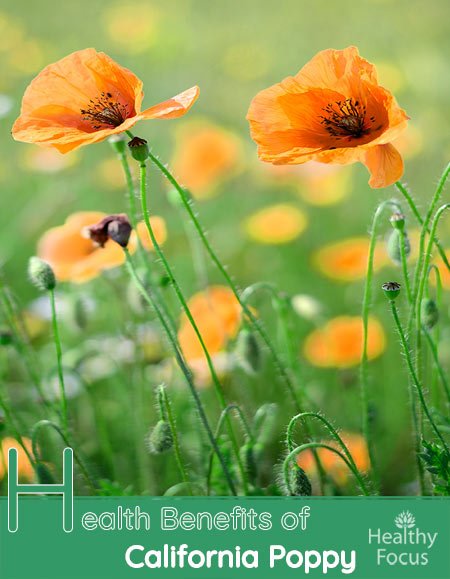 This beautiful, vibrant flower is the pride of California where it represents the state as its official state flower. The California poppy is wonderful to look at but it has a lot more to offer besides its wonderful appearance.
While it can be found adorning gardens in the summer months, the plant is also used to make medicinal supplements that can help ease pain, sooth the nervous system and ease feelings of stress and anxiety.
If you are unfamiliar with the medicinal potential of this beautiful plant, you have come to the right place. Read on to find out exactly what the California poppy can do for you and how to go about using it.
What is California Poppy?
The California is a native of North America but can also be found growing in other parts of the world including Chile, Australia and southern France. The plant belongs to the Papaveraceae family and is related to the opium poppy although its sedative effects are far less powerful.
The plant known scientifically as Eschscholzia californica was first described in the early nineteenth century by the naturalist – Albert Von Chamisso. Chamisso who was working aboard a Russian ship on a science expedition in California was impressed by the sight of the poppy covered hillsides which appeared to be on fire with color.
The naturalist gave the genus its name to honor his friend – a German botanist and physician called Johann Eschscholtz.
This beautiful flower is usually a golden orange color which gives rise to one of its other common names – 'golden poppy'.
History of Medicinal Use
While related to the opium poppy, the California poppy is far less powerful than its infamous cousin. The flowers and the leaves are known for their relaxing effects and their subtle euphoric action on the mind.
The native Americans also used the plant for various painful conditions including colic, headache and toothache. Later, the early settlers used the plant for pain and relaxation before it was introduced to parts of Europe as an ornamental plant.
It was not until the twentieth century that its use as a medicinal plant was more widely explored. However, it quickly made a name for itself as an alternative to the opium poppy. Unlike the opium poppy, California poppy is not addictive and is generally regarded as safe. It has been used to treat a wide range of conditions including stress and anxiety, tension, insomnia and pain in both adults and children.
Chemical Composition of California Poppy
There is a growing interest among scientists when it comes to the benefits of traditional herbal medicines. California poppy is one of many plants analyzed to confirm its chemical constituents.
According to studies, the plant contains a range of different alkaloids including sangunarine, californidine, prtopine, chelidonine and escholzine. It also contains essential oil and carotenoids as well as glycosides such as quercetin and rutin.
These diverese chemical compounds give California poppy a number of medicinal properties including sedative, anxiloytic, antihistamine, analgesic, antispasmodic, febrifuge and nervine properties.
Health Benefits of California Poppy
These days California poppy is still used for a number of conditions. These include promoting general calm and treating emotional conditions like stress, anxiety, insomnia and to prevent children from wetting the bed. The plant is also used for various physical conditions such as treating pain and bladder or liver disease.
Stress and Anxiety
Conditions related to stress disorders are becoming more prevalent in today's fast-paced world and the number of people suffering from anxiety disorders appears to be on the rise. many people turn to powerful medications to relieve anxiety but they come with a risk of side effects and dependency.
Fortunately, there are a number of herbal remedies that can help people to overcome stress and anxiety naturally and safely. California poppy is one such herb. According to research, it can help calm the mind during times of stress because of its anxiolytic and sedative properties. (1) 
It can be used by adults and children alike so if you or your child suffer from stress and anxiety, try making a soothing cup of California poppy tea. It may well have the desired effect.
Insomnia
The same calming and relaxing properties that make California poppy a great remedy for anxiety can also help you get a good night of sleep. Insomnia is a major issue for millions of people. Not only does it cause you to feel tired during the daytime but it can also increase your levels of anxiety and even lead to serious physical problems.
A cup or two of California poppy before bed can have a very positive effect on both your body and mind. It will help you get into the right condition for sleep and should help you sleep longer and better.
Muscle Relaxant
California poppy also has excellent antispasmodic actions that can help relax the muscles throughout the body. It is believed to be an excellent remedy for not only muscle cramps and aches but also for digestive cramps, tension headaches and spasmodic coughs.
By calming down the body's nervous system, California poppy may also help slow down the heart beat and reduce palpitations and even blood pressure.
Pain Relief
California poppy may help relieve pain especially pain caused by tension in the muscles. Studies have demonstrated that the herb has analgesic effects that make it useful when trying to combat pain. (1)
Unlike more powerful pain killers, it is believed that California poppy targets the nervous system gently slowing down the activity of pain receptors.  California poppy might help relieve muscle pain, joint pain, toothaches and headaches.
Cognitive Health
California poppy might help boost cognitive health and combat a variety of issues including ADHD in young adults and children. According to proponents, the herb may also help improve concentration and memory in children and adults which can be especially helpful to the elderly.
Because of its gentle sedative actions and its safety profile, California poppy may also be a useful weapon for people trying to overcome addiction from opiates and alcohol.
How to use California Poppy
California poppy is often enjoyed in the form of a soothing tea but is also available in various supplementary forms including tinctures, liquid extracts and capsules.
Make sure that you read the dosage instructions carefully and ask an expert if you are Uncertain about the best dosage for you.
Side Effects and Precautions
California poppy is generally considered safe for the majority of people when taken orally for no longer than three months. As of now, we do not have enough data to know whether the herb is safe when taken for a longer period of time.
However, there are still certain precautions that you need to be aware of:
Women who are pregnant or breast-feeding should avoid using California poppy. There is not enough information regarding its safety for pregnant women and nursing moms.
People scheduled for surgery should avoid using California poppy for at least two weeks prior to their surgery. Because California poppy slows down a person's central nervous system, it causes drowsiness and certain other effects. This can cause issues when combined with anesthetic and other medication used during surgery.
Final Thoughts
California poppy is noted for its calming, sedative properties.
Unlike the opium poppy, this flower has much milder actions and is not considered to be addictive.
It can be used for a range of emotional issues including stress, anxiety and mild depression.
It can also provide natural pain relief and relax the muscles and the nervous system.
California poppy is available as a tea or in several supplementary forms including tinctures, liquid extract and capsules.
(1) https://www.ncbi.nlm.nih.gov/pubmed/11507727