What is Black Seed Oil?

Black seed oil is also known as black cumin seed oil and is derived from the Nigella Sativa plant which is native to Asia. The extract oil of the black seeds has been used as a remedy for thousands of years, particularly in the Middle East. Recent modern research has started to catch on and is revealing just how beneficial black cumin seed oil can be to our health.

Up to now, there have been well over 600 peer-reviewed scientific articles related to the benefits of black seed oil ranging from its potential as a cancer treatment to its ability to reduce blood pressure and the symptoms of rheumatism.
Black seed oil is not that well known in the west but simply, it has huge medicinal potential and might well be a healthy, natural and safe alternative to commercial pharmaceutical drugs. As is often the case when looking at natural alternatives, more human clinical trials would be welcome to confirm the promise of animal and laboratory research.

Certain compounds contained in black seed oil have been the subject of most of the studies. Black seed oil's most active compounds and probably those with the most significant curative potential are thymoquinone and crystalline nigellone but it also contains a number of other useful nutrients and compounds.


Black seed oil has demonstrated enormous potential to deal with a number of medical complaints, certainly far too many to discuss in a single article; the following are some of its most significant applications.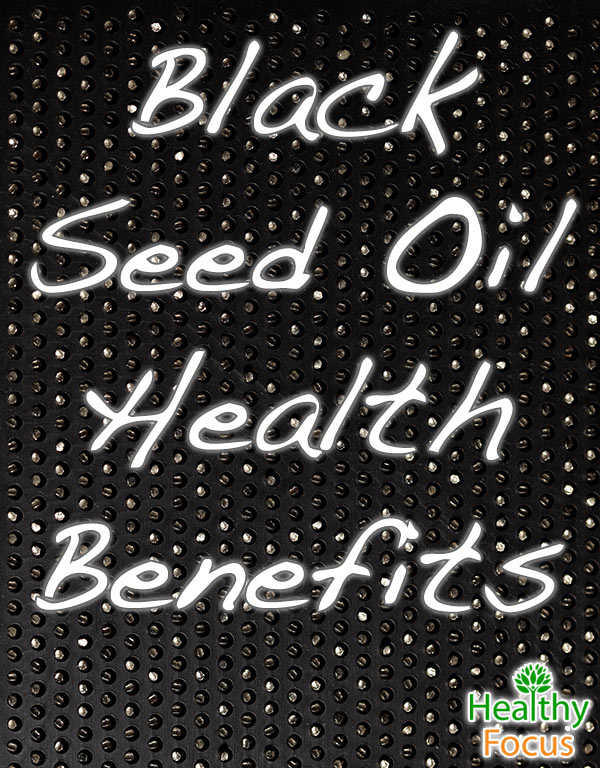 Black Seed Oil Health Benefits
1. As a Cancer Treatment
Black seed oil has been extensively researched as a possible cancer treatment. Studies have revealed that one of its main active compounds, thymoquinone, has great potential in cancer treatments.


These studies show that thymoquinone can help to induce cell death or apoptosis in a number of cancerous cells including leukemia, breast cancer, pancreatic cancer and cervical cancer. There is a growing body of research that shows thymoquinone reduces the size and the growth of tumors in rats.
2. To Protect against Adverse effects of Radiotherapy
There is evidence that black seed oil can work as a natural protective guard against the dangers caused by radiation treatment in cancer patients.
3. For a Healthy Heart
We all want one of these and anything that we can do to achieve good heart health is worth exploring. Black seed oil can benefit your heart in a variety of ways. First of all, black seed oil is a rich source of omega acids which help strengthen the blood vessels and protect against arterial damage.
Research has also demonstrated that black seed oil can significantly reduce cholesterol levels and lower blood pressure. A study conducted in 2008 concluded that over a period of 2 months, black seed oil taken daily had significantly positive effects on both cholesterol and blood pressure levels in patients with mild hypertension.

4. To treat Type 2 Diabetes
Nigella sativa has traditionally been used in Morocco and Jordan to treat diabetes as well as hypertension. Several pieces of research have confirmed that black seed oil helps in stabilizing blood sugar levels in diabetics while also stimulating pancreatic function.


Both animal and human trials have discovered its potential in treating type 2 diabetes. Researchers conclude there is no doubt that black cumin seed oil possesses anti-diabetic activity.
5. For Asthma
There is potentially good news for the millions of worldwide asthmatics. The incidence of asthma is rising and it is a difficult complaint to treat. Certain African and Asian cultures have been using black cumin seed oil to ease respiratory complaints for many centuries.


One of the main constituents of black seed oil is nigellone which helps relieve the breathing difficulties of asthmatics by dilating the bronchial tubes. Many asthmatics claim that they can either stop using their inhalers or at least reduce their use after being treated with black seed oil.
6. For Rheumatoid Arthritis
Researchers discovered the anti-inflammatory properties of black seed oil as long ago as the 1960s and immediately recognized its potential to treat rheumatism and similar conditions. In 1995, researchers at Kings College London confirmed that black seed oil could be an effective treatment in the battle against the painful symptoms of rheumatism.

Several studies since that time have confirmed its anti-inflammatory properties making black seed oil a potentially safe and healthy alternative to conventional rheumatism drugs.
7. For the Immune System
Your immune system can be weakened by a number of factors including age, diet, stress and alcohol. A weak immune system means that we are more prone to illness and attack from unwanted foreign invaders.
There is ample evidence that black cumin seed oil helps to boost our immune system keeping us fit and healthy. One study concluded that black seed oil taken daily could play a significant role in protecting us against diseases linked to the immune system such as cancer and HIV.
8. For Liver Health
By now, we are all aware of the importance of a healthy liver. Besides the heart, it is considered to be the most important organ in our bodies. And rightly so, the liver is involved in nearly every bodily function and is vital in keeping our bodies free from hazardous toxins.
A healthy liver means a healthy body which means a healthy mind. A poorly functioning liver will have widespread detrimental effects on your wellbeing and researchers have recently revealed that black seed oil improves liver function and also helps to prevent damage and disease. The research carried out on rats in 2013 demonstrated that both liver and kidney disease could be treated with black seed oil and that it warranted further, more extensive trials in the future.

9. For Infections
Black cumin seed oil exhibits potent antibacterial qualities which might help in the battle against superbugs which are increasingly unresponsive to antibiotic treatment. Scientists in Pakistan discovered that several strains of the MRSA superbug exhibited a sensitivity to black seed oil which makes it a promising candidate to prevent future outbreaks of the disease.

Research conducted in Germany found that black cumin seed was more effective against certain bacteria such as E.Coli and V.Cholera than many popular antibiotics.
10. For the Hair and Skin
There is some evidence that black seed oil can even have a positive cosmetic effect on your body. Possibly due to its antioxidant and antimicrobial qualities, black seed oil is said to restore follicle strength and prevent hair damage and loss. Researchers have also discovered that black seed oil could be beneficial to your skin in general as well as used to treat certain skin complaints such as eczema.


The bottom line is that black seed oil is a wonderful healthy product with a massive range of health applications deserving of several more articles.
If you have been convinced to go out and purchase a bottle of this wonderful oil, you might be wondering how and in what dose to use it. Make sure that you buy real black cumin oil. It should be organic and completely free of additives.
Taking black seed oil daily will help your general health.
Many experts recommend taking a teaspoon of black seed oil twice a day for its medicinal benefits.
You can eat it raw, add a teaspoon to your salad or mix it with a good quality honey such as manuka honey for additional health benefits.
It can be added to other products like face and body creams for skin health.