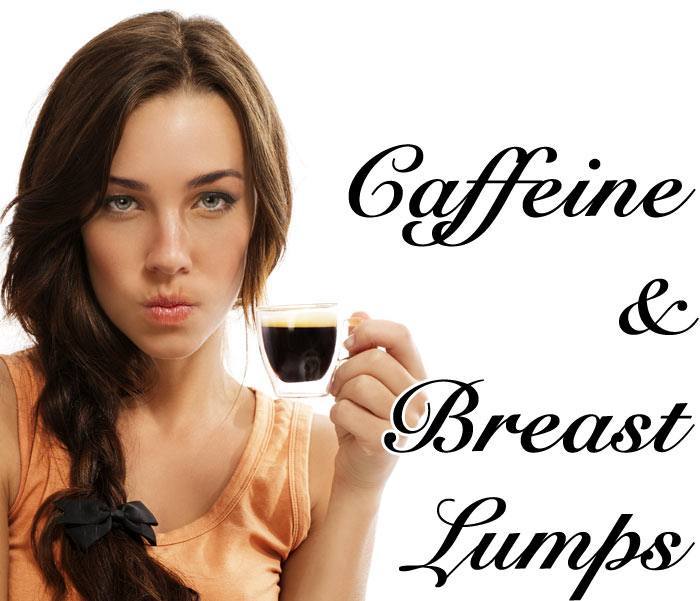 There is no doubt about it, finding a lump in your breast is a terrifying experience. However, there are several reasons why you may have a breast lump. Many women develop benign (non-cancerous) breast lumps due to hormones, age, and dietary choices, such as caffeine. It is important that women know how to distinguish the type of breast lump they have and be examined by a doctor.

The Caffeine Factor
There is no direct correlation between non-cancerous breast lumps; however, caffeine does play a significant role. Consuming large amounts of coffee causes an imbalance the hormone levels, which can result in some pain and some cysts to develop in the breast.
These cysts are called fibroid cysts and although they are uncomfortable, they are non-cancerous. It is understandable why detecting these cysts can lead to worry. To ease your mind and get to the bottom of matters get it checked out by a doctor.
Prevalence and Symptoms
Reports have shown that about 30% of American women have been diagnosed with fibrocystic breast disease. This disease typically affects women who are in their late 30s and 40s. Symptoms of fibrocystic breast disease are:
Round lumps that move around the breast
The lumps are tender when touched
Symptoms are typically amplified right before menstruation and subside once the period has begun.
What to Do
First and foremost, always get any lump checked out by a physician to rule out any more serious problems. Once it has been established that your lumps are due to fibrocystic breast disease, there are a few things you can do to address the problem:
Ease up on the consumption of caffeine. Caffeine causes your hormones to go out of whack, which can lead to a host of other secondary problems, such as breast lumps. Cut down on the following beverages and foods to get your hormones back in balance: coffee, tea, sodas, and chocolate. Cutting these caffeine sources out of your diet should reduce lumps and tenderness within a couple months.
Practice a healthier diet. Fatty foods are persona non grata when it comes to your breast health. Trans-fats found in processed foods such as baked goods, chips, and crackers are loaded with these bad fats and preservatives. Trans-fats are detrimental to your health because they let free radicals run amok in your body, causing cellular damage. Research has found a strong correlation between instances of breast cancer and high-fat diets.
A high fat diet also depletes your body's source of iodine, which, as you will see below, is important to the health of your breasts. If you want to improve your breast health (and your overall health), incorporate whole grains, beans, legumes, fresh veggies, dried veggies, and seafood into your diet. To flush out any toxins and free radicals roaming around your body, be sure to drink 8-to glasses of water a day.
Eat a more high-fiber diet. Increasing fiber will help stimulate digestion. Healthy digestion is important to breast health as chronic constipation can lead to breast problems.
Studies have shown that women that have less than three bowel movements a week (the clinical definition of severe constipation) are more likely to have breast abnormalities. The reason for this is because estrogen produced by the liver is more easily reabsorbed by women with malfunctioning digestive systems.
Make sure you are getting enough vitamins and minerals, such as Vitamin A, Vitamin E, and iodine. Getting enough of these vitamins and minerals will reduce breast tenderness and the development of lumps.
Let us expand a little bit on the subject of iodine. Iodine, as it turns out, is vital to producing all of the hormones in your body. It is especially important to producing the thyroid hormone.
The Thyroid is necessary for the health and efficacy of the immune system. Unfortunately, iodine deficiencies are quite common; as it is hard acquire enough of it in your diet to benefit both your thyroid system and overall health.
Unfortunately, lots of people have a diet that strips the body of iodine. Diets heavy in cereals, pastas, breads, and baked goods are guilty of making iodine absorption impossible. Unsaturated fats are also bad for iodine absorption and overall breast health. Iodine supplements have shown to help with this problem, however, only take this supplement under the supervision of a physician.
Manage your stress levels. Women who have been diagnoses with fibrocystic breast disease often have symptoms that are amplified during stressful situations. Breasts affected by fibrocystic breast disease are sensitive to fluctuations in adrenaline, which is released in the body during times of stress.Finding a way to manage your stress will greatly improve your breast health in many ways. Breathing exercises, meditation, and yoga are great ways to help cut down on stress and increase your overall sense of wellbeing.
Exercise. Exercise is instrumental to good health, particularly breast health. Its also a great way to help manage your stress. Regularly exercising will help improve circulation while boosting your metabolism. Improving these two factors will help cut down on issues with your breast health.
Other Ways Caffeine Affects Women's Health
While we are on the subject of caffeine consumption and women's health, let us examine the other ways these two are related:
Consumption of caffeine can aggravate symptoms of PMS. These symptoms may include: breast tenderness and swelling, abdominal cramps, headaches, bloating, weight gain, irritability, fatigue, and depression. Eliminating caffeine will nix some of these symptoms, especially breast tenderness and irritability.
Caffeine may affect some women's fertility. Women who enlist in fertility services are often told to give up caffeine while trying to conceive.
Pregnant women that consume caffeine may give birth to smaller babies, and babies who demonstrate symptoms of caffeine withdrawal. Pregnant women who consume caffeine may also experience heart palpitations.
Women who breastfeed should not consume caffeine as it affects the breast milk.
Caffeine can aggravate the symptoms of menopause in women. These symptoms are hot flashes, insomnia, osteoporosis, vaginal dryness, and even heart attacks.
Excessive caffeine consumption accelerates the aging process, therefore bringing about menopause at an earlier stage in life.
Caffeine consumption may make menopausal women more vulnerable to bone loss.
Caffeine consumption is associated with high cholesterol and high blood pressure. Caffeine is also associated with increasing homocysteine levels, which may contribute to the development of heart disease.

For Your Consideration
Always, always consult a doctor when you find a breast lump. True, there are a variety of reasons that may cause a breast lump (about 80% of breast lumps in women under 40 are benign), it is always best to err on the side of caution. To keep up your breast health, always consider doing the following things:
Women after 40 should have mammograms every 1-2 years.
Women who have a history of breast cancer in their family should consult with their doctor for specific instructions on how to keep an eye on their breast health.
Check your breasts every month to watch for any irregularities or changes.
Consult a doctor immediately if you notice nipple discharge, arm swelling, lumps in the armpit, and unexplained weight loss.
If you notice any changes in your nipples or find a lump with undefined borders, you should consult your doctor right away.